Key points:
Avacta shares have risen 113.65% in one month. Are they headed higher?
The company has signed multiple promising partnerships recently.
Investors could be in for some gains if AVCT shares hold above support.
The Avacta Group Plc (LON: AVCT) share price has risen 113.65% in the past month after bottoming in early March, as shown in the daily chart below. Therefore, it is only natural for investors to wonder whether there could be more gains in future for the AVCT share price.

The company develops clinical-stage oncology drugs and other powerful diagnostics based on its Affimer® and pre|CISION™ platforms.
Avacta announced that it had qualified for a milestone payment, increasing its shareholding within AffyXell Therapeutics, a joint venture between Avacta and South Korea's Daewoong Pharmaceutical.
The company has been on a roll recently after AffyXell Therapeutics entered into a collaboration agreement with Biocytogen, a Chinese company developing new biological drugs, and the Korea Non-Clinical Technology Solution Center (KNTSC) last week.
Investors cheered the move, as evidenced by the rally in Avacta shares over the past week, as the shares have been up 57.91% in the past week.
AfyXell's partnership with Bocytogen is focused on developing new immune disease in vivo models, then moving on to proof-of-concept and toxicity testing of AffyXell's drug candidates using the disease models developed.
Today's announcement marked a key achievement for Avacta as it completed the transfer of the intellectual property related to Affimer® proteins into AffyXell, leading to a surge in its shareholding in the joint venture to 22%.
The company's shareholding in the joint venture had been diluted after the joint venture raised $7.3 million from several venture firms in February 2021.
Avacta shares have broken above the 105p resistance level and are trading above bring, which brings the 140p resistance level into focus. The shares are currently consolidating above the resistance level, which has become a support level.
Investors should be pleased that AVCT shares are holding above the support level since they could rally to the 140p resistance level, representing a 28.44% upside.
Dr Alastair Smith, the Avacta Group CEO, commented: "AffyXell is uniquely positioned to develop novel and powerful cell therapies through the combination of two world-class technologies, Avacta's Affimer® platform and Daewoong's proprietary technology for generating 'off-the-shelf' allogeneic MSC therapies.
"We are delighted that Affimer® molecules have been successfully generated against the first target and that the intellectual property has been transferred to AffyXell, triggering this important milestone."
*This is not investment advice. Always do your due diligence before making investment decisions.
Avacta share price.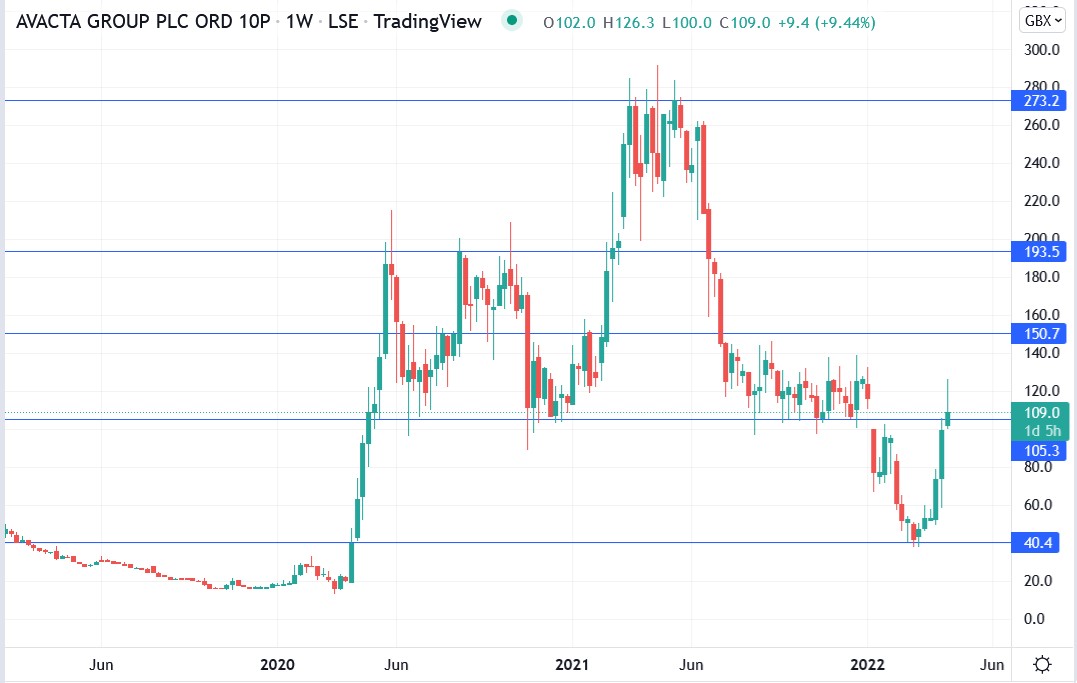 The Avacta share price has risen 113.65% in one month. Are there more gains in store for investors?