Key points:
Sareaum shares have soared 138.9% in four days. Should investors buy them?
Investors should resist the temptation to buy Sareum shares after the rally.
Instead, those who bought earlier should be taking profits on their positions.
Here's what you can do next…
The Sareum Holdings Plc (LON: SAR) share price has risen by 138.9% in four days, driven by the approval of its patent application for its SDC-1802 by the European Patent Office.

Investors cheered the move, as detailed in our article two days ago. However, we did not expect the rally to keep going for another two days, resulting in massive gains for investors who were strategically positioned ahead of the move.
However, not all investors have profited from the recent rally since they had not bought Sareum shares before the latest rally. As a result, I know many who missed the move might feel like their opportunity to profit has passed.
While it is true that the latest opportunity is gone, there is still hope for another rally. The massive rally in Sareum shares has created a parabolic shape usually followed by a significant pullback, which could present a perfect entry for investors who missed out on the latest rally.
I expect the pullback to kick off soon and probably last for a couple of days, giving investors a chance to get in. However, investors should not buy during the pullback as they should wait until it is over before opening new positions.
Sareum shares are likely to fall, erasing a significant portion of their recent gains, then consolidate their losses before rallying higher. However, there are no guarantees that the scenario shall play out exactly as we anticipate.
The markets will always do what they want to do. Our job as traders and investors is to anticipate and react to what the market is doing in time to profit from moves like the recent rally in SAR shares.
Investors following Sareum shares could have gotten in when the current rally started from a long term support zone. Still, there are many other opportunities in the markets, and new ones are developing every day.
*This is not investment advice. Always do your due diligence before making investment decisions.
Sareum share price.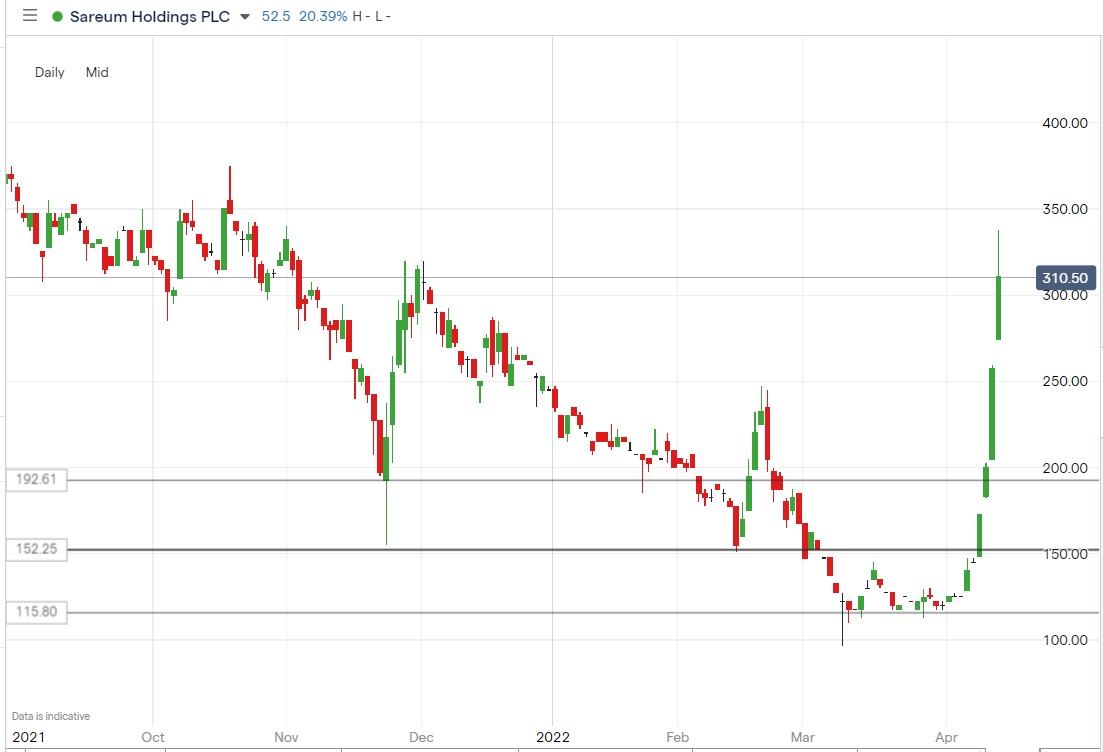 Sareum shares have soared 138.89% in the past four days to trade at 344p, rising from 144p. So should you buy them if you missed out?