Key points:
Avacta shares rallied 11.1% despite reporting an operating loss of £29.1m.
Investors were impressed by the company's significant milestones in 2021.
The markets hope that the recent rally will translate into a sustained uptrend.
The Avacta Group Plc (LON: AVCT) share price has risen by 54.3% in one month, leaving many wondering whether the rally shall continue. The good news is that the rally is likely to continue after Avacta shares rallied 11.1% today, following its interim results for the financial year ended 31 December 2021.

Some of the report's highlights included the firm's transition into a clinical-stage company after the UK Medicines and Healthcare products Regulatory Agency (MHRA) approved its Clinical Trial Application ('CTA') for AVA6000 pro-doxorubicin.
The phase I clinical trial of ALS-6000-101 is ongoing after the first patient was dosed in August 2021. The clinical trial also received approval from the US Food & Drug Administration (FDA), which approved its Investigational New Drug (IND) application.
Avacta also licensed out its pre|CISION™ technology to POINT Biopharma Inc. to develop tumour-activated radiopharmaceuticals. The company also completed a Series A venture capital investment round closed for AffyXell Therapeutics (AffyXell), its joint venture with Daewoong Pharmaceuticals.
Avacta also took steps to build out the Scientific Advisory board of its Therapeutics Division by appointing Dr Fiona McLaughlin as Chief Scientific Officer and appointing three other members to the board as part of its transition into a clinical-stage company.
The company achieved crucial pre-clinical milestones from its LG Chem Life Sciences partnership and received an undisclosed milestone payment.
Investors cheered today's announcements, evidenced by Avacta's share price rally. However, although the company's full-year revenues surged to £2.9 million compared to £2.1 million, its operating losses were much higher at £29.1 million compared to £18.8 million in 2020.
The company attributed the higher losses to increased research and development costs and investment in manufacturing facilities.
Dr Alastair Smith, Avacta Group's CEO, commented: "It has been a period of transformational progress for the Group, including many firsts for both the Therapeutics and Diagnostics divisions despite the many operational challenges resulting from the impact of the pandemic."
"Our Therapeutics Division has transitioned to being a clinical-stage business through the dosing of the first patient in the Phase I study of AVA6000, increasing the division's intrinsic value and attractiveness to specialist investors and pharmaceutical partners. Success in the ongoing Phase Ia study, which will likely be read out in the middle of 2022, will not only potentially create a valuable chemotherapy asset but will also be a first validation of the pre|CISION platform, highlighting a promising pipeline of chemotherapies with the potential to significantly improve patients' lives."
For those wondering whether Avacta's current rally is sustainable, today's rally is proof that the uptrend could continue. The company reported higher operating losses, yet its shares still rallied higher.
*This is not investment advice. Always do your due diligence before making investment decisions.
Avacta share price.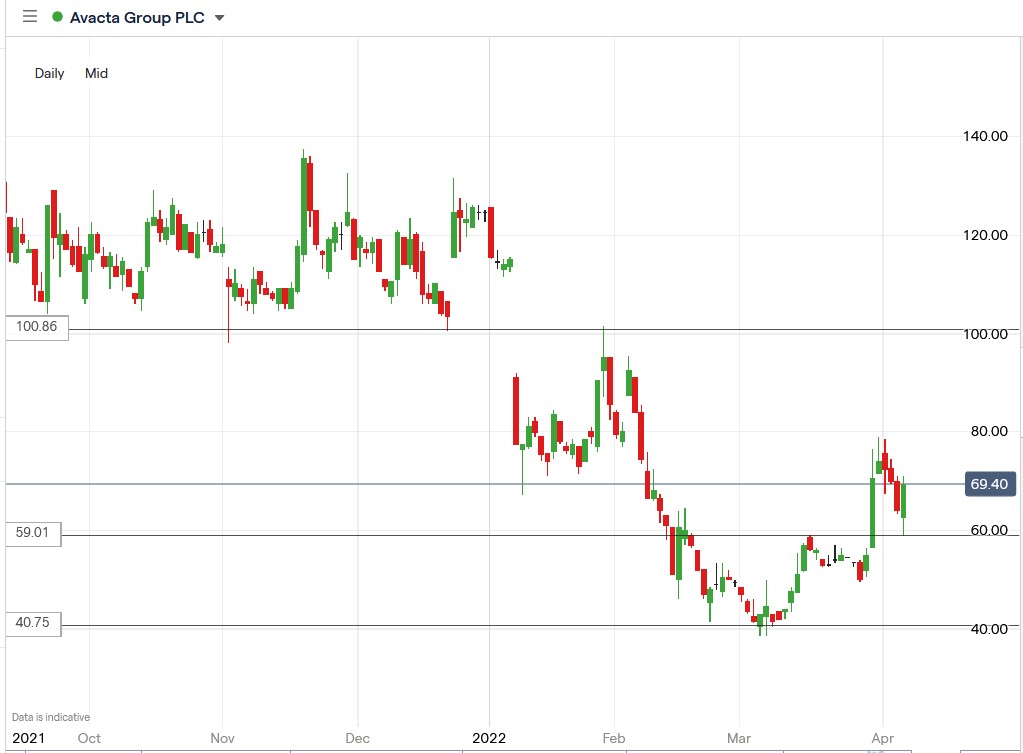 Avacta shares rallied 11.09% to trade at 71.10p, rising from Tuesday's closing price of 64.00p.