Key points:
Avalanche Introduces Bitcoin Bridge
AVAX Rallies for Small Base Pattern
Coinflex Freezes Withdrawals
key point
A bridge solution was introduced by Ava Labs Thursday, allowing users to transfer funds between the Bitcoin and Avalanche networks directly. AVAX, the Avalanche network's token leapt higher, outperforming crypto leaders Bitcoin (BTC) and Ether (ETH).
In other news crypto, CoinFLEX, the crypto derivatives exchange announced Thursday that it had paused account withdrawals on its platform. Counterparty issues and extreme market conditions were cited as the reason for this worrying development.

Avalanche Introduces Bitcoin Bridge
On Thursday, a new bridge solution was launched by Ava Labs, which allows users to directly transfer funds between the Bitcoin network and Avalanche network. This sent the Avalanche network's token, AVAX, higher by just over 9.6% on Thursday and it was up another 8.7% on Friday morning, outperforming cryptocurrency benchmarks Bitcoin (BTC) and Ether (ETH). The Bitcoin bridge will allow for Bitcoin owners to invest in significant DeFi protocols on Avalanche, whilst being able to keep their Bitcoin. Furthermore, the bridge makes it easier for users to access important Avalanche tools, such as the Explorer and Wallet.
AVAX Rallies for Small Base Pattern
The strong performance by AVAX since Thursday's announcement of an Avalanche to Bitcoin network bridge has seen a rally that has secured a short-term technical base. The push above 18.50 has signalled a Double Bottom type pattern, a technical analysis bottoming signal, that should at least ease bearish forces in the short term.
Moreover, the threat into late June and for July is for a better recovery theme to emerge, and for the longer-theme AVAX bear trend to reverse to the upside. This does not mean a new bull trend is starting but could be an indication that the bearishness seen throughout 2022 has some respite into the summer.
Upside targets for AVAX would be 28.13 and 37.54. But back below the low at 13.59 would open up potentially more significant bearish forces again.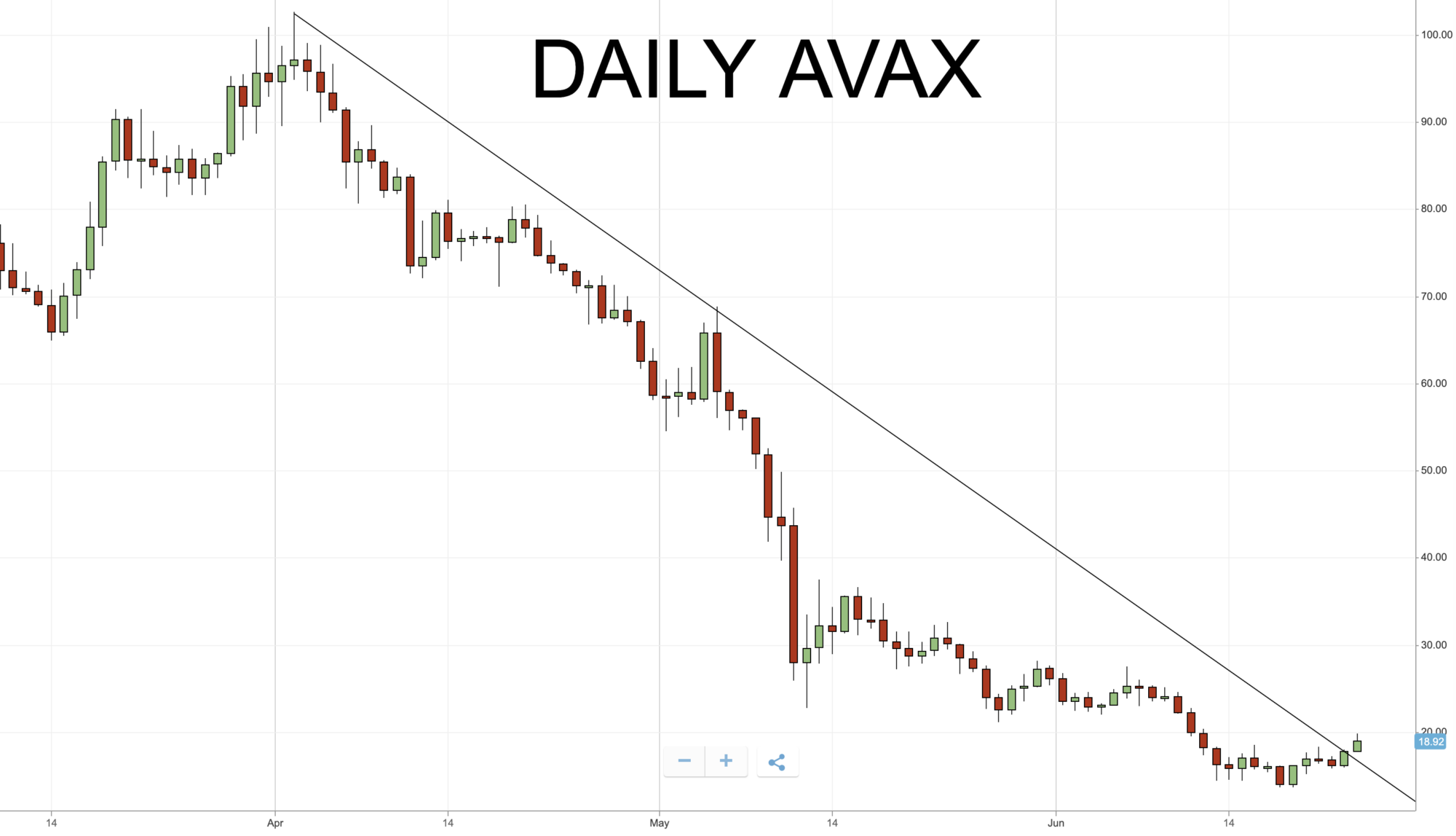 Coinflex Freezes Withdrawals
Another crypto exchange, CoinFLEX, made an announcement Thursday that it had frozen account withdrawals from its platform. The crypto derivatives exchange comes just over a week after comparable withdrawal freezes were announced by two of the world's largest cryptocurrency exchanges, Celsius and Binance. Similarly, CoinFLEX stated that extreme market conditions were the reason for this troubling move. In a blog post, CoinFLEX CEO Mark Lamb stated, "Due to extreme market conditions last week & continued uncertainty involving a counterparty, today we are announcing that we are pausing all withdrawals. We fully expect to resume withdrawals in a better position as soon as possible. We will fully communicate with you as we find out more."
This freezing of withdrawals by cryptocurrency exchanges is increasingly looking like an old-fashioned run on banks. The market remains on the edge of its seat!