Key points:
Elon Musk Gives Dogecoin Another Boost
Dogecoin Analysis: Double Bottom Secured
Dogecoin Mini Explainer (Just In Case You Missed The Hype)
Dogecoin (DOGE) surged Tuesday after supportive comments from Tesla and SpaceX CEO, Elon Musk. This is on the back of a positive Tweet from Musk over the weekend. From a technical analysis perspective, Dogecoin has now secured a Double Bottom, pointing to higher prices into latter June and the summer. And just in case you missed the hype in 2021, check out our Dogecoin mini explainer.

Elon Musk Gives Dogecoin Another Boost
"Meme coins", notably Dogecoin (DOGE) and Shiba Inu (SHIB) have leapt higher over the past 24 hours, following comments from Elon Musk. The CEO of Tesla and SpaceX made the supportive remarks in Doha at the Qatar Economic Forum. In an interview with Bloomberg the multi-billionaire and richest man on the planet said that alongside Tesla accepting Dogecoin as payment, SapceX will soon also accept the meme coin. He also stated that, "I just know a lot of people who are not that wealthy who, you know, have encouraged me to buy and support Dogecoin," adding, "I'm responding to those people." On Tuesday (21st June), Dogecoin surged 18.5% from trough to peak, closing up over 11% on the day.
This comes on the back of a Tweet at the weekend from Musk, that stated that "I will keep supporting Dogecoin."
Dogecoin Analysis: Double Bottom Secured
Tuesday's surge higher in Dogecoin pushed the market above a mid-June peak at 6.39 and also reversed above the tentative down trend line from April. From a technical analysis perspective, the recovery through 6.39 completed a Double Bottom, in relation to the two June lows at 4.92 and 4.98. Although falling back lower today, this positive signal points the price of Dogecoin higher into latter June and on into July, with a minimal target at 7.80/ 8.00, maybe up to 8.95 and even 9.61.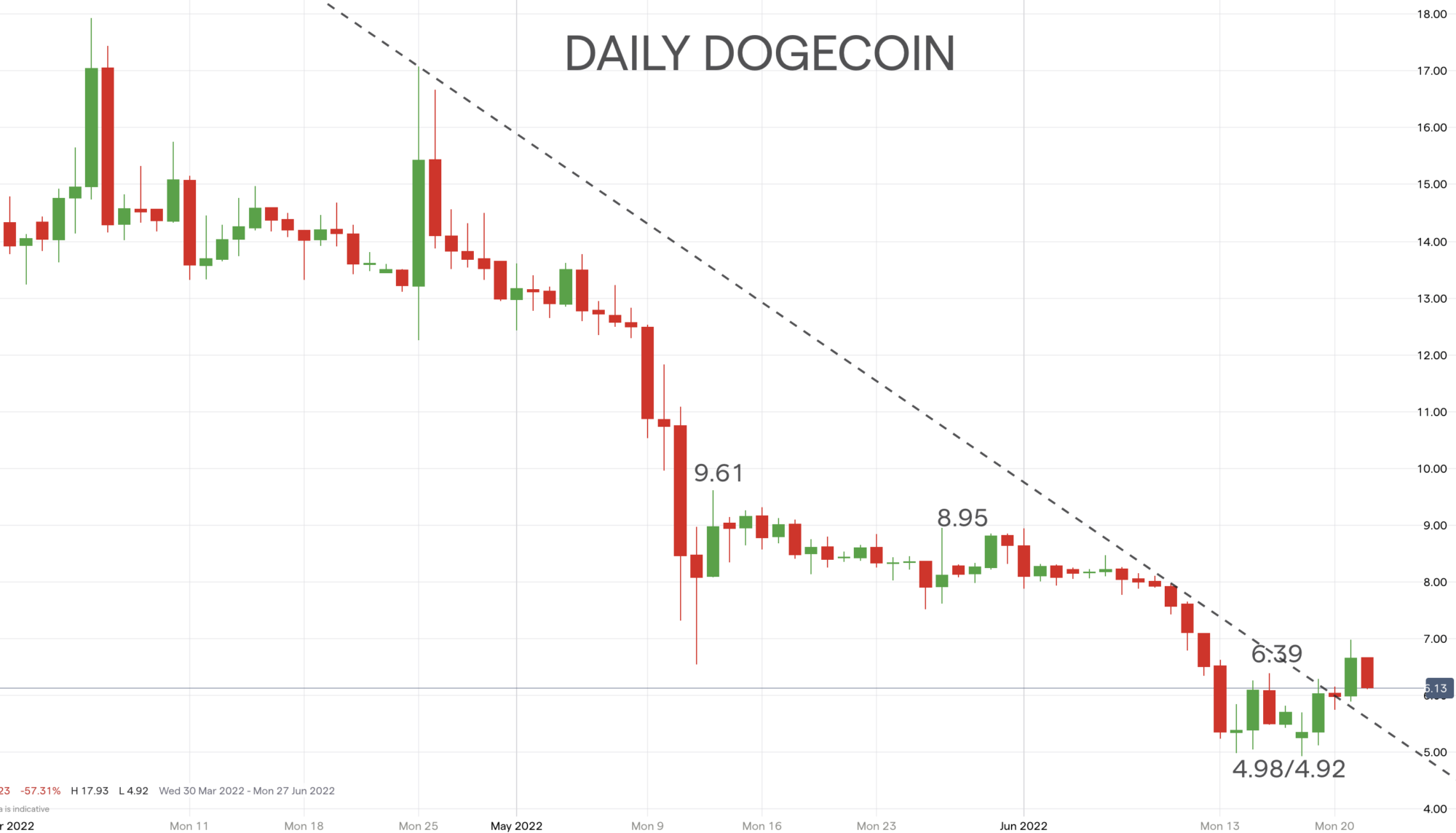 Dogecoin Mini Explainer (Just In Case You Missed The Hype)
What is Dogecoin? Dogecoin was created in 2013 as a joke my two software engineers, becoming hugely popular since 2020/2021 with surging price increases (and falls). Dogecoin is an open-source, peer-to-peer cryptocurrency. It leapt into the public eye with the surge in retail trading during the Covid-19 pandemic, and also after support from billionaire Elon Musk. From its early 2021 levels to its peak in May 2021 Dogecoin surged 15,700%!
Dogecoin differs from other digital currencies in that there is no finite number of Dogecoins that can be mined. In addition, because Dogecoins can be mined considerably faster than some other digital currencies as they use Scrypt technology. You can learn more about buying Dogecoin in our handy guide How To Buy And Store Dogecoin In The UK.