Shares of Avino Silver & Gold Mines Ltd (NYSEAMERICAN: ASM) today exploded 171.5% higher as retail investors bought both physical silver and stocks of companies that mine and deal in the metal starting late last week.
Today, silver prices hit an 8-year high of $30, and Avino is a huge beneficiary of this rally.
The Canadian mining and exploration company operates the Avino mine located in Durango, Mexico and recently updated the mineral resource estimates for its Avino project reflecting a 60% increase in silver equivalent ounces to 75.9 million ounces.

Retail investors piled into Avino based on its recent positive updates but mostly as part of the larger trend of retail investors buying silver, which started on WallStreetBets last week and has spilt over into this week.
Avino saw the trend and applied to issue new shares worth up to $25 million to capitalise on its stock's significant interest among retail investors.
As the battle between retail investors and hedge funds rages on, silver and silver stocks have benefited immensely with several silver bullion dealers running out of physical stocks of silver as retail investors bought the metal in bulk.
Unlike gold, silver is priced very cheaply and is within reach of most retail investors. Simultaneously, governments and institutions with significant funds are the biggest buyers of physical gold.
Today's rally is a strong indicator that retail traders are not done flexing their muscles having discovered that for the first time, they can have the upper hand over hedge funds, major banks, and institutions such as clearing houses thave have long-controlled the financial markets.
WallStreetBets has cemented its place in the markets as a formidable force given that the huge run in silver price and stocks such as Avino started on the subreddit platform as did the historic short squeezes on AMC Entertainment, and Gamestop.
However, there are warnings that if the current rally in silver prices continues, central banks and governments may intervene to stabilise prices given the crucial role that commodities play in global trade.
In the meantime, retail investors are buying the poor man's gold in large amounts as they continue to shake up the global financial markets' very foundations.
Avino Silver share price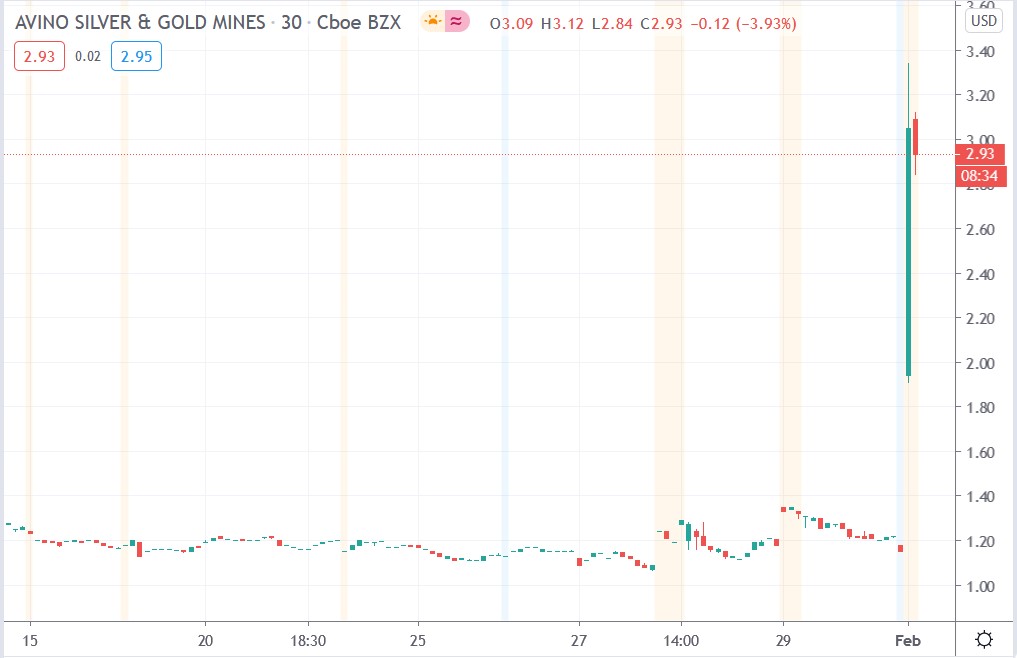 Avino Silver shares exploded 171.54% higher to trade at $3.34 having risen from Friday's closing price of $1.23.