Key points:
EV manufacturer Rivian just got a $1.5bn incentives package from Georgia.
Yet, the company's shares barely moved despite the significance of the news.
Investors are doubtful that the deal will work, given the massive opposition.
Electric car manufacturer Rivian Automotive Inc (NASDAQ: RIVN) just agreed to a $1.5 billion incentive package with the state of Georgia and other local governments to build its $5 billion EV manufacturing plant in East Georgia.

The incentive package has faced significant opposition from different quarters, including former US Senator David Perdue, challenging Georgia Governor Brian Kemp in the republican primaries scheduled for May 24, 2022.
The project also faces stiff opposition from locals who believe that the facility will contaminate the well-water used by residents on their farms while drastically affecting the rural lives of most current residents.
The Morgan County officials were overwhelmed by the number of complaints and had to forward the planning permissions and zoning of the project to state officials. Many other people have said that Georgians are getting a raw deal. The $1.5 billion incentives package is far bigger than any other ever offered to a corporation in Georgia.
Critics have pointed out that Georgia offered Kia an over $450 million incentive package to build its plant in West Point, Georgia. In comparison, SK Innovation was given a $300 million incentive package to build its $2.6 billion battery manufacturing facility in Northeast Atlanta, employing 2,600 people.
Therefore, it is no surprise that Rivian shares did not move after the announcement, given the significant opposition the deal faces, which could be revoked if another Governor is elected to lead the state during the mid-term elections in November.
Governor Brian Kemp may lose his seat to his leading opponent David Perdue who might clinch the Republican ticket in the primaries, given the project's significant opposition from locals who might decide to elect new leaders who can stop the project.
As part of the deal, Georgia has given Rivian property tax breaks worth $700 million and will spend $200 million to buy the site, grade it and build the road infrastructure connecting the plane to the state's main road network.
It is also not clear why Georgia will spend $62.5 million building a dedicated training centre for future Rivian employees and spend a further $27 million training the employees with the skills needed to work at the Rivian plant.
The significant opposition to Rivian's plant and the upcoming midterm elections that could see Georgia get a new Governor are all factors that made RVN shares barely move after today's announcement.
*This is not investment advice. Always do your due diligence before making investment decisions.
Rivian stock price.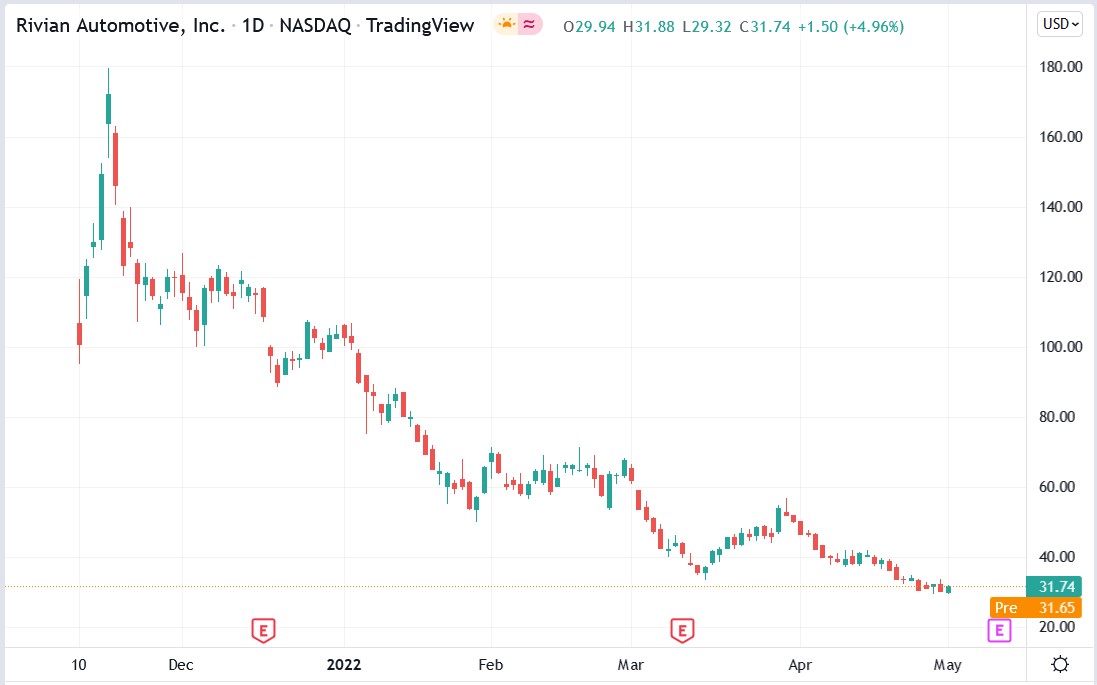 Rivian shares were trading down 0.28% at writing as investors ignored the incentive package.