Beyond Meat's (NASDAQ: BYND) share price is climbing on Wednesday after the company announced the opening of its manufacturing facility in the Jiaxing Economic & Technological Development Zone (JXEDZ) near Shanghai.
It is the company's first end-to-end manufacturing facility outside of the US, with the company stating that it is expected to significantly increase the speed and scale in which it can produce and distribute its products within the region while also "improving Beyond Meat's cost structure and sustainability of operations."
There is a growing plant-based meat market in China, and Beyond Meat's new facility will produce a range of plant-based pork, beef and poultry products, including Beyond Pork, which is its first innovation explicitly created for the Chinese market.

The facility will also provide R&D capabilities to create unique product offerings and support Beyond Meat's local strategic partners.
Ethan Brown, CEO and Founder of Beyond Meat, said: "The opening of our dedicated plant-based meat facility in China marks a significant milestone in Beyond Meat's ability to effectively compete in one of the world's largest meat markets.
"We are committed to investing in China as a region for long-term growth, and we believe this new manufacturing facility will be instrumental in advancing our pricing and sustainability metrics as we seek to provide Chinese consumers with delicious plant-based proteins that are good for both people and planet."
Beyond Meat already has a nationwide partnership with Starbucks China and has partnered with many other brands in the country. The company is also planning on opening its first European manufacturing facility this year.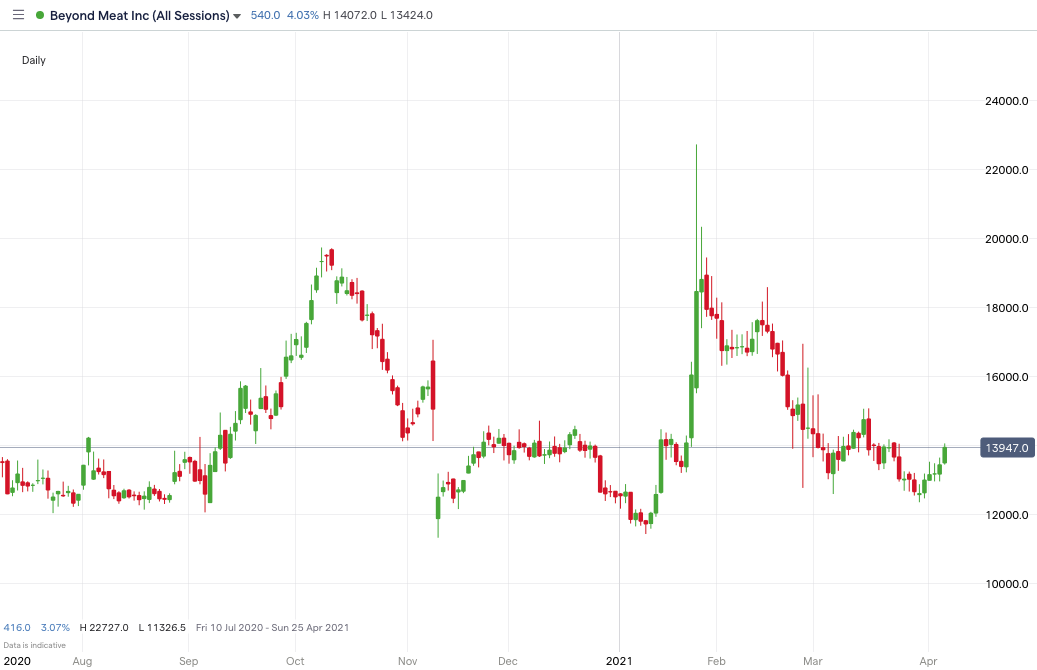 Beyond Meat's share price is trading over 3% higher following the news, at $138.50.
Should You Invest in Beyond Meat Shares?
One of the most frequently asked questions we receive is, "what stocks are best to buy right now?" It's a wide-ranging question, but one that we have answered… Our AskTraders stock analysts regularly review the market and compile a list of which companies you should be adding to your portfolio, including short and longer-term positions. Here are the best stocks to buy right now