What is an ethical investment fund?
The good news for investors is that the ethical fund sector has something for everyone. The 'ethical' angle of different funds can be distinctly different in nature. Some follow strict and specific investment mandates. Others have an underlying but more non-descript approach to what can be included. The aim of an ethical investment fund is to combine a range of investment objectives. As with 'regular' funds, the one universal aim of ethical investments funds is that there is a financial return. Other factors that are incorporated to varying degrees include:
Animal welfare — Including plant-based foods.
Societal change — Using investment as a catalyst for a permanent change.
Environmental factors — Including lower-carbon usage and pollution control.
Worker's rights — Including the rights of staff at stakeholders and suppliers as well as the primary company.
Corporate governance — Using cash investment as a way to change the way businesses are run.
The 'funds' used also differ widely with different investment vehicles, to suit individual tastes. The underlying principle of funds is that a group of assets are held under one label. Fund managers, to varying degrees, take on the role of buying and monitoring the different assets held in the fund.
The principal benefit of funds is that investors get exposure to a range of underlying instruments, have their risk diversified but don't have to do the hard work of achieving that aim. Ethical fund vehicles include:
ETFs — Exchange Traded Funds. These are similar to mutual funds but are listed on exchanges, so are valued and traded using real-time prices.
Investment trusts — An investment trust is a form of investment that is longer-term in nature and harder to subscribe to and redeem from. They are particularly popular in the United Kingdom and Japan, and give investment managers the 'breathing room' to make decisions. These decisions might not show short-term gains, could come good in the long-run. Investment trusts are constructed as public limited companies and are therefore closed-ended. This means fund managers cannot redeem or create shares. Only capital injections at the initiation of the trust can be used during its lifetime.
Pension funds — Build your own pension portfolio using any number and combination of ethical funds.
ISAs — Individual Savings Accounts. These are a tax-efficient 'wrappers' where investment returns are protected from tax claims. Ethical Investment ISAs and Pension Funds are a tax wrapper specific to investors in the UK. Citizens of other domiciles may find similar tax-efficient investment opportunities available to them.
Ethical investment funds that bounced back after COVID lock-down
The resilience of ethical investment funds is demonstrated by the strong returns of some of the funds towards the end of 2020.
Joe Biden's victory in the US presidential election spurred on funds with a green angle. One of his first proclamations was that he intended to take the US back into the UNFCCC Paris Agreement.
The promise of extra investment in offshore wind, hydrogen, nuclear, electric vehicles, will create millions of jobs and returns for investors who make the right picks.
The ACE 40 Funds index monitors funds that follow looser mandates than some ethical funds. The funds in question operate with a conscience but also with a close eye on performance.
A — Avoids funds that are too doctrinal or trigger happy in excluding companies, sectors or specific business practices.
C — Considers funds with a broad range of ethical investment objectives. When balancing positive and negative factors, it carefully considers a wide range of ethical and / or social, environmental and (corporate) governance (ESG) issues.
E — Embraces ethical investment funds that focus on companies delivering positive social and/or environmental outcomes.
In November 2020, the below funds posted the following returns in one calendar month. It's clear to see, ethical investment and saving the planet doesn't mean you have to sacrifice making a profit.
| | |
| --- | --- |
| Fund Name | % change |
| Liontrust UK Ethical 2 Net Account | 11.04 |
| iShares MSCI EM SRI ETF USD Account GBP (LSE: SUES) | 10.76 |
| Unicorn UK Ethical Income B Account | 10.35 |
| iShares Global Clean Energy ETF USD Dist GBP | 9.79 |
| Janus Henderson UK Responsible Inc. | 9.3 |
Source: SharePad
Ethical funds that outperformed the market
Measuring the returns on ethical funds against the broader market gives an insight into how ethical investment can be good for your pocket as well as your heart. Even if you're completely agnostic to ethical concerns, the performance data alone indicates the need to know more.
Over the 10 years running up to 2018, the following ethical investment funds have outperformed the FTSE All-Share index.
| | |
| --- | --- |
| Fund | Return |
| EdenTree UK Equity Growth | 205% |
| Standard Life Investments UK Ethical | 188% |
| Schroder Responsible Value UK Equity | 159% |
| Liontrust Sustainable Future UK Growth | 155% |
| Kames Ethical Equity | 145% |
| Royal London Sustainable Leaders | 135% |
| EdenTree Amity UK | 130% |
| F&C Responsible UK Equity Growth | 124% |
| FTSE All-Share | 116% |
Source: CityWire
Ethical funds with a good long-term track record
If you're looking for an ethical fund that generates consistent returns, then your analysis is going to need to examine some long-term track records.
Fortunately, online brokers such as IG provide all the charts and tables you need to make an informed choice. The platforms are designed to be user-friendly and being regulated by tier-one authorities means they offer a degree of security to their clients.
Picking an ETF from each will demonstrate how getting into ethical investing can be super-easy and take a matter of minutes.
IG — Guggenheim Solar ETF
The Solar ETF, offered by IG, has a 10-year plus track record. Those who got into long positions back in 2012 when the price was in the region of 2.83 are now sitting on considerable profits.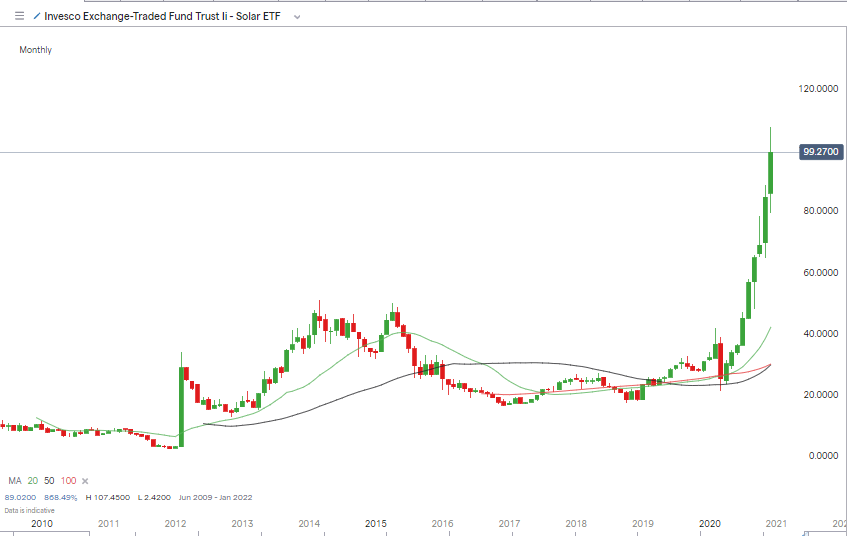 Source: IG
With the price of the ETF ending 2020 trading in the region of 100, some investors are sitting on gains of 3,159%. If there was ever a reminder that ethical investing doesn't require sacrificing returns on capital, the Invesco Solar ETF is it.
The return on this fund is pretty punchy and getting in at current levels might not suit every investor's risk-return profile. If you're new to trading and want to find out more, the good news is that IG allows you to trade ETFs in a Demo account.
Demo accounts offer a risk-free way to get used to the markets and the functionality of brokers. Using one to make beginner's mistakes is actually highly recommended and puts you in a good position when the time to invest real cash comes.
Low-cost investing in ethical funds
Unlike IG, the online brokers Fineco and Degiro don't offer demo accounts. Their approach is to encourage clients to sign up and trade in live accounts. The one plus-point of this streamlined service is that fees at Fineco and Degiro are incredibly low.
Fees are an important consideration because over the long-term they can stack up. Fees at Fineco can be as low as £2.95 per month.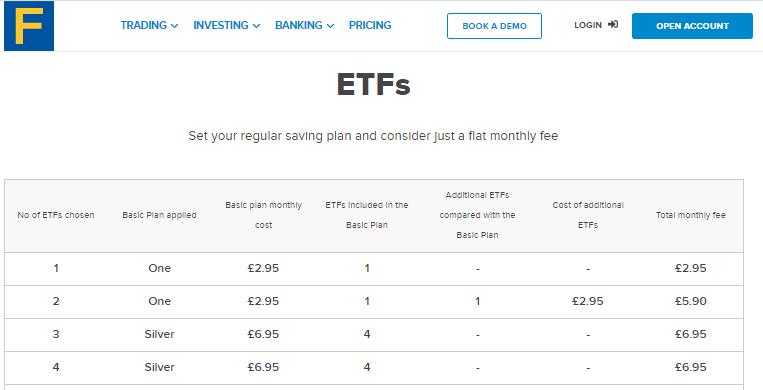 Source: Fineco
Degiro is widely regarded as a market leader in terms of fees. The Dutch-based online broker has a core selection of more than 200 ETFs, all of which can be traded for free once a month on its platform. As ETF investing typically involves lower trading frequencies, this one-free-trade-per-month offer is likely to make the execution costs of many as low as zero.
The management costs associated with ethical investing at Degiro are typically lower than mutual investment funds.
Ethical pension funds to invest in
Investments in pension funds may be long-term in nature but doing some early-stage research and choosing the right approach is incredibly important. There is now a wide range of ethical investment funds, which can form part of your pension and generate a return over the long-term.
Investing in your pension can be a daunting prospect and three innovative platforms have come up with a way for investors to ease themselves into the sector. Robo advisors use algorithms to match your investment aims with investment products. They can be used to flag up a preference for ethical products and concentrate the search on that sector.
Nutmeg— The robo advisor that offers the widest range of investment products.
Wealthify— Ideal for new investors with a pricing schedule. Keeps fees low even on small accounts.
Money Farm— Low-cost with no set up fees, no trading fees and no obligation to remain. You can leave at any time and not incur charges.
The differences between Wealthify, Nutmeg and Money Farm are far smaller than the differences between these robo advisors and the rest of the investment industry. They take a lot of the hard work out of choosing the right investments but still leave you in control. A happy mix for those looking to combine investment performance with ethical concerns.
Final thoughts
Ethical investment funds offer a chance to balance your principles and your financial aims. It's possible to find ethical funds that have a strong long-term track record and some that are seeing recent price surges.
You can trade more actively using ETFs, which take real-time price feeds or adopt an approach that is more buy and hold. The main point to consider is that while returns cannot be guaranteed, there is no longer any need to associate ethical investments with losing money.
Stellar gains from some ethical funds mark the sector out as one you need to give careful consideration to, even if returns are your only priority.
People who read this also read: