FTX, one of the world's major cryptocurrency exchanges, has suffered a major "liquidity crunch." This has led to the globe's largest cryptocurrency exchange, Binance, stepping in to acquire FTX. Nevertheless, FTT, the token that is native to FTX, has plunged by over 80% since the start of November and is showing little sign of recovery, despite the buyout news. The major cryptocurrencies are all lower with this negative news from the world of decentralised finance.

FTX Suffers "Liquidity Crunch"
The CEO of Binance, Changpeng Zhao (known as CZ) tweeted on Tuesday morning that "there is a significant liquidity crunch" at FTX.
His Tweet stated: "This afternoon, FTX asked for our help. There is a significant liquidity crunch. To protect users, we signed a non-binding LOI, intending to fully acquire http://FTX.com and help cover the liquidity crunch. We will be conducting a full DD in the coming days."
Binance to Buy FTX
As we covered in our FTX/ Binance rumours report yesterday, this came on the back of a tweet warning from CZ at the weekend, which said, "Due to recent revelations that have come to light, we have decided to liquidate any remaining FTT on our books."
These rumours quickly turned into reality through Tuesday as the above information came to light and was confirmed in a tweet by FTX's Sam Bankman-Fried confirmed the agreement.
He tweeted, "Things have come full circle, and http://FTX.com's first, and last, investors are the same: we have come to an agreement on a strategic transaction with Binance for http://FTX.com (pending DD etc.)."
The acquisition is only for the non-US businesses, FTX.com, and does not include the U.S. business, FTX.us, which will remain independent of Binance. It should be noted, though, that the U.S. arm of FTX made up only 5% of total revenue in a recent audit.
FTX Token Plunges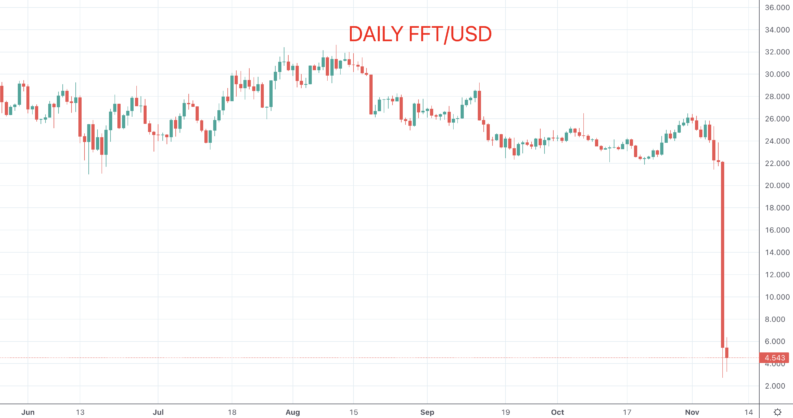 FTT is the token that is native to FTX and has plunged this week after the insolvency rumours we highlighted in yesterday's report. The market did rebound after the aggressive prior sell-off once the Binance acquisition announcement but subsequently pushed back lower. The token remains over 80% below the price point from the start of November.
Binance's Zhao tweeted that he expects FTT to be "highly volatile in the coming days as things develop."