Key points:
Boohoo is London's most shorted stock
Funds are short of 8.6% of total share issuance
Does this mean we should also be bear BOO?
Boohoo (LON: BOO) is the London market's most shorted stock. So, if everyone else – to be a bit over the top – is doing that then should we follow, should we also be short of Boohoo? It's possible to argue this either way so the decision isn't obvious. One thing to note is that going short as a private investor carries significant risk. For the maximum possible gain is that the share price goes to zero, but the maximum possible loss is – theoretically at least – infinite. And people have gone bust shorting, one hedge fund did so with GameStop for example. So any naked short needs to be seriously considered.

Our data comes from the FCA's daily short positions report and there are 10 different funds who are, cumulatively, short some 8.6% of Boohoo's total share issuance. That's the largest short position of any share on the London market. This doesn't make them right of course, it just explains their position. They think that Boohoo is going to decline further. And that is of course possible, even from these low levels. Boohoo is down near 90% from its peaks, it could keep going.
The argument would be that the group has lost its way. The process of bringing the Leicester supply chain up to scratch, sorting out US logistics and so on could continue to impact upon performance. There's also that worry over the Revolution Beauty deal. It's even possible to think that having been fashionable Boohoo has become unfashionable, to the significant detriment of sales volumes.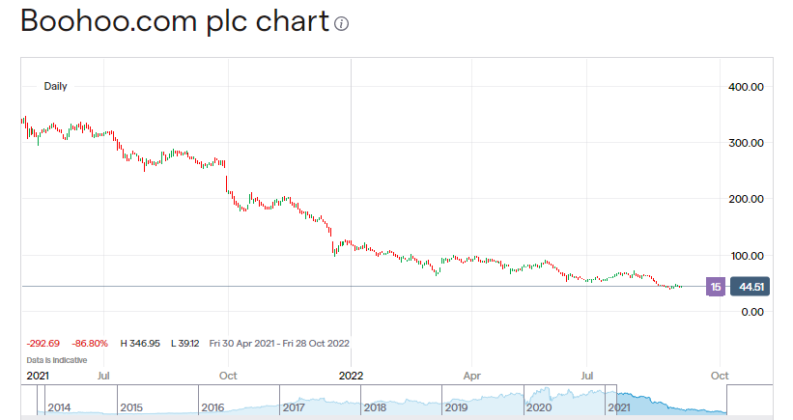 Also Read: A Guide To The Best Clothing Stocks To Buy
It's also possible to make the entirely opposite case concerning Boohoo shares. Which is that yes, Boohoo has been unfashionable on the stock market for some time now. But that ignoring that and trading against that fashion has been distinctly profitable before now. In fact, there were two waves of this. When those first allegations of below minimum wage labour and so on came out Boohoo shares near halved. Investors worried that the customer base would be turned off by the news – that didn't happen at all and the share price recovered. This then happened again with the next set of revelations. They worried investors but not, seemingly, the customer base. Again the BOO share price recovered. So, even though the share price slump is greater and longer lasting, is this what will happen again?
That is, is Boohoo unfashionable in the stock market but still able to sell clothing by the shipload to its customer base? If it can still do that second, and also sort out those logistics and sourcing problems, will profits return that is?
That many funds are short, that Boohoo is the most shorted London stock, is interesting news. But that's also all it is because that doesn't replace the need for us to make our own evaluation. That others are betting the BOO share price will go down is information, not proof that it will go own.