Key points:
Boohoo has picked up 7% of Revolution Beauty
REVB is up 16%, obviously, but BOO is down 2%
If it's such a good deal why is Boohoo down?
Revolution Beauty (LON: REVB) shares are up 16% this morning as Boohoo (LON: BOO) buys in with a 7% and change stake. This is, as the information release says, to build upon the business relationship and so on and so on. What's interesting though is that whole the deal – obviously – leads to a rise in the REVB share price it doesn't lead to one in the BOO share price. This being an indication of one of two things, either it's not material to Boohoo, or it's not a good deal for Boohoo. We need to take our pick.

As to the actual deal, Boohoo has bought, in the market (so it's not an issuance of new capital at Revolution Beauty) some 7.1255% of REVB's issued stock. Revolution's beauty products are sold through several of the Boohoo online sites and also through the physical Debenhams stores. If BOO can see that this is all going really well yet isn't reflected in the REVB share price then why not buy up some of those shares? This is not insider trading by the way, if this is done. Knowing REVB's sales through BOO is not internal to REVB information.
It's also possible to actually believe the release to the stock market and think that this is the start of a broader tie up and synergy and so on. We can take our pick as to which explanation we prefer. Whichever explanation is clearly to Revolution's benefit. Either trading is going really well, or, even given Boohoo's recent mishaps, it gains access to much more interest in sales through that online network. Great, we can see why the price rise then.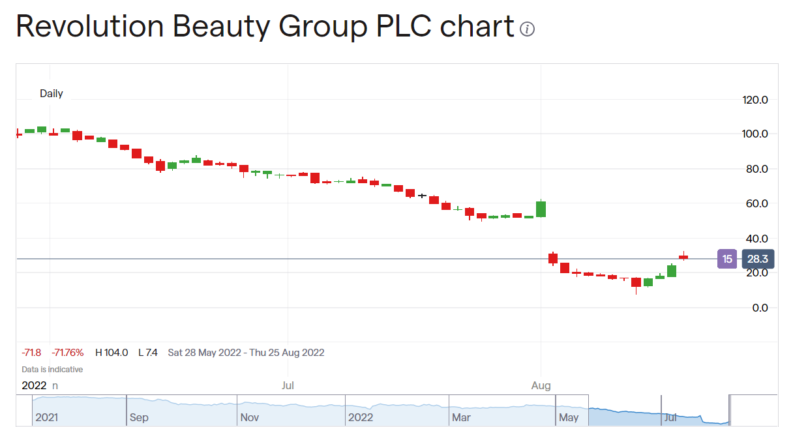 Also Read: A Guide To The Best Clothing Stocks To Buy Now
The interesting question here though is why the divergence in those two share prices? If it's a truly great deal then both should rise. That Revolution rises when someone buys 7% of the stock is obvious. But why would Boohoo fall on this news? There being several possible explanations.
One, and the most boring, is simply that given the relative sizes of the companies this just doesn't matter to Boohoo. It's simply not material – a nice little piece of business perhaps but not something that's going to turn the dial on a company of that size. Another is that the price being paid is perhaps a little bit rich. A third is just that this is the way that takeovers (note, this is not a takeover, but the reaction could be as if it were) are dealt with. Buy the target, sell the buyer.
We need to make a choice between these – and any other explanations we might want to use. My opinion, for what opinions are worth, is simply that this isn't a large enough deal to matter. REVB has a market capitalisation of £70 million (after this price rise) and 7% of that is about £5 million. Sure, that's real money but it just doesn't move the dials on a company the size of Boohoo. The BOO share price is therefore moving for other reasons, not as a result of the REVB deal.