Shares of Boohoo Group PLC (LON: BOO) today gapped 21.6% higher after the fast-fashion company published the independent report into the working conditions at Leicester.
The report was a result of an independent investigation into the working conditions at the Leicester facility led by Alison Levitt QC.
The findings of the report identified many failings in the Leicester supply chain and made recommendations as to how Boohoo could improve its corporate governance, monitoring and compliance processes.
The report also revealed that Boohoo did not intentionally profit from the poor working conditions and pay at the Leicester facility and that it did not sanction such operations. To the contrary, Boohoo had been taking various steps to fix supply chain issues since last year, and the same measures were being implemented at Leicester.
According to the report, Boohoo's business model is not based on exploiting its workers in order to boost its profit margins, which basically exonerates the company of any wrongdoing.
Boohoo commented that: "The findings and recommendations of the independent review are clear. The group recognises that in order to effect real change in the Leicester textile industry, further clear, strong, and measurable actions are needed in addition to those that the group was undertaking. The board has reviewed and is wholly supportive of Ms Levitt's recommendations, and intends to implement these in full."
Boohoo share price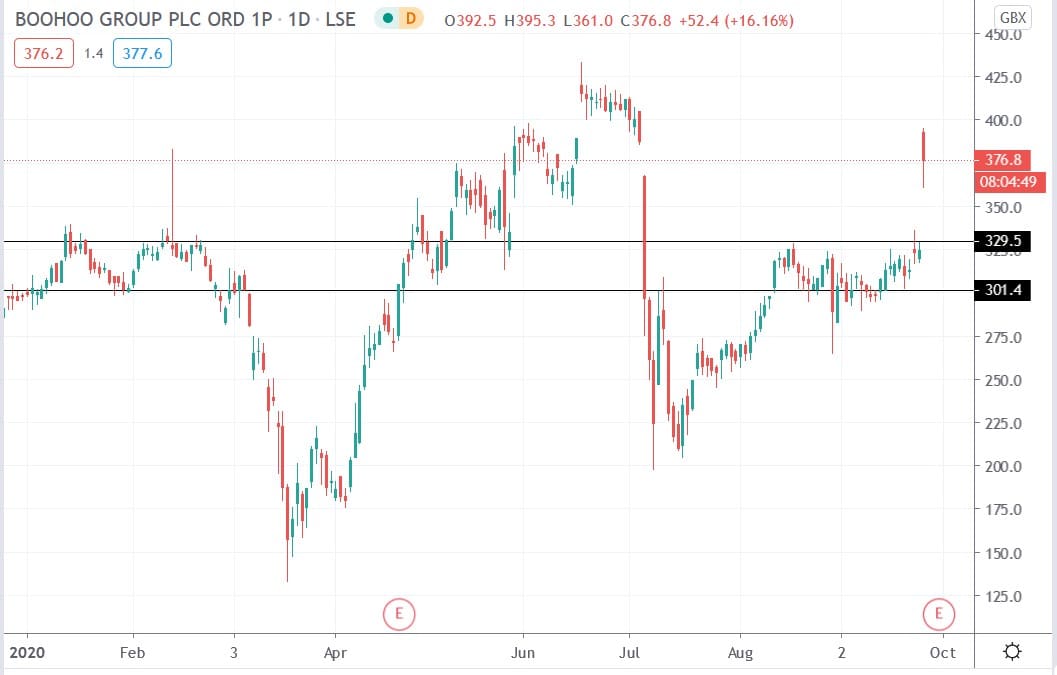 Boohoo shares today surged 21.6% to hit a high of 395.2p having gapped up from Thursday's closing price of 324.9p. The firm's shares had been stuck in a sideways trading range since mid-August
People who read this also read: