Key points:
Capita (CPI) shares have risen 44.4% since April. Is it a buy?
The company has won multiple contracts this year and is ramping up.
Read on to find out what we think of Capita.
The Capita PLC (LON: CPI) share price has risen 44.4% from its April lows to its current prices amid a recovery driven by multiple contract wins as the company prepositions itself as a high-tech contractor serving both government agencies and private businesses.

The business process outsourcing company has undergone a massive transformation over the past five years under CEO John Lewis, with the restructuring being completed last year. As a result, the company now says it is competing with the big professional services companies such as Accenture, Deloitte Digital and Infosys.
Also read: 12 Best Shares To Buy As A Beginner.
While the company still has a long way to go before it can capture a significant portion of business from private businesses and other organisations since most of its business comes from government contracts.
Many who thought the company would declare bankruptcy have been proven wrong as John Lewis has worked to transform the company over the past year. In a recent interview, Lewis said his most significant achievement at Capita was transforming its organisational culture.
Capita has transformed the way it does business by launching an experience division and a portfolio business, both of which have experienced significant growth recently. The two divisions are part of its consulting business, which puts it in competition with the big four accounting firms.
The company has won multiple contracts in the year's first half, including the renewal of the BBC TV licencing contract worth £456 million and an extension of the Primary Care Support England (PSCE) contract worth £94 million. Capita also won a contract with £63 million from Scottish Power, demonstrating its dominance as a government contractor.
The company has its work cut out as the CEO now shifts his focus to eliminating the significant debt burden. The company took on the debt in the past as it randomly acquired different businesses without a proper integration strategy.
So, is Capita a buy? The short answer is yes. However, this answer depends on John Lewis remaining CEO over the next few years to completely reposition the company.
*This is not investment advice. Always do your due diligence before making investment decisions.
Capita share price.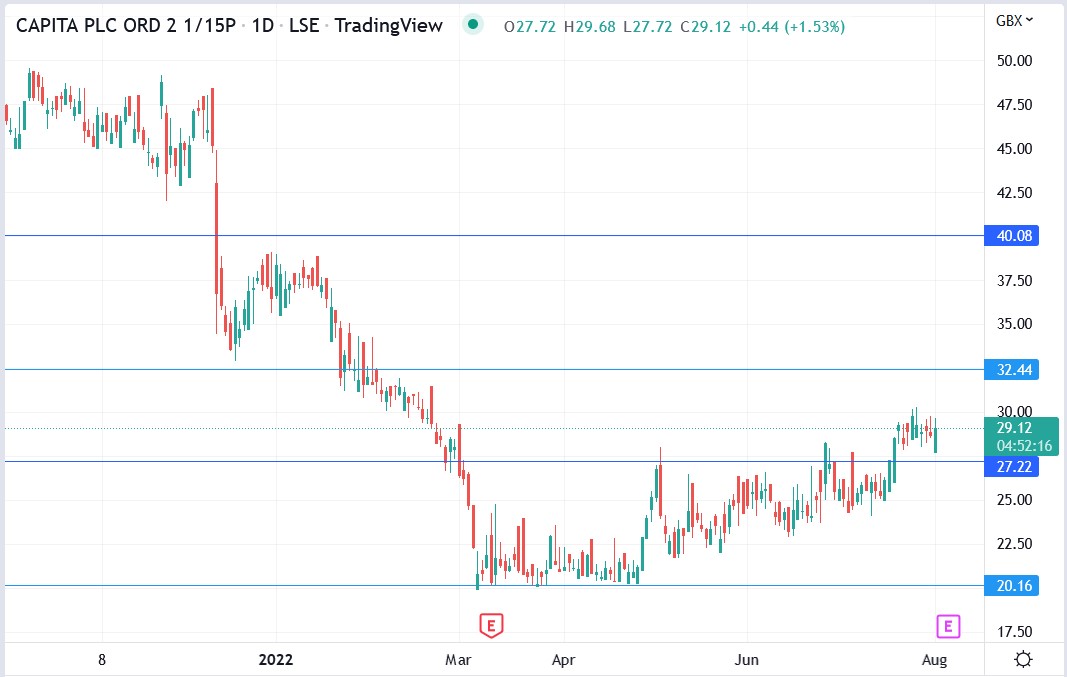 The Capita share price has risen 44.44% from its April lows of 20.16p to its current price of 29.12p.