Shares of Carnival plc (LON: CCL) fell 2.6% despite the cruise ship operator revealing that it had resumed cruise ship departures from Seattle, an influential US hub.
Investors discounted the news because they had already priced in the resumption of the cruises after the cruise ship operator announced that it expects to have 75% of its fleet operational by the end of 2021.
I mentioned that Carnival shares were approaching a crucial resistance level following the announcement. However, they were able to briefly break above before sellers stepped in and pushed prices lower.

Carnival confirmed that its Holland America Line's Alaska cruise sailed from Seattle on July 24, while its Princess Cruises started sailing on Sunday, July 25.
Today's announcement resulted in an initial decline, but the buyers had stepped in, pushing prices higher to form a bullish Doji candle and erasing the initial losses.
As a short-term trader, I would not be initiating any new trades on Carnival, given that the shares are at the top end of a broad trading range. Instead, I would wait for the price to break back above the resistance level or fall to the bottom of the range, creating excellent trade setups.
Meanwhile, I will be monitoring the stock to see how it performs in the coming days.
*This is not investment advice.
Carnival share price.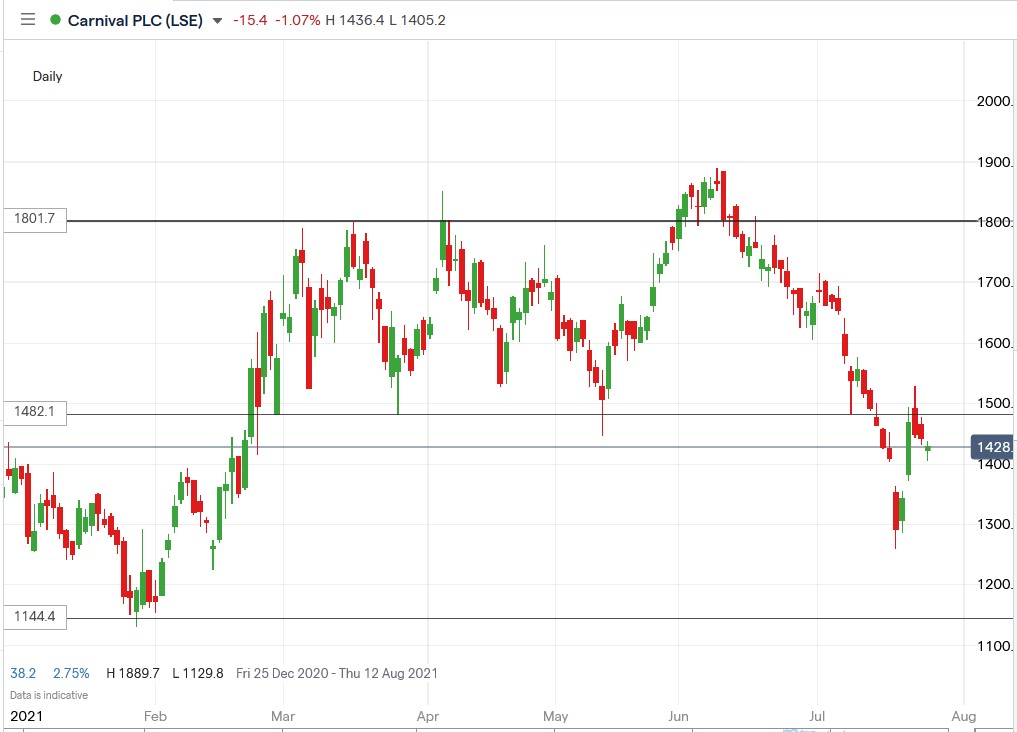 Carnival shares plunged 2.6% to trade at 1405.3p, falling from Friday's closing price of 1442.8p.
Is Now a Good Time to Invest In Carnival Shares?
Travel stocks, including Carnival shares, have been severely impacted by the coronavirus pandemic and subsequent travel restrictions. Hotels, airlines, cruises, and car rental companies have all been affected, but could now be a good time to buy travel stocks at a discount? Are Carnival shares included on our list of the best travel stocks to buy? Here's what our analyst had to say on the issue…