Singapore airline stocks were understandably hampered by the COVID-19 pandemic. Not only were flights cancelled and passengers reluctant to travel, but the overheads relating to operations still applied. Even grounded aircraft need to be serviced. There is also the risk of technological advances such as online conferencing doing away with the need for face-to-face business meetings. The question is how much of the bad news is already priced in. A search of five of the biggest carriers into and out of Singapore suggests that the answer is quite a lot.
Those looking for the best airline stocks to buy need to go into the situation with their eyes open and it might end up being a long-term investment, so choosing the right broker is important. This article will consider the pros and cons of a shortlist of stocks and provide tips on how to find a safe and trusted broker to trade them.

Best Airline Stocks in Singapore
For Singapore-based traders, the following are the current top airline stocks to follow:
1. Singapore Airlines Ltd
Singapore Airlines (SIA) had rallied since the start of 2021 thanks to optimism on rapid vaccination rates and the potential formation of air-travel corridors. At one point in February, bottom-fishers who had taken the decision to buy Singapore Airlines stock at the start of the year were sitting on 30% gains.
There is still a strong chance that some airlines could go bankrupt or are bailed out by governments – neither of those options return much value to shareholders. SIA would form a speculative purchase for investors who think things are as bad as they are going to get. The share price is trading at the low range of a 20-year price channel and if SIA makes it through the turbulence, and others don't, there will be opportunities to snap up market share.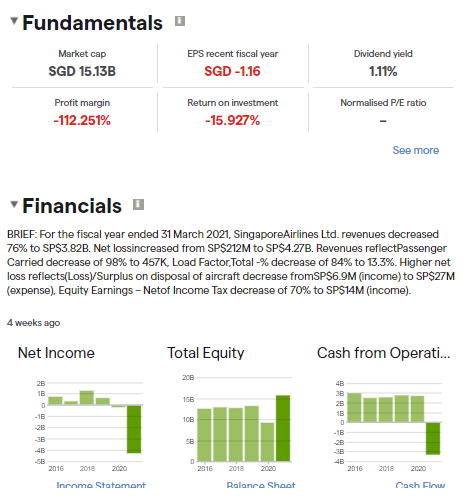 Source: IG
Prior to the COVID pandemic, Singapore Airline was a popular target of investors looking to buy Singapore dividend stocks. The pay outs to investors have been put on hold while the firm weathers the current storm, but a return to the track record of +4% dividend yields in previous years would be an attractive proposition.
2020 – Reported dividend amount per share: 0.00%
2019 – Reported dividend amount per share: 6.02%
2018 – Reported dividend amount per share: 7.63%
2017 – Reported dividend amount per share: 4.22%
Source: Dividends
2. Qantas Airways Ltd
Australian flag-carrier Qantas Airways offers some unique features relating to its location and these might make it a good pick for those Singapore-based traders looking to buy airline stocks now. The Qantas share price rebounded more than 50% from the June 2020 lows, despite the airline announcing operational full-year losses in excess of A$1bn for 2021. The broker UBS thinks it still has some way to go and has put a price target of A$6.20 on the stock.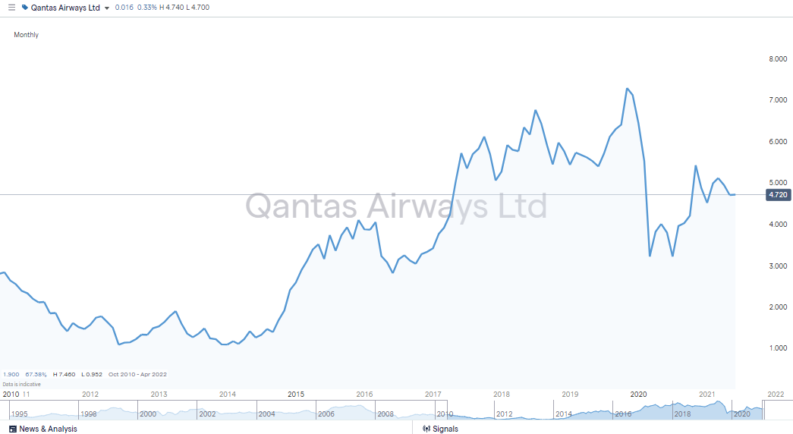 Enthusiasm for the stock comes down to the relative isolation of the domestic Australian market and some neat restructuring plans.
Domestic tourism has held up during the pandemic and domestic capacity is expected to rise to 80% of pre-COVID levels in the fourth quarter of 2021.
New deals with travel agents are beginning to generate cost savings.
The workforce is being pared-back and the loss of at least 8,500 staff will go a long way to achieving the forecast A$1bn cost savings by the end of 2023.
Qantas Freight is having a good pandemic as passenger planes, which sometimes also carry cargo, are grounded.
The innovative Qantas Loyalty scheme continues to help with cash flow and has been expanded to include health insurance and Qantas Wine.
The strength of the Qantas brand is being effectively leveraged by the management team and new side-hustles have received support and attention while the day-to-day business of flying planes has been scaled back.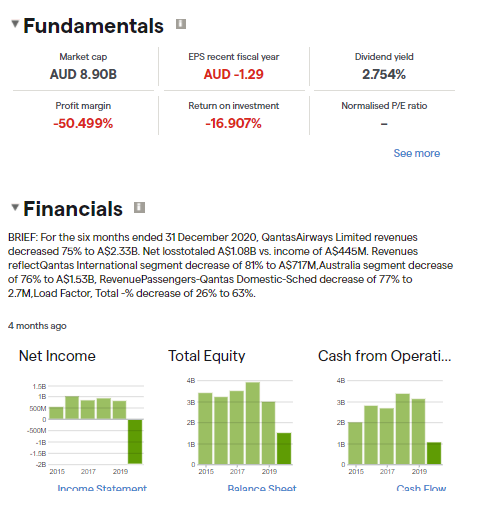 Source: IG
2020 – Reported dividend amount per share: 2.78%
2019 – Reported dividend amount per share: 3.89%
2018 – Reported dividend amount per share: 2.54%
2017 – Reported dividend amount per share: 3.26%
Source: Investing.com
3. Air France – KLM
Air France-KLM was experiencing problems even before the COVID-19 pandemic. The collapse of the air-travel industry in 2020 added to the firm's problems and it continues to be positioning itself to receive more state aid.
Despite this, there are still many looking for the right time to buy Air France shares. The Air France and KLM networks are a good fit and the group generates revenue from passenger and freight travel, and the all-important maintenance services it provides. The group needed to make changes and the COVID shake-down could be the catalyst for long-overdue reforms.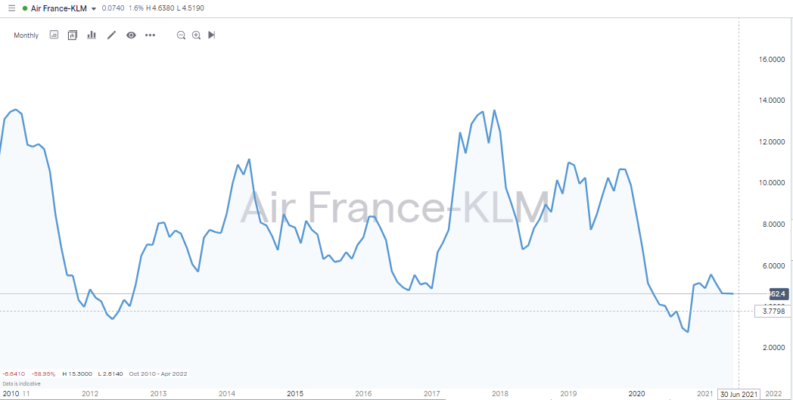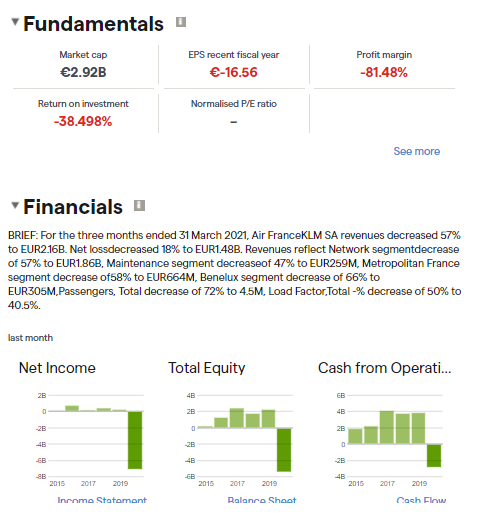 Source: IG
Air France cut its dividend to zero during the 2009 global financial meltdown and has not paid one since. This makes sense to some extent because a lot of the firm's shares are held by the company and insiders – it would effectively be paying a dividend to itself. It's important for any potential investors to monitor how the percentage of the firm that is owned internally changes. It is something of an overhang on share price as, if the firm sells shares in the market, that extra supply would suppress the Air France share price.
4. International Consolidated Airlines Group (IAG)
The broker Bernstein makes IAG its top tip out of legacy airlines. A lot of this comes down to the IAG share price being so suppressed. The stock was the worst performer in the FTSE 100 in 2020 and despite losses, it has rebounded from the lows as long-haul investors look to buy the dips.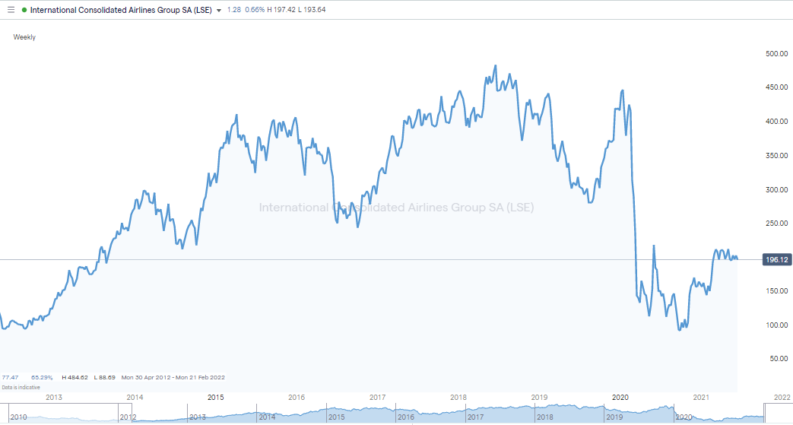 IAGs balance sheet is a cause for much of the relative optimism among investors. Thanks to bond issuances, revolving credit lines and cost savings, the firm's liquidity stands at €10.5bn to help it navigate the considerable headwinds. The UK-Spain operator operates a network that is strong in both the English speaking and Latin regions of the world.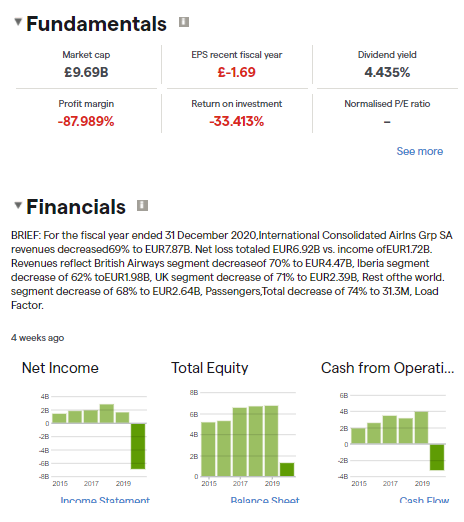 Source: IG
The IAG Cargo operations reported a 35% increase in quarter-on-quarter revenues in Q1 of 2021 and the long-planned overhaul of the fleet could complete just as global air travel returns to normal. The new, more efficient aircraft would provide cost savings and improved margins on every flight. This all adds up to potential upside for a firm, which prior to the unprecedented events to 2020, was a favourite stock among dividend investors.
2020 – Reported dividend amount per share: 7.74%
2019 – Reported dividend amount per share: 6.88%
2018 – Reported dividend amount per share: 7.35%
2017 – Reported dividend amount per share: 4.69%
2016 – Reported dividend amount per share: 5.53%
Source: Fidelity
5. Cathay Pacific Airways Ltd
Being based in Hong Kong has meant Cathay Pacific has had to navigate not only the COVID pandemic but also civil unrest due to political tensions. The stock has fallen a long way from the HK$19 highs of 2015 and with the stock trading at sub-HK$7, many investors are looking to take a position and prepare for take-off.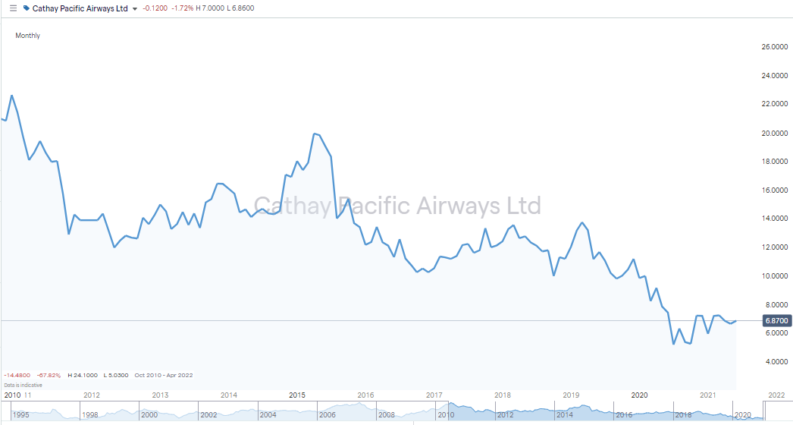 The airline's fundamentals appear strong, and as equity investors have a focus on future earnings, the forecast made in May 2020 for profits to grow by 79% over the next couple of years is promising. COVID concerns still hang over the company, but the political situation, while not being resolved, has moved on from the territory's main airport being used as a battle-ground by protestors and police.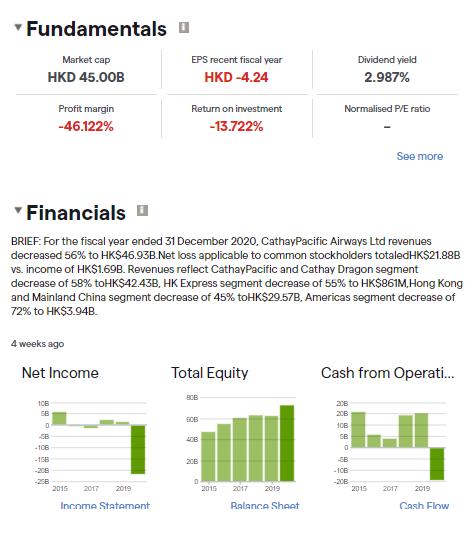 Source: IG
The firm cut its dividend in 2020 to protect its balance sheet, but while not technically a high-yield stock, it does have a track record of returning a share of profits to shareholders. At this stage, with the share price hovering around 10-year lows, a decision to buy Cathay Pacific is based on potential share price rises (capital gain) rather than dividend income.
2019 – Reported dividend amount per share: 2.45%
2018 – Reported dividend amount per share: 0.78%
2017 – Reported dividend amount per share: 0.00%
2016 – Reported dividend amount per share: 2.28%
Source: Investing.com
How to Buy Airline Stocks in Singapore
If you want to buy Singapore airline stocks, then the good news is that online brokers have revolutionised the sector. They've made trading and investing easy and cost-effective. If you follow a few simple guidelines, you can make sure that the one you choose is regulated.
1. Choose a Broker
Unfortunately, not all brokers are as reliable as others, so when choosing a broker, the priority has to be safety and security. It's no coincidence that regulated brokers also offer good customer service and neat trading tools, it's just a case of working out what to look for.
If your broker shortlist includes firms that are regulated by one of the below Tier-1 authorities, then you're on the right track.
The Monetary Authority of Singapore (MAS)
The Financial Conduct Authority (FCA)
The Australian Securities and Investments Commission (ASIC)
The US Securities and Exchange Commission (SEC)
Cyprus Securities and Exchange Commission (CySEC)
Financial authorities that regulate the markets require brokers to jump through a lot of hoops if they want to gain official approval. It's costly and time-consuming and a sign that your broker is in it for the long haul. This might be important for those looking to buy airline stocks as it could take some time for them to take off and you'll want to avoid spending that time wondering, 'is my broker legit'?
Trying out broker demo accounts is highly recommended. These risk-free accounts simulate the trading experience and provide an opportunity to check if a broker is a good fit. They also allow you to make mistakes using virtual, not real funds. A little research can help you find the best fit broker for you and the list of regulated Singapore brokers found here is a good place to start your search.
Best Brokers to buy Airline Stocks in Singapore:
eToro:
68% of retail CFD accounts lose money
Take a look
If you are ready to add some airline stocks to your portfolio you'll need a broker that is regulated, has low fees and a user-friendly platform. Finding one can be a daunting task, which is why we've selected some of our favourites that tick all of these boxes to help you get started.
2. Open and Fund an Account
The functionality of the demo and live accounts is exactly the same, so once you upgrade to a full account, the only difference is you'll be using real cash. The form-filling relating to setting up that account is all done online, and can be done using a handheld or desktop device.
As you'll be sending money to the account, the process involves sharing personal details. But there are also questions intended to allow the broker to build a user profile of you. They need to establish your trading experience and objectives to comply with the terms of their regulatory licensing. There aren't right or wrong answers, it's more a case of fact-finding to comply with client protection rules.
The final part of the onboarding process is wiring cash. This can be done using a variety of popular payment methods, but check the T&Cs as some, such as debit and credit card, are faster than others and some incur admin fees.
3. Open an Order Ticket and Set Your Position Size
You might want to use technical analysis and fundamental analysis to identify your target stock. It's also worth considering how much of it you want to buy. Trading in small size and building into a position is one way to manage risk. It's simply a case of searching the platform for the airline stock you want to buy, clicking to access that market and entering the number of shares or amount of cash you want to buy.
Just before you finally click to trade, it's worth considering a few other risk management tools that brokers offer.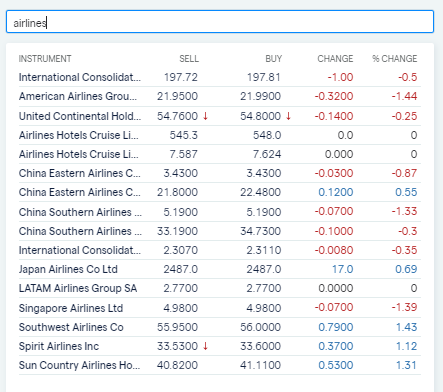 Source: IG
4. Set Your Stops & Limits
Stop Loss instructions and Take Profit orders are risk-management tools you can build into the system to manage your positions. This means the platform will automatically book trades to your account if price reaches a certain level. Not only does this manage risk, but it also means you don't have to follow the markets 24/7.
Stop-losses close out your position if price moves against you. Take Profit orders crystalise gains by selling part or all of your position if price goes your way.
These two tools are often recommended for beginners, but there is an alternative approach sometimes taken by buy-and-hold investors, and that is to not use them. It ultimately comes down to personal preference, but any holding in airline stocks in a global economy still suffering the effects of COVID, could be a bumpy ride. Some investors who are in positions for the long-term may not use stop-losses to avoid the risk of a short-term blip closing them out of a position which they think will come good in the end.
The Singapore stock exchange has set operating hours, which means you will either need to trade while it's open, or set a Limit Order. These instructions are binding contracts built into the system to buy at a certain price. They will become live the next time the market opens, and if the market price does reach the target level, you'll be 'filled' on your order and exchange cash for stock.
5. Make Your Purchase
The last of the steps is to click or tap on the 'Buy' button. You can pull the trigger on your trade from any online device and watch the profit and loss (P&L) of your position using the 'Portfolio' section of the platform. In fact, it's a good idea to check the trade details (and P&L) immediately after trading. Any manual errors, for example, buying the wrong amount of airline stocks, are best rectified as soon as possible, before price moves too far.
When the time comes to sell some or all of your airline stock position, this will be the area of the site to visit and close out your trade. At that point, your account will be debited stock and credited cash and the realised profit or loss will be down to the share price at the time.