Shares of cruise ship operator Carnival Plc (LON: CCL) are trading at a crucial support level ahead of the reopening of most economies worldwide. Is there more upside potential?
Some analysts argue that Carnival shares are overvalued given that they have rallied higher since bottoming in March 2020, yet the cruise ship operator has not resumed operations.
Regardless, the company's prospects have improved significantly as many developed countries are much closer to lifting the pandemic lockdown measures now than at any time in the past.
Carnival Plc has announced tentative dates at which some of its cruises will resume in future. The dates are aligned with the reopening schedules of several countries, starting with the UK, which plans to reopen its economy starting April 12.
The cruise operator has scheduled some of its cruises starting May 1 and is looking to capitalise on the summer travel period if many countries have lifted their more stringent travel restrictions.
Carnival Plc's shares price has rallied higher, driven by the pent up demand for the company's cruises following the lockdown measures that have been in place for over a year now.
While some might argue that the company's share price is overvalued, I believe its share price has room to keep rising, as depicted in the weekly chart below.
The chart shows the significant upside potential of the cruise operator's share price given that Carnival's shares once traded as high as 5000p in 2018.
A resumption of global cruise ship operations could be the perfect trigger for its share price appreciation, which most bullish investors are eagerly awaiting.
Carnival Plc share price.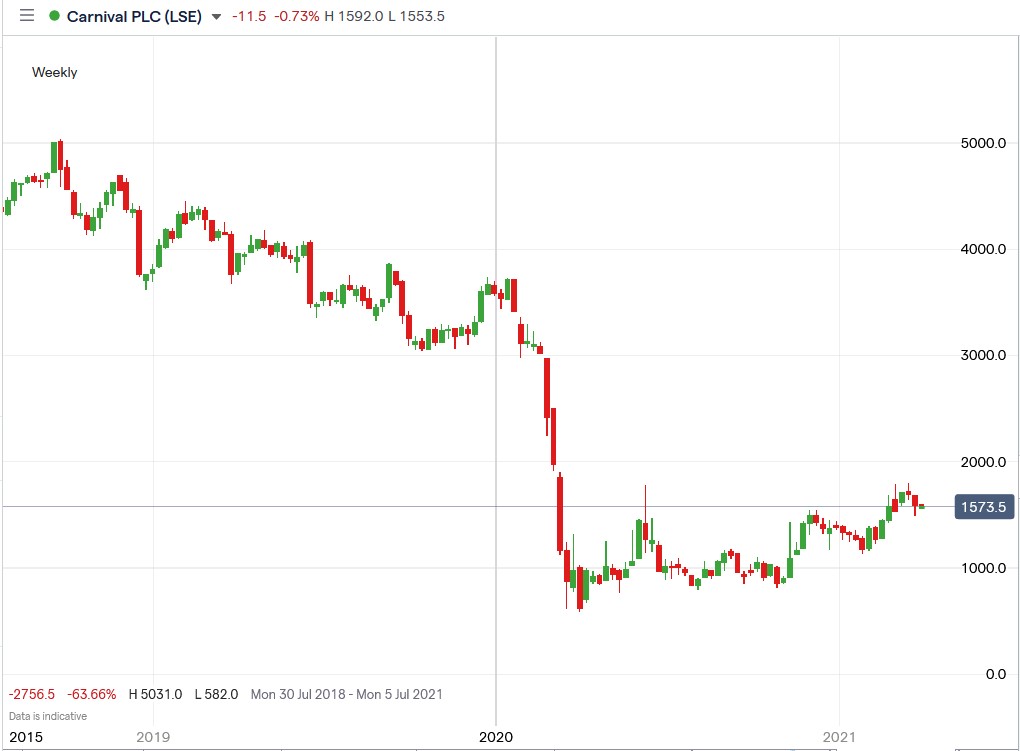 Carnival shares are trading above a critical support level, is there more upside potential in future?
Should You Invest in Carnival Shares?
One of the most frequently asked questions we receive is, "what stocks are best to buy right now?" It's a wide-ranging question, but one that we have answered… Our AskTraders stock analysts regularly review the market and compile a list of which companies you should be adding to your portfolio, including short and longer-term positions. Here are the best stocks to buy right now