Shares of Ceres Power Holdings plc (LON: CWR) fell 4.47% despite the company appointing Tudor Brown, the former President of UK chip designer ARM Holdings, as an independent director.
Investors were unimpressed by the announcement despite Tudor being one of the founding members of ARM Holdings and helped grow it into a billion-dollar company.
ARM's business model is very similar to Ceres Power in that both companies license their technology to other company and do not build the physical products associated with their technologies.

The hydrogen power companies shares have been falling since January as investor interest in the company waned following its massive 2020 rally. Investors are also worried that the company might have peaked last year, hence, the current downtrend.
Ceres Power needs to invest significant funds to keep growing at its current pace. It has to develop new technologies to reflect the advances made in hydrogen power generation and storage recently.
Tudor's appointment is a step in the right direction for the company, given his vast experience in developing new technologies combined with securing new licensing deals and running a large company's operations, which he acquired from his time with ARM.
However, it appears that it will take more for investor sentiment towards Ceres Power to shift back to being bullish.
Warren Finegold, CeresPower Chairman, said: "Tudor has substantial relevant expertise from establishing and growing ARM, with a very similar technology licensing business model to Ceres."
"Tudor's breadth and depth of skills in technology, licensing, and global industry will be highly complementary to our Board, and we look forward to working with him."
Ceres Power share price.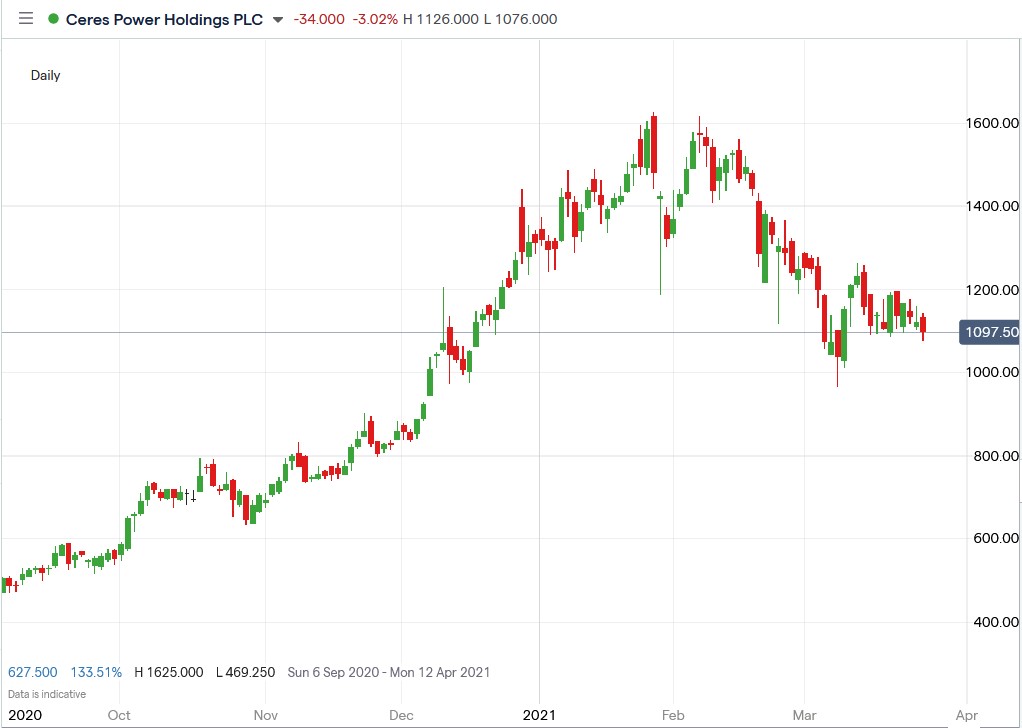 Ceres Power shares fell 4.47% to trade at 1077p, dropping from Wednesday's closing price of 1127.5p.