Key points:
Chill Brands shares crashed 31% after it missed H2 revenue targets.
The CBD company attributed the revenue miss to geopolitical events.
However, the firm's fundamentals remain strong despite the massive selloff.
The Chill Brands Group PLC (LON: CHLL) share price crashed 31% after the CBD company revealed that it might not meet its revenue targets for its current financial year ending 31 March 2022.

The firm cited logistical challenges as the primary driver behind its revenue miss. Still, it reassured investors that it had resolved most of its supply chain issues and would recognise the missed revenue in the first half of its next financial year.
Investors reacted negatively to the news despite the missed revenues being due to factors largely outside the company's control. Chill Brands pointed out that it was also affected by geopolitical issues during the financial, which informed its decision to onshore its production facilities.
These issues caused significant delays in delivering some orders to Chill Brands' customers and distribution partners. The company had announced that it had accumulated orders worth $1 million at the end of the first half of its financial year.
Chill Brands made sales worth $1.2 million during the first half of its fiscal year and expected to recognise at least $1 million in revenues during the second half of the financial year since it had orders worth that amount.
The company's CBD branded products have gained popularity across the United States after inking several large scale distribution agreements display them in convenience stores and other retail outlets.
Chill Brands reassured investors that its performance in the next financial year would be much better. It had streamlined its distribution network and would now be delivering its products to customers and other distributors on time.
Chill Brands shares have fallen 66.3% in 2022, and it is hard to make a solid buy argument for the stock, which seems to be headed towards zero at a fast rate. However, the company's fundamentals remain solid as demand for CBD products is expected to keep growing this year and for many more years.
While it is never a good idea to catch a falling knife, especially in the stock market, I would bet on Chill Brands' shares any day. First, however, I would wait for a solid bullish signal before buying, such as several bullish daily candles.
*This is not investment advice. Always do your due diligence before making investment decisions.
Chill Brands share price.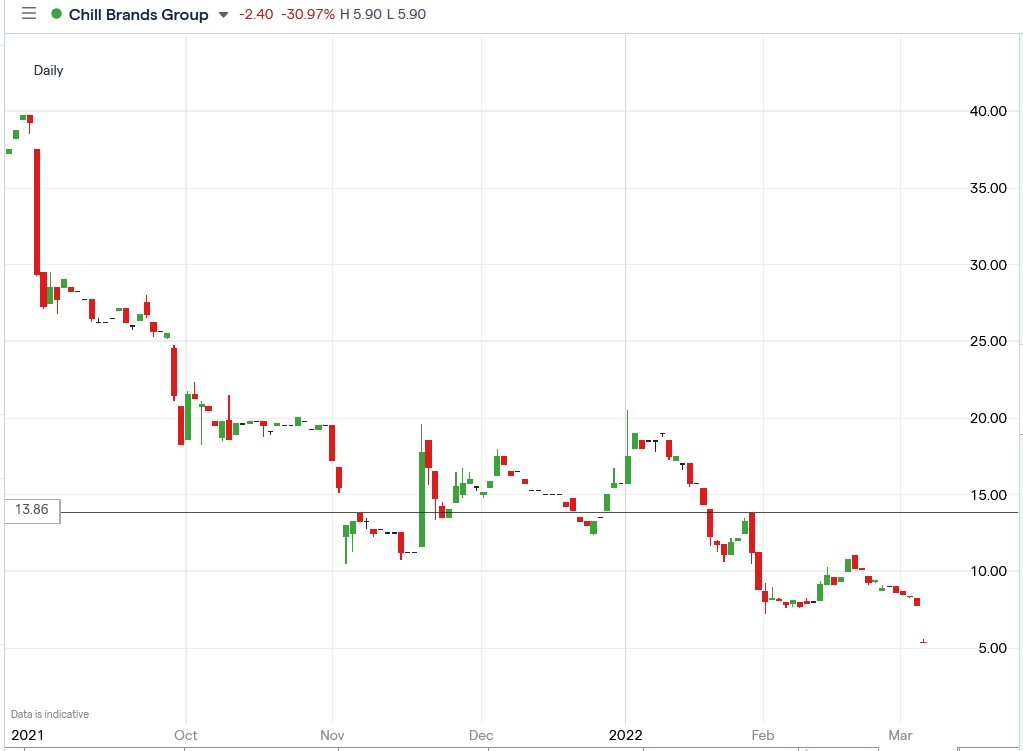 Chill Brands' share price crashed 31.09% to trade at 5.34p, falling from Thursday's closing price of 7.75p.