Key points:
Chill Brands share price has fallen 89.4% in 1 year and looks like a bargain.
The CBD products company has inked multiple distribution partnerships.
The company's prospects are promising, making it attractive to investors.
The Chill Brands Group PLC (LON: CHLL) share price has fallen 89.4% in the past 12 months, with its 2022 losses amounting to 48.6% amid a selloff that has made the stock appear pretty cheap at its current prices.

The question on my mind is, what is such a good company selling off despite announcing multiple positive milestones that should have boosted its share price.
The answer is simple. Cannabis stocks had a hard time last year despite the industry growing as investors took their money elsewhere.
However, this does not imply that there are no gems in the cannabis industry, and I think Chill Brands is one such gem.
The CBD company that sells Chill branded products in the UK, USA and Europe has made multiple strategic decisions that will likely pay off significantly.
For example, the company just partnered with Fabric, an automated micro-fulfilment firm that will place Chill Brands BD products into Fabric's micro-fulfilment centres (MFCs) all across the United States.
Once the deal is fully implemented, Chill Brands customers will be able to order their CBD products on the Chill.com website and pick them up at an MFC near them.
Fabric will also provide Chill Brands will data on its customers' location, enabling it to better serve its clients by improving delivery times and stocking its products at select Fabric MFCs.
Trevor Taylor, Chill Brands Co-EO and Founder, said: "Our agreement with Fabric provides Chill customers with the flexibility and freedom they demand and deserve. With robots at Fabric picking and procuring our orders, this partnership will mark Chill.com out as an efficient and innovative brand of the future."
Colin Coggins, Fabric's COO, added: "Fabric's vision is to enable brands like Chill to deliver exceptional customer experiences by bringing them closer to their customers than ever before. Through our intelligent network of MFCs in today's dense urban commerce centres, Fabric helps brands quickly and sustainably meet their customers where they are."
Chill Brands has multiple partnerships with big brands such as the U.S. Major Arena Soccer League (MASL) to offer its products to the league and member teams.
The company is also constantly expanding its product offering, adding CBD Gummies and flavoured tinctures to its product portfolio.
Today's announcement adds to the long list of partnerships signed by Chill Brands to distribute its products within the US and other markets, which should pay off over the long term.
Therefore, I believe that Chill Brands is an underrated stock that could handsomely reward investors over time.
*This is not investment advice. Always do your due diligence before making investment decisions.
Chill Brands share price.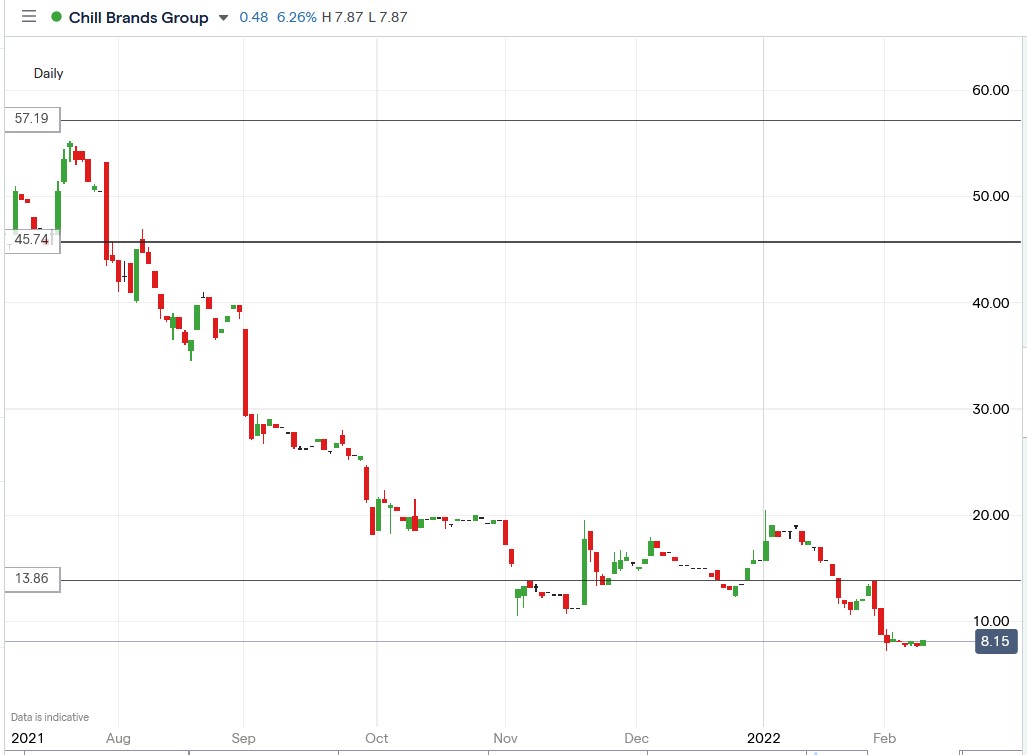 Chill Brands shares edged 6.99% higher to trade at 8.26p, rising from Tuesday's closing price of 7.72p.