Key points:
The global cinema industry struggles as Cineworld faces bankruptcy.
The cinema industry was stunned by the latest developments.
However, AMC Entertainment is faring much better than its UK peer.
Cineworld's share price tumbled earlier this week after reports that the company could file for chapter 11 bankruptcy protection shortly. The cinema operator's problems started after the COVID-19 pandemic, leading to the mandated closure of cinemas worldwide.
The Cineworld stock price decline has been looming for a long time after the company faced challenges recovering from the pandemic lockdowns due to a lack of blockbuster movies.
The company's massive debt pile is another factor dragging its share price lower. Cineworld has almost $5 billion in debt owed to various creditors, much of it raised in the past two years to keep it afloat during the lockdowns.
Also read: Best Strategies For Online Stock Trading.
However, the movie theatre operator's use of debt to fund acquisitions also saw it accumulate significant debt after purchasing Regals Cinemas. In addition, its botched acquisition of Cineplex also contributed to its current woes after a Canadian court awarded Cineplex C$1 billion in damages.
With the current inflation and rising interest rates, Cineworld will struggle to bounce back, and the only way out for the firm will be to file for bankruptcy. However, the company issued a statement saying that it is holding talks with lenders and stakeholders as it reviews its financial options and intends to continue operating its business with no significant impact on its employees.
While Cineworld is headed straight for bankruptcy, analysts are concerned about other companies like AMC Entertainment. The ripple effect of Cineworld's looming bankruptcy has affected AMC's share price this week.
AMC, however, is not facing massive financial challenges as they increased their outstanding shares from 104 million in 2020 to 516 million. This is after fundraising successfully last year during the meme stock euphoria. AMC stock gains were driven higher by a mob of amateur investors referring to themselves as 'apes' who were willing to hold the stock despite Wallstreet analysts calling it a bad buy.
Earlier this week, the company launched a new preferred share known as APE. In addition, AMC introduced 1 billion units, each equal to one common share, which was issued to investors. Analysts termed this a two-for-one stock split, often seeing a company's share price drop by almost half.
Cineworld share price.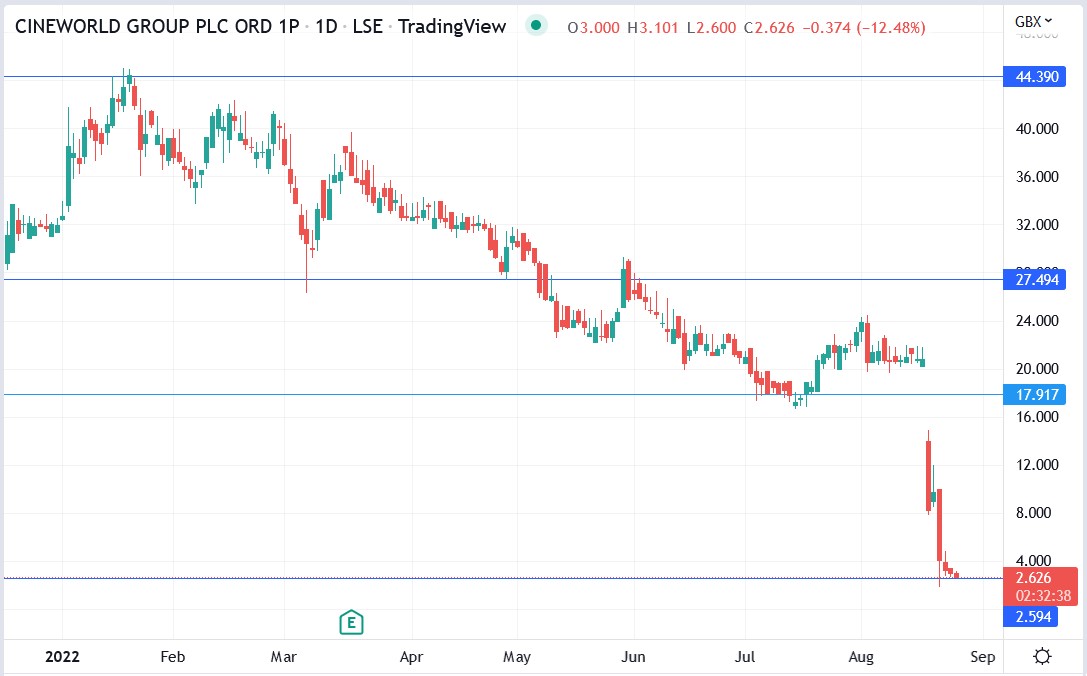 Cineworld shares have fallen 81% in the past week amid the bankruptcy rumors.