Key points:
OptiBiotix shares plunged 33.1% on a downbeat H1 2022 operating update.
The company attributed its losses to the spinoff of its probiotics business.
The company expects its sales to pick up in H2 2022.
The OptiBiotix Health PLC (LON: OPTI) share price plunged 33.1% after the company released a downbeat trading update for the six months ended 30 June 2022. The company noted that its revenues declined after spinning off its former probiotic subsidiary ProBiotix Health plc (PBX) in March this year.

The life sciences company noted that it only recognises profits and losses from its 44% stake in ProBiotix Health plc, which is now listed on the AQSE Growth Market. Hence, it cannot recognise the revenues generated by the business.
Also read: Best Healthcare Stocks To Buy Right Now.
OptiBiotix also warned investors that the shift in its business focus to bigger partners that can help it penetrate its target markets, such as the United States and Asia, had significantly altered the company's cash flows.
The company now expects larger orders from its partners. Hence, the frequency of orders has declined since the partners now take longer to sell all the products supplied by OptiBiotix before placing another order.
Investors were unhappy to hear the company forecast lower revenues in H1 due to the spinoff. However, they also ignored the company's assertion that new orders would pick up in H1 2022 after being granted necessary regulatory approvals to allow its most significant partners to restock its products.
OptiBiotix warned investors that despite the expected uptick in sales volumes during H2 2022, it does not expect to recoup the losses suffered in H1 after the demerger. Investors further ignored the firm's healthy cash balance of £1.5m versus H1 2021's £993K.
The life sciences company revealed that its losses in H1 2022 were also driven by significant investment in growing its commercial, business development and online sales teams. In addition, it refocused its overall strategy toward larger partners and away from smaller players.
OptiBiotix is also keen to grow its direct-to-consumer business while increasing the sales of final products instead of raw ingredients. These investments are expected to pay off over time as the company expands its presence in its key growth markets.
*This is not investment advice. Always do your due diligence before making investment decisions.
OptiBiotix share price.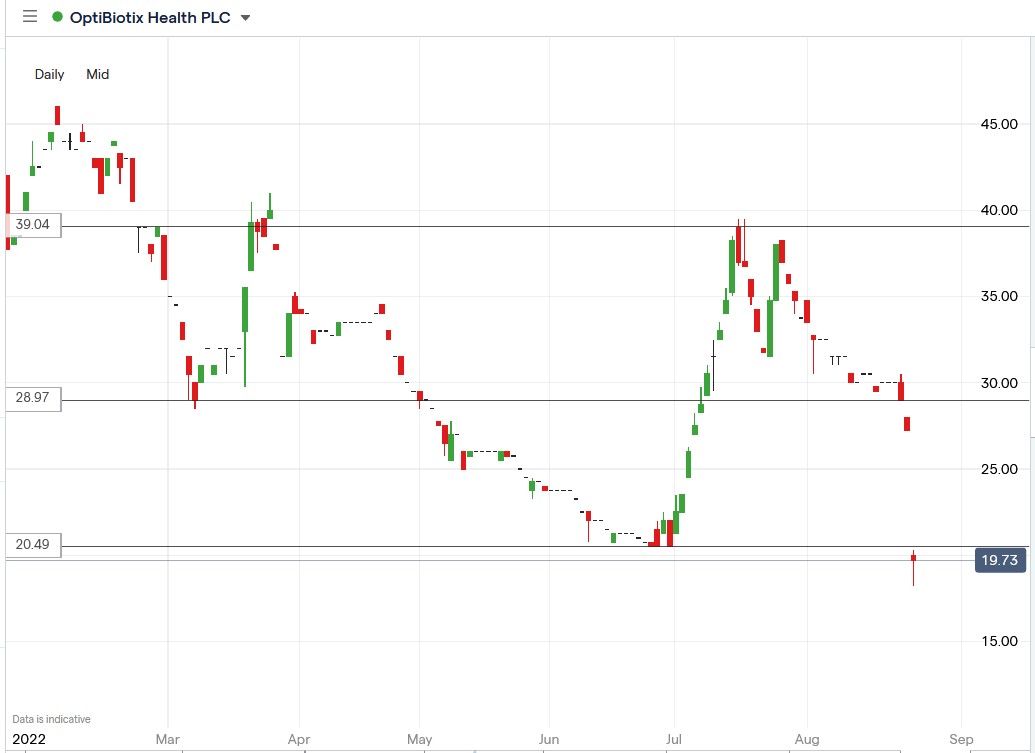 The Optibiotix share price crashed 33.12% to trade at 18.225p, falling from Tuesday's closing price of 27.250p.