Key points:
Cineworld shares are trading flat for the year while many wonder what's next?
The cinema operator is expected to settle its dispute with Cineplex provately.
Investors are waiting for new movies releases to boost Cineworld's share price.
The Cineworld Group plc (LON: CINE) share price is trading flat for the year after a tumultuous couple of months following the Canadian Superior Court's judgement against it, which ordered it to pay Cineplex C$1.23 billion ($957 million) in damages.

The company appealed the judgement, with Cineplex filing a counter-appeal. The appeals are set to be heard and determined by Canada's appeals courts. However, people familiar with the matter have suggested that the two firms might opt for a settlement.
A settlement would see Cineworld pay a smaller amount in damages, allowing it to dodge bankruptcy proceedings, which could ensue if the appeals court upholds the initial damages award, which is more than Cineworld's current market valuation.
Investors will breathe a sigh of relief once the matter is settled. Then, Cineworld can focus on its core operations of running a profitable chain of cinemas and movie theatres across ten countries globally.
Cineworld will benefit from the lifting of most lockdown restrictions and a loaded slate of blockbuster movies scheduled for release in Q2 2022. In the meantime, investors will be waiting to see how the appeal progresses.
Some analysts were not pleased to hear that Cineworld's top bosses, including its CEO, Mooky Greidinger, had awarded themselves significant bonuses in 2021. Mooky's pay rose to £1.48 million in 2021, up from £830,000 in 2020.
Israel Greidinger, Mooky's brother and deputy CEO, saw his pay rise to £1.21 million in 2021, a significant hike from the £689,000 he earned in 2020. Still, investors may overlook the hefty pay if the cinema operator turns around its fortunes.
Investors looking to buy Cineworld shares should consider that it is trading in the middle of a wide range marked by a low of 27.50p and a high of 44.53p. Therefore, those buying at current levels (32.84p) should have their stop-loss orders at the 27p level.
Some investors may choose to wait for a spike higher to above 40p to enter, which is still okay, while others may choose to wait for a spike to 27.50p, which presents the best entry opportunity. However, there are no guarantees we will get a spike lower.
*This is not investment advice. Always do your due diligence before making investment decisions.
Cineworld share price.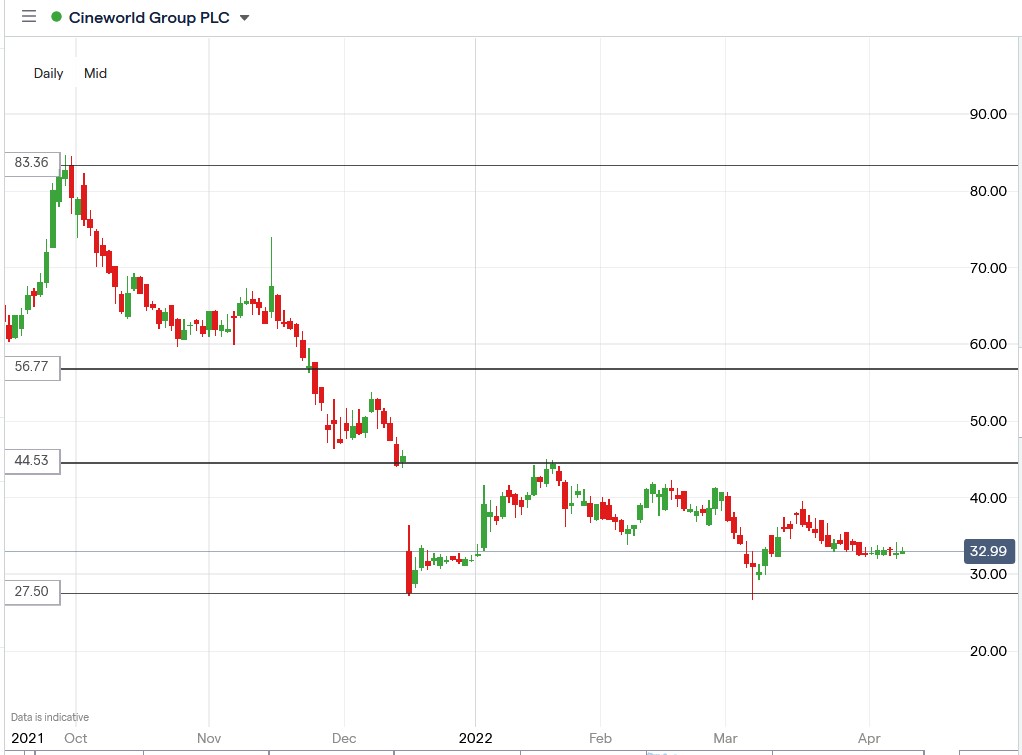 Cineworld shares are up 3.22% in 2022 as the movie chain struggles to recover. So what's next for the firm?