Key points:
Coinbase stock price edged higher premarket on upbeat Q4 results.
However, the stock had given up its gains and was trading lower at writing.
COIN shares could be in for a tough time amid weak Q1 2022 results.
The Coinbase Global Inc (NASDAQ: COIN) stock price edged 1.36% higher after the leading US crypto trading platform posted the financial results for Q4 2021.

Investors were pleased to see that the firm generated $2.5 billion in revenues, beating analysts' estimates of $1.94 billion by 27%.
The company's net income also jumped to $840.2 million during Q4 2021 compared to the $176.8 million generated in Q4 2020.
Interestingly, Coinbase generated a considerable chunk of its overall revenues, that is $2.185 billion, from retail investors despite the trading volume from the retail investors being $177 billion. Furthermore, institutions generated a meagre $90.8 million in revenues for Coinbase, although their trading volume is much higher at $371 billion.
Coinbase's results also indicated that Bitcoin's dominance in the crypto space is shrining as the leading crypto generated $16 billion in trading volume, similar to what Ethereum generated.
However, other crypto-assets generated $68 billion in trading volume, more than double the combined value of Bitcoin and Ethereum trades.
Coinbase shares initially surged higher on the positive Q4 results after the market close but quickly gave up most of their gains after the firm warned that it was expecting lower trading volumes and transaction revenues in Q1 2022.
The crypto trading giant warned that if its business registers a material decline beyond its current estimates, it will ensure that its full-year losses for 2022 do not exceed 4500 million.
The company reassured investors that it sees further growth from the non-fungible token (NFT) segment, which will launch an NFT trading platform soon. Other growth areas identified by the company include DeFi applications and Web3.
Coinbase said it would hire 6,000 employees in 2022 to strengthen its customer support services and the reliability of its services, which has been a significant weakness for the company over the years.
Investors reacted negatively to Coinbase's news that it had generated $200 billion so far, with just one month left to the end of Q1 2022. Still, Coinbase remains the leading crypto trading platform in the US, which is unlikely to change.
*This is not investment advice. Always do your due diligence before making investment decisions.
Coinbase stock price.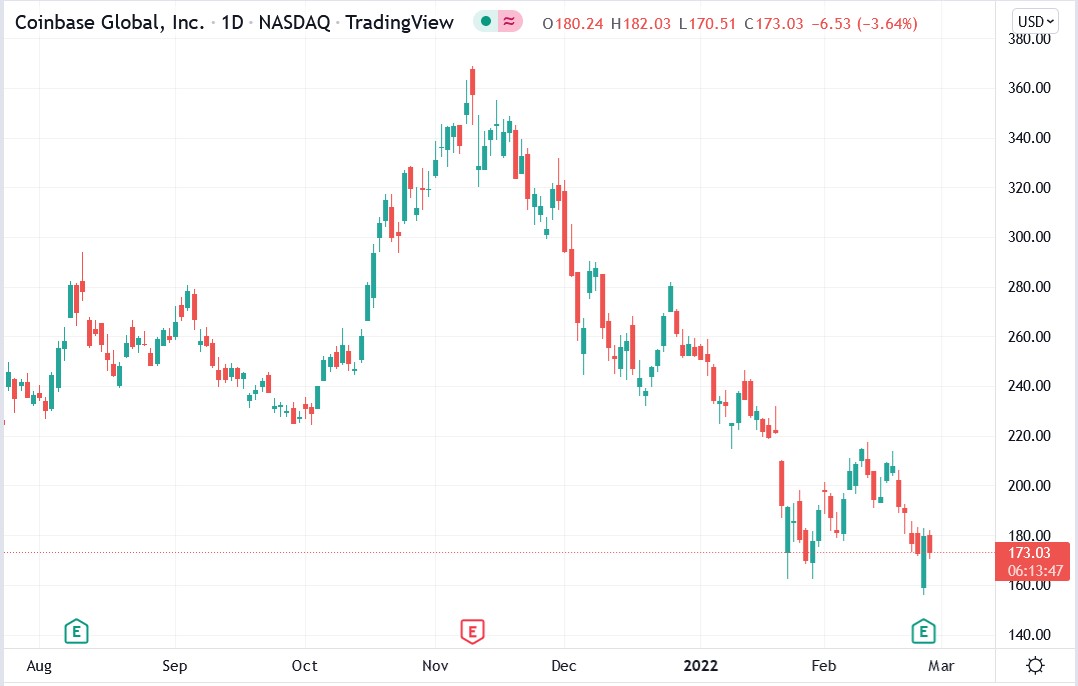 Coinbase stock price edged 1.36% higher to trade at $182, rising from Thursday's closing price of $179.56.