Key points:
Li Auto shares rallied 4% premarket on upbeat Q4 financial results.
The EV automaker expects to deliver fewer vehicles in Q1 2022.
LI shares have fallen almost 15% in 2022 but have a long way to recover.
The Li Auto Inc (NASDAQ: LI) stock price rose 3.62% during premarket trading after the Chinese electric vehicle manufacturer revealed that it generated $1.67 billion (RMB 10.62 billion) during Q4 2021, beating analysts' estimates of $1.56 billion.

The automaker's earnings per share fell short of expectations at 1 cent per share, missing analysts estimates of 2 cents per share.
Another critical metric highlighted by the EV manufacturer was that the profit margins on car sales dropped to 22.4% in Q4 2021 compared to 23.3% in Q3 2021, which contributed to its lower profits.
The company intends to spend a significant amount in building its third manufacturing facility in the Chinese city of Chongqing. The company has signed an agreement with the city's municipal government in December but recently bought a parcel of land.
Li Auto today confirmed that it would build a manufacturing facility on the parcel of land measuring 1.13 million square meters. The land is much bigger than the one on which Tesla built its gigafactory in Shanghai, measuring 860,000 square meters.
The EV manufacturer wants to be producing up to 1.6 million cars annually by 2025 once the new site is completed. Li Auto's current plat can produce 100,000 units annually, while a  second facility with a similar capacity is under construction.
Xiang Li, Li Auto's CEO, said: "We achieved profitability and [$600 million in] operating cash flow in the fourth quarter even as we accelerated the pace of R&D investment and sales network expansion. A significant reflection of our operating excellence."
The company has reported its second profitable quarter in a move cheered by investors given the many years that market leader Tesla took before returning a profit to shareholders.
Li Auto and other Chinese EV manufacturers such as NIO and XPeng have stepped up competition against Tesla and are slowly curing a niche for themselves in China and abroad.
The company delivered 35,221 vehicles in Q4 2021, but it expects to deliver 31,000 vehicles in Q1 2022, which is much lower than analysts' estimates of 32,000 vehicles.
Li Auto shares have fallen 14.77% in 2022, and shareholders hope the shares shall reverse course and head higher. However, given the lower delivery numbers expected for Q1, the road ahead for the firm might be long before it returns to growth.
*This is not investment advice. Always do your due diligence before making investment decisions.
Li Auto stock price.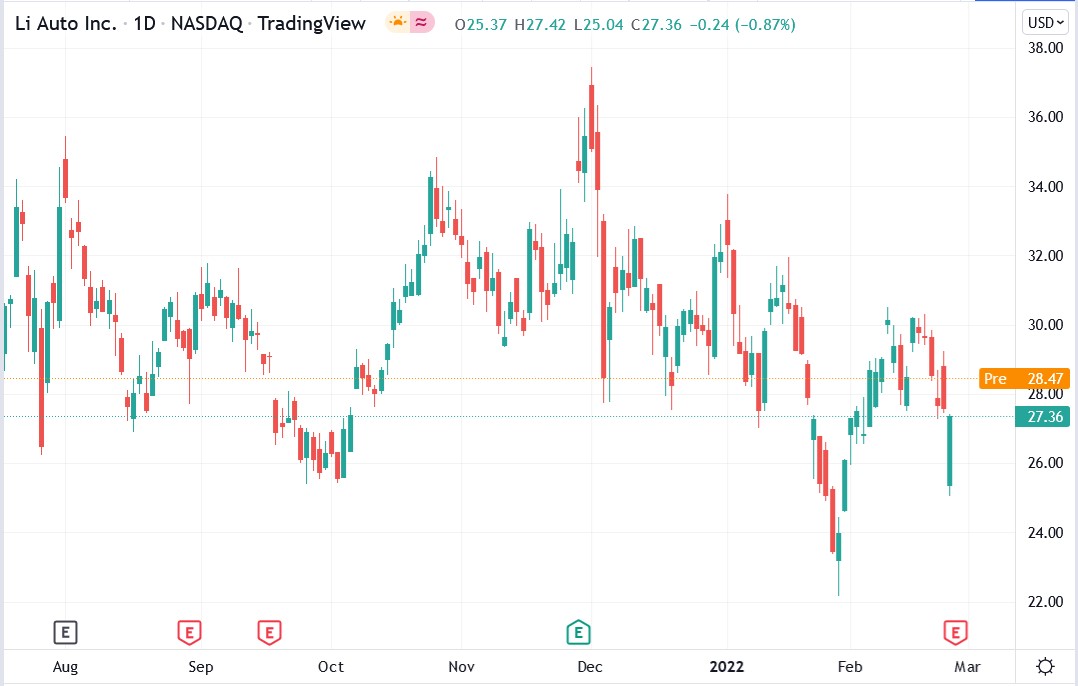 Li Auto's stock price rallied 4.06% higher to trade at $28.35, rising from Thursday's closing price of $27.36.