Shares of the Canadian Overseas Petroleum Limited (LON: COPL) today surged 50% after the company announced a deal to acquire private US oil and gas company Atomic Oil & Gas LLC, which will transform it into a producer, with a meaningful and valuable operation.
The company hailed the deal as a "game-changing acquisition" given that Atomic has producing assets in the US state of Wyoming, the Barron Flats Shannon Unit (57.7% owned by Atomic) and Cole Creek Unit (66.7% owned by Atomic).
The deal will see the Canadian Overseas Ltd (COPL) acquire Barron Flats which produces around 1,400 barrels per day (bpd), up from 200 bpd in 2017, and is forecast to reach a plateau rate of 5,000 bpd gross by 2022.
The Cole Creek asset, meanwhile, is forecast to have a 3,500 bpd plateau by 2026. Atomic also had other assets in Nigeria under the Essar Nigeria brand, which now belong to COPL.
Arthur Millholland, COPL's chief executive, said: "This is a game-changing acquisition which will materially reposition COPL as a production company with assets that have a long-term lifecycle and rapid production opportunity."
Adding:
"Oil production assets of this quality, having an incline curve rather than a decline curve, are rarely available for purchase,"
"Circumstances surrounding the Covid-19 situation created this favourable opportunity for COPL.
"With this acquisition, in addition to the substantial upside potential already present in our Nigerian offshore project, the company is now strategically well placed to deliver enhanced value and returns to shareholders."
COPL share price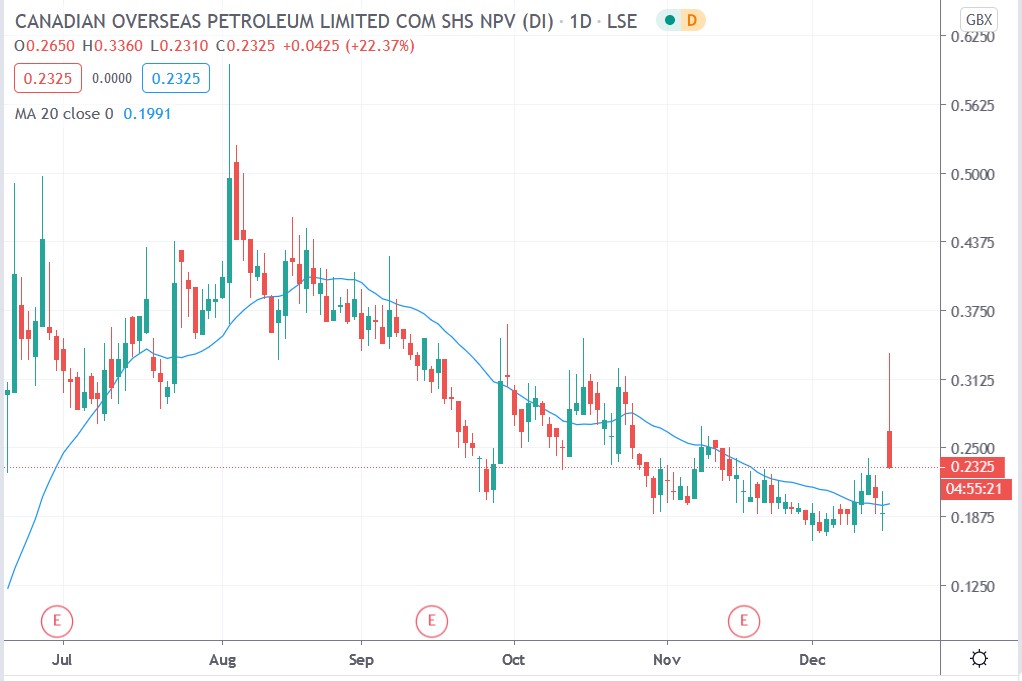 COPL shares today surged 76.8% to trade at 0.336p having rallied from Tuesday's closing price of 0.19p.