Key points:
The Darktarce share pierce plunged 16.2% on a report by the Telegraph.
The news report highlighted that Nicole Eagan had a top role in Autonomy.
As a result, investors are worried that Darktarce could become a scandal.
The Darktrace PLC (LON: DARK) share price plunged by 16.2% earlier today amid worries that the company could become another scandal similar to the Autonomy scandal perpetrated by Mike Lynch, its founder.

A recent report by The Telegraph revealed that the company's current CEO, Peppy Gustafsson, and its chief strategy officer Nicole Eagan were part of the top management team that used various accounting levers to prop up the sale made by Autonomy Inc.
HP inc bought Autonomy Inc for $11 billion in October 2011 but had to write down the company's value by $8.8 billion in less than a year. HP blamed Mike Lynch, Autonomy's founder and CEO, along with the company's top executives for inflating the firm's revenues.
Mike Lynch was recently found guilty of concealing Autonomy's hardware sales while positioning the firm as a pure-play software business. HP is currently seeking the extradition of Mike Lynch to the US to face fraud charges.
Today's Telegraph report revealed that the US Department of Justice also investigated Nicole Eagan for colluding with Mike Lynch in her role as Autonomy's Chief Marketing Officer.
The report also questions Nicole Eagan and  Peppy Gustafsson, Darktrace's current CEO. They both abruptly withdrew from testifying in the 2019 High Court case shortly before they were due to be cross-examined.
Ms Eagan said that she cooperated with the DoJ investigation and provided all the materials requested during the investigation. However, only Mike Lynch was indicted by the high court and now faces the possibility of extradition to the United States.
Investors are worried that Darktrace could turn into another scandal similar to Autonomy, given Mike Lynch's early involvement with the project and the critical roles played by Peppy Gustafsson and Nicole Eagan, who were also Autonomy employees.
Still, nothing stands out yet, but investors' worries can be seen in Darktrace's share price, which has fallen 16% today and was headed lower after the story by The Telegraph.
Only time will tell whether Darktrace is another Autonomy; hence, investor worries at this point are justified.
*This is not investment advice. Always do your due diligence before making investment decisions.
Darktrace share price.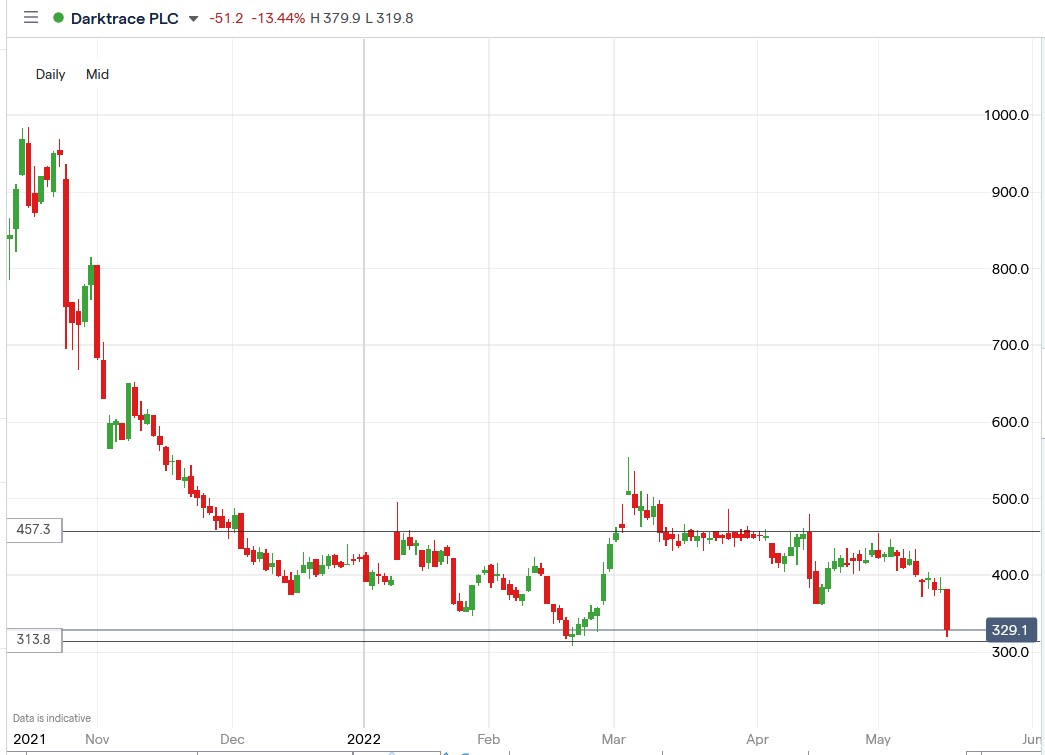 Darktrace's share price plunged by 16.18% to trade at 320.1p, falling from Tuesday's closing price of 381.9p.