Key points:
Darktrace shares surged 19.7% on upbeat six months results.
The company finally cut ties with Mike Lynch, and its business is gaining.
Moreover, there seems to be significant global demand for its products.
The Darktrace PLC (LON: DARK) share price surged 19.7% after its revenues surged 52.3% in the six months ended 31 December 2021 to $192.64 million compared to a similar period in 2020 when it generated $126.51 million.

The cybersecurity company's shares rallied higher as it continues to prove its naysayers wrong by growing its business despite lingering doubts about the effectiveness of its products in protecting organisations against cyber attacks.
The company, whose products are based on predictive AI, finally cut ties with one of its first backers Mike Lynch. He is facing fraud charges in the United States for defrauding HP by inflating sales figures during the sale of his first company, Autonomy.
Many critics have singled out the company's association with Mike Lynch as a critical factor in their criticism. Still, today's results offer significant proof that the company's products work and its business strategy is paying off.
Darktrace's gross margins shrunk 0.9% to 89.3% compared to last year's 90.2% but were still much lower than expected amid cost savings triggered by the pandemic that has kept much of its staff working from home.
However, the company expects its costs to rise over time as its operations normalise as the pandemic wears off and the high inflation finally affects its labour costs and other inputs.
The cybersecurity company added 1,854 net new clients, with 926 clients added in the first half of its 2022 fiscal year. The addition of new clients is evidence that there is significant demand for the company's products globally.
The firm's upbeat forecasts for its 2022 financial year also contributed to the rally in its share price. The company expects to grow its annual recurring revenues (ARR) by between 44.5% and 46.5%, a slight increase from the previous figures of 42% to 44%.
Darktrace shares have risen 25.66% in 2022, and investors could be in for further gains as the year progresses.
While a 25% gain in two months is admirable, investors should remember that the company's shares have fallen 22.5% in the past six months and could recoup their losses.
*This is not investment advice. Always do your due diligence before making investment decisions.
Darktrace share price.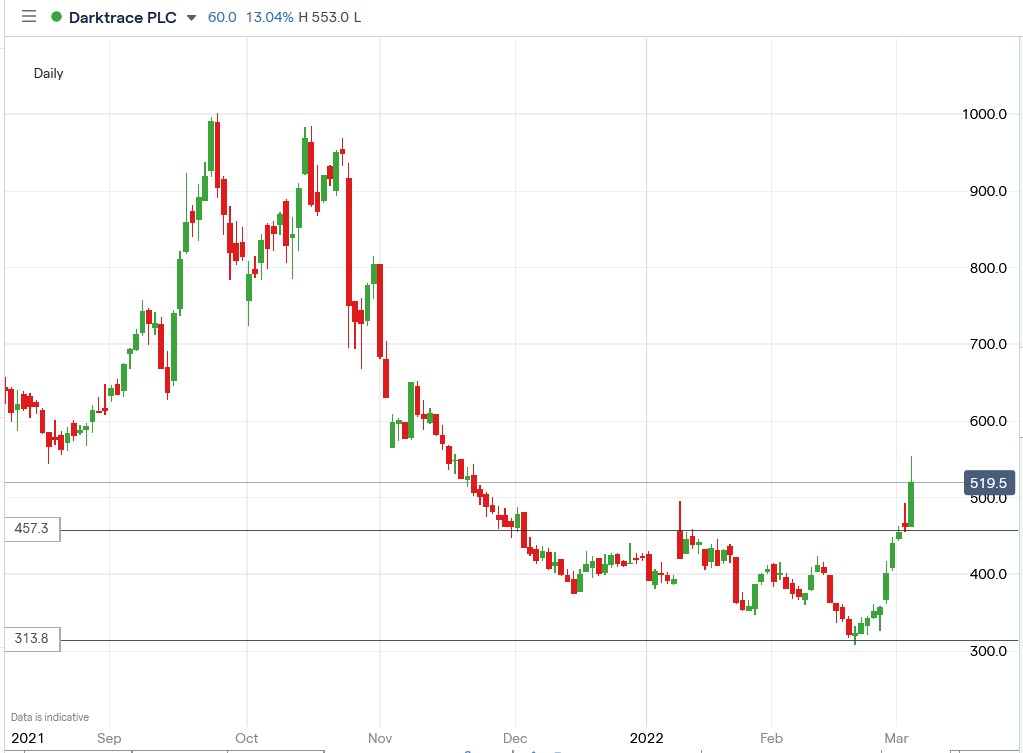 Darktrace shares surged 19.74% to trade at 553.8p, rising from Wednesday's closing price of 462.5p.