Key points:
Synairgen share rallied 42% despite the US NIH pausing its phase 3 trial.
The firm is at risk of losing the US NIH's partnership on its in-home trial.
However, there is hope that its in-home clinical trials will be successful.
The Synairgen plc (LON: SNG) share price edged 42% higher after revealing that the US National Institutes of Health has asked it to pause the production of clinical supplies for the ACTIV-2 Phase 3 until the timeline for the use of the agent is confirmed.

Pausing production does not sound like a positive announcement since there are no guarantees that the ACTIV-2 study shall proceed into phase 3 trials after the disappointing data from Synairgen's SPRINTER Phase 3 study was released in late February.
However, investors are clutching at straws after the disappointing SPRINTER phase 3 clinical trial results triggered a 92.1% crash in Synairgen's share price.
The company is still analysing the results of the SPRINTER study, including the topline results and full dataset, to understand all the results better. The firm will announce the findings immediately they are ready and will publish them in a peer-reviewed journal in line with industry regulations.
Synairgen is keen to investigate some positive aspects of the SPRINTER study, which showed effectiveness in preventing severe disease and death progression, evidenced by a 36% decline in the pre-defined per-protocol population.
Investors are hopeful that Synairgen will turn around its fortunes and get back to its past glory. Still, the path ahead is highly challenging, given that SNG shares were trading above 200p in January 2022 and are now trading at 22p.
A positive highlight in today's update was that in vitro studies conducted at Viroclinics-DDL in the Netherlands demonstrated that SNG001 was effective against the Omicron and Delta variants of the SARS-CoV-2 in concentrations that it can quickly achieve.
Synairgen has not given up on SNG001 despite the drug proving relatively ineffective within a hospital setting. The company has another trial based on a home setting where SNG001 could be more effective without the impact of additional hospital care.
Investors holding SNG shares should sit tight as there is a good chance that the home-based trial will prove effective over the long term. Still, there is a risk that the in-home trial, which is the one affected by today's announcement, may not proceed, leading to further losses.
Synairgen is waiting for the Phase 2 data from the US NIH ACTIV-2 in-home trial, which, if successful, could push the NIH to approve the phase 3 trial.
*This is not investment advice. Always do your due diligence before making investment decisions.
Synairgen share price.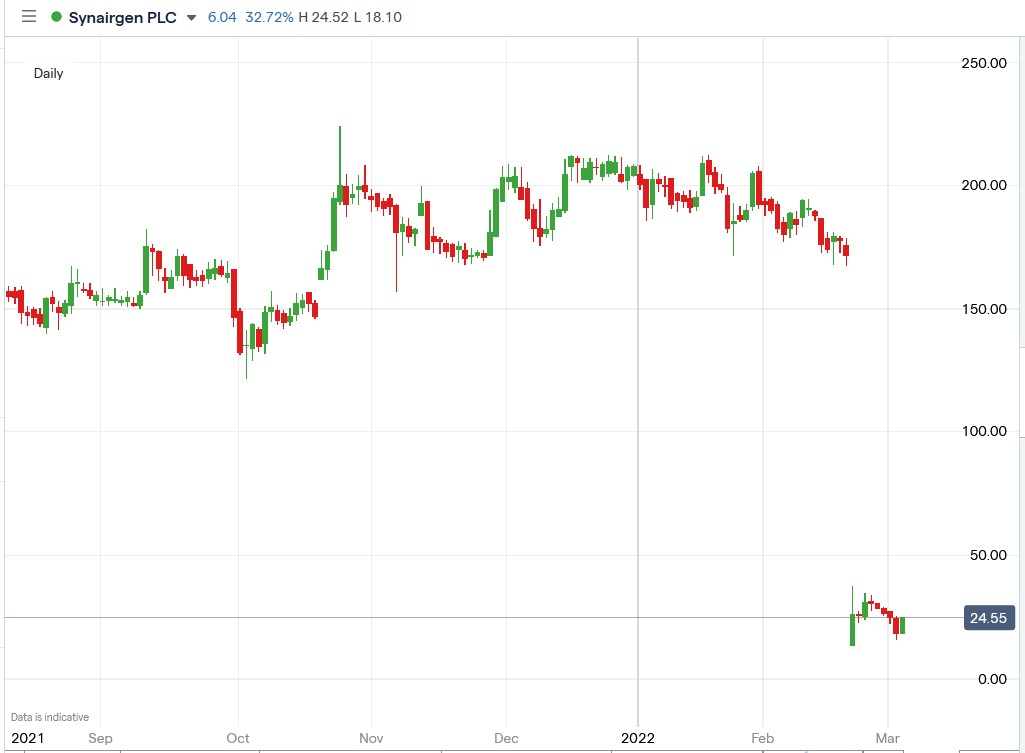 Synairgen share price rallied 42% to trade at 25.85p, rising from Wednesday's closing price of 18.20p.