Key points:
Deepverge shares surged 10.2% after securing a  £25 million loan facility.
The company also acquired Glanaco Limited, an engineering company.
However, DVRG shares have formed a bottoming pattern on the daily chart.
The Deepverge PLC (LON: DVRG) share price surged 10.2% after revealing that it had secured a £25 million mezzanine loan facility to fund its future growth and the acquisition of an engineering services company Glanaco Limited for £1.08 million.

The acquisition will see Deepverge bring in-house the testing, assembly, and commissioning of a new generation of Microtox®PD (real-time pathogen detection in wastewater).
Deepverge will pay for Glanaco Limited using a mixture of cash (£4,300,000) and issuing 4.55 million shares priced at 14.25p, which is a premium on yesterday's closing price.
The company will use the newly-secured funds to expand its Skin Trust Club in the US and its Labskin products by upgrading its existing laboratories, buying new equipment, and recruiting staff, including technicians, informaticians, scientists and customers service staff.
Deepverge intends to expand its North American Headquarters in New Castle, Delaware, where the new staff will be based. The facility also hosts its genome sequencing capabilities as it rolls out its Skin Trust Club in cities on the East coast of North America.
The loan facility has a 3-year term starting 16 March 2022. It will attract a 1% monthly interest payment for each amount advanced to the company,w which must be fully repaid by the first anniversary of the loan issuance.
Gerry Brandon, DeepVerge CEO, commented: "Over the last three years, while demand for our core offering has increased year on year, through the uncertain times that include the global health pandemic, we invested heavily in adapting the amazing technology in all divisions, creating next-generation products and services which are now showing worldwide demand. We also managed supply chain challenges during the pandemic and the increasingly isolationist direction of the post-globalisation by using out-sourced third parties."
Adding:
"This £25 million mezzanine loan ensures availability of funds for growth, avoids stock market fluctuations, eliminates the need for a discounted equity dilution of shareholders, and the Glanaco acquisition underwrites our ability to take control of our supply chains and manage scale to meet the growing global demand being experienced by the company."
The CEO also told investors that their production order book for Q1 2022 was the largest in its history, which will ensure that it maintains the current production momentum throughout the rest of 2022.
Investors cheered the announcements, as evidenced by the rally in Deepverge shares. The company's prospects appear promising, which bodes well for investors over the long term.
However, Deepverge shares have formed a double bottom pattern on the daily chart below, which could mark the end of the downtrend that has been in place since November 2021. However, only time will tell whether the shares shall rally higher.
*This is not investment advice. Always do your due diligence before making investment decisions.
Deepverge share price.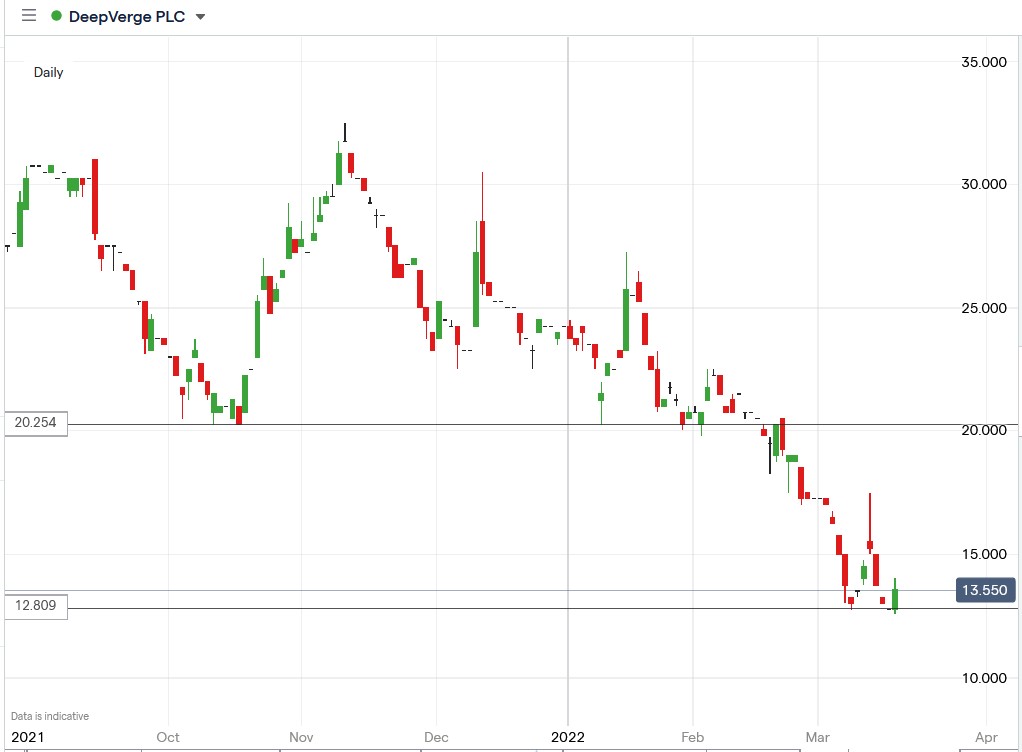 Deepverge share price surged 10.19% to trade at 14.05p, rising from Wednesday's closing price of 12.75p.