Key points:
Didi's just been fined $1 billion of data issues
This can be seen as an actual positive for Didi stock
For it allows the listing in Hong Kong to go ahead
Didi (OTCPK: DIDIY) and formerly (NYSE: DIDI) stock has just shown us – once again – that it's the future which changes stock prices. For Didi has just been fined $1 billion by the Chinese regulators and this has led to a rise in that Didi stock price. Which is pretty odd behaviour really. Except, of course, what's really happened is that the $1 billion fine improves prospects for Didi off into the future – thus the stock price rise.

So, as we say, stock prices are not determined by what has happened in a business. Rather, by what people think will happen to a business. The other way of putting this is that stock markets are forward looking. Yes, obviously, what has happened in the past will colour, even influence, opinions about what will happen. But it is still that perceived future that creates prices in markets, not that past.
The fine comes from the Chinese data regulator and they have demanded $1 billion from Didi. Which is a fair chunk of change even for a company of Didi's size. Sure, that might only be 4% of Didi's turnover last year but it's very much more than that of free cash flow, which is the thing that matters. On the other hand this fine does then solve a variety of Didi's other problems – which is why the DIDIY stock rose 5% on the news.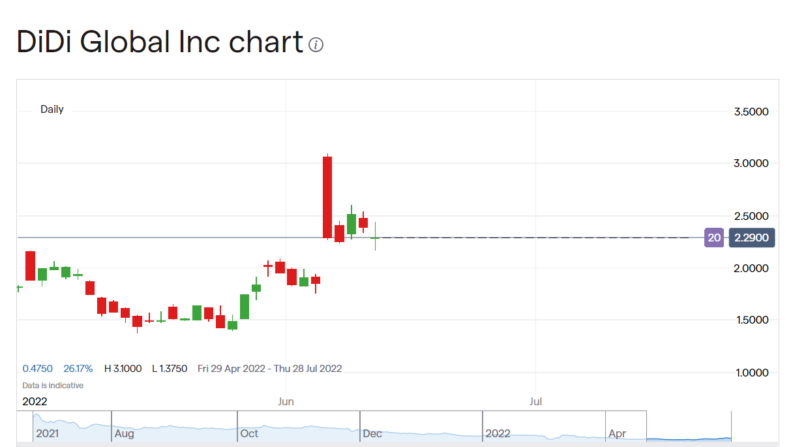 Also Read: 30 Global Stocks For Your Consideration
One of those problems is highlighted in that Didi stock price chart there. It no longer trades on the NYSE and has – under its own steam – been relegated to the Pink Sheets. The reason was the CCP insisting that China based companies should think about whether they really should be having those overseas quotes. Didi's aim was to delist in New York therefore and relist in Hong Kong. But they were not able to list in Hong Kong given the overhang of the investigation by the information commission in China. So, Didi's stock fell into that sort of slump – delisted from one main exchange and not able to complete the plan to relist on another major exchange.
It's also true that the same investigation meant that Didi's app was no longer available for download. So, it could not gain new customers and with the inevitable number that cease to use the app its customer base was shrinking. That's also a problem that is now solved by the issuance of this fine.
From which we should all take two lessons. The first is, obviously, that investing in China based companies means a certain attention has to be paid to Chinese politics. Who is in, who is out, what the CCP wants to happen, these are important for anyone doing business in China.
The other is that what seems like bad news – a $1 billion fine – can in fact be good news. The matter is now behind Didi and the future is looking brighter. Stock markets are forward looking – thus the Didi stock price rise on the news.