Key points:
DiDi Global stock rallied 20.6% on the news about Chinese regulators.
Chinese regulators are willing to submit audit reports to the US SEC.
However, since this was not an official report, nothing is set in stone.
The DiDi Global Inc – ADR (NYSE: DIDI) stock price rallied by 20.6% on news that Chinese authorities were preparing to submit audit reports on the over 200 Chinese companies listed on US stock exchanges.
Didi was one of the beneficiaries of the news first reported by Bloomberg, citing sources familiar with the matter. However, the report indicated that Beijing was preparing to have some state-owned companies delisted from US exchanges.
Investors were happy that Didi might stay listed on the New York Stock Exchange (NYSE) after saying last year that it was planning to delist from the NYSE due to pressure from Chinese and American regulators.
However, investors should remember that today's report by Bloomberg was not from official sources and until the Chinese Securities Regulatory Commission and other Chinese regulators issue official statements on the issue, it remains in limbo.
American investors were worried that they would be left in limbo if the American Depositary Receipts (ADRs) of Chinese companies they own were suddenly delisted from the US stock markets.
Experts had warned that a mass delisting would create chaos in the markets. Many were hopeful that Chinese and American regulators would reach a deal within the 3-year timeframe provided by the US Securities and Exchange Commission (SEC).
The SEC had published new rules requiring foreign companies, including Chinese firms, to open their accounting books to US regulators or risk delisting from the US stock markets.
The move came after the Evergrande debt scandal as doubts emerged about other Chinese companies that may have taken on significant foreign debt. Many wondered if similar scandals may emerge in other companies.
Earlier in March, the Chinese government expressed its intention to boost its economic growth and support its stock market after ignoring the Evergrande situation and refusing to bail out the company defaulting on its dollar debts.
The move by the Chinese government to reassure investors came at a crucial time to restore investor confidence in Chinese public companies as the country struggles to achieve economic growth in an uncertain global environment.
Investors holding Didi Global inc ADRs have a reason to smile after today's news. Still, nothing is set in stone until we have official confirmation of the news from the relevant authorities.
*This is not investment advice. Always do your due diligence before making investment decisions.
Didi Global stock price.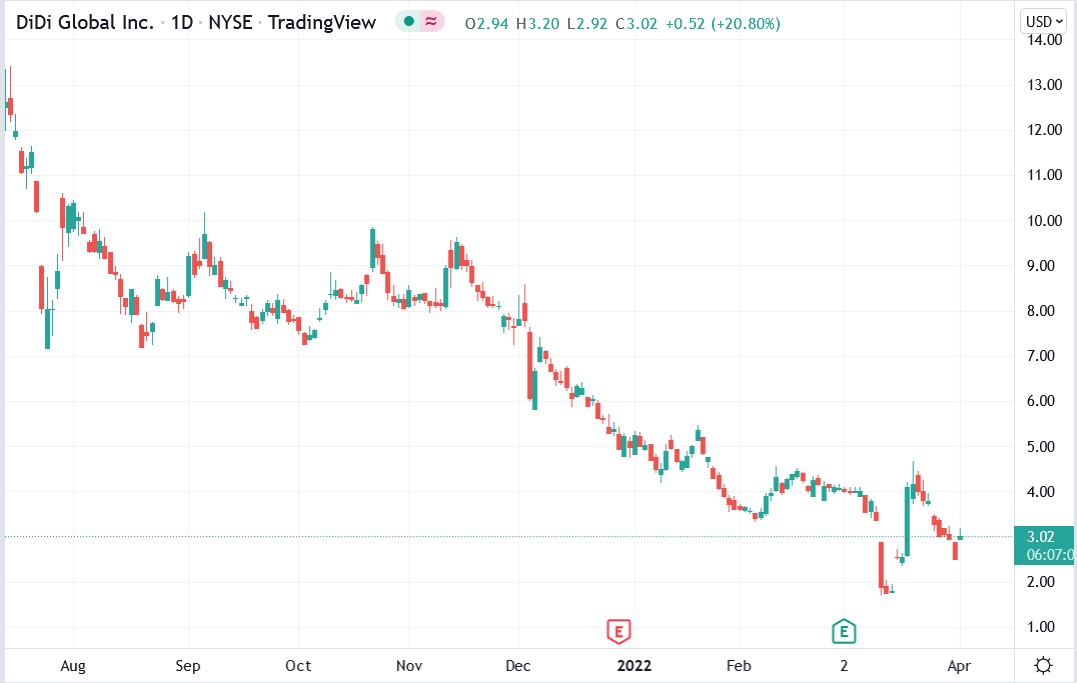 Didi Global stock rallied by 20.60% to trade at $3.02, rising from Thursday's closing price of $2.50.