Key points:
Dogecoin Tests And Holds Support
Basing Prospects Just Intact
Bullish Price Projections And Bearish Risks
The Dogecoin (DOGE) meme coin managed to just defend a notable support factor this week and continues to operate within a broader sideways range phase since bear cycle low was posted in mid-June. The basing pattern previously established in mid-August with the string break up leaves an intermediate-term positive technical outlook whilst holding this support (at 0.0574). The asymmetrical risk into September and Q4 2022 is for a resumption of a more forceful Dogecoin rally, but below support would signal a likely bearish extension to the 2022 bear market.

Dogecoin Tests And Holds Support
As with most other cryptocurrencies, altcoins and meme coins, Dogecoin has seen a significant setback in price since mid-August, losing ground with broader riskier assets, led by US and global equity markets. This has been driven by resurgent inflation and recessionary fears and more hawkish tones from global central banks, and more notably the US fed, which continued to impact financial markets.
The recent setback for Dogecoin has seen a challenge to the swing low posted in mid-July at 0.0576, on Wednesday pushing down to 0.0574 and then posting a solid recovery Hammer candlestick recovery from this level.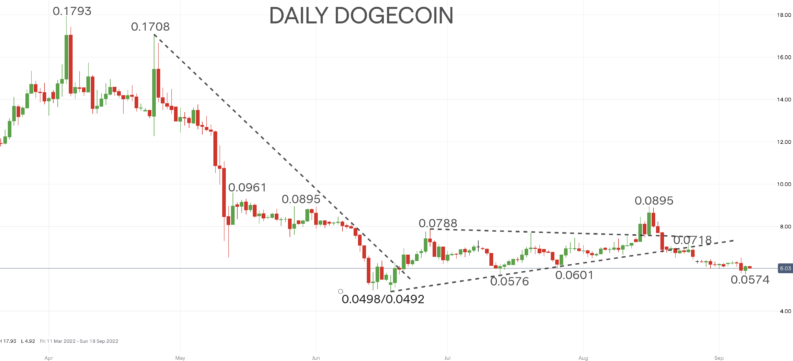 Also Read: How to Buy and Store Dogecoin in the UK
Basing Prospects Just Intact
Although the intermediate term basing theme that has been evident since mid-June has been damaged by the early September surrender of late July supporter 0.0601, the previous strong advance in mid-August to stall at our resistance at 0.0895 indicated a more sustainable intermediate-term bottoming and recovery theme for DOGE. See our previous successful blog projection on this here.
Bullish Price Projections And Bearish Risks
Whilst holding above the 0.0576/0574 support zone we see the larger basing pattern as very much intact and see good upside prospects for DOGE into September and for the balance of 2022. An initial upside target would be a modest chart resistance factor at 0.0718, then above here would open up risk for a challenge back to the May and August peaks at 0.0895, and maybe into Q4 as high as 0.0961.
However, a categoric surrender of the 0.0576/0574 support area would likely see a quick retest of the June bear market lows at 0.0498/0.0492, then open up the threat of a more significant bear market extension for the balance of 2022.