Key points:
Alien Metals shares plunged 20.85 after raising £1.5 mln via a placement.
Investors sold their shares since the new shares were sold at a discount.
However, the company's shares look pretty attractive at current prices.
The Alien Metals Ltd (LON: UFO) share price plunged 20.8% after revealing that it had raised £1.5 million via subscription and placement of 300 million shares to pacific priced at 0.5p each, representing a significant discount to yesterday's closing price.

Investors reacted negatively to the announcement since the new shares were sold at a discount to the company's share price. As a result, today's decline in UFO shares was triggered as the markets repriced the company's share price.
Also read: The Best Gold and Gold Mining Stocks To Buy Right Now.
Alien Metals noted said that it would use the proceeds of the share placement to accelerate the drilling campaign at the Brockman Iron Ore Project to kickstart the drilling program at Sirius Ext Target Hancock and fast-track the drilling program at Munni Munni.
Roderick McIllree, the company's Chairman, also participated in the capital raise by acquiring 50 million new shares at the placing price. In addition, the company's CEO, Bill Brodie Good, also participated in the capital raise by buying 2 million new ordinary shares.
It is always a good sign to see a company's executives participating in share subscriptions and placements since it shows that they are confident in the firm's prospects. Unfortunately, the opposite is true when you see a company's executives selling their shares, which may indicate some trouble brewing at the company.
Earlier this week, Alien Metals announced plans to acquire some strategic land at the Hancock prospect in Australia via its wholly owned subsidiary Iron Ore Company of Australia. In addition, the firm signed a contract with Mallina Exploration Pty Ltd to acquire a prime tenement adjacent to Alien's current Hancock iron project.
The acquisition had triggered a brief rally in Alien Metals shares before today's announcement triggered a move lower.
So, should you buy Alien Metals shares? The shares look attractive at current prices since they just bounced off a crucial support level that stopped today's decline.
*This is not investment advice.
Alien Metals share price.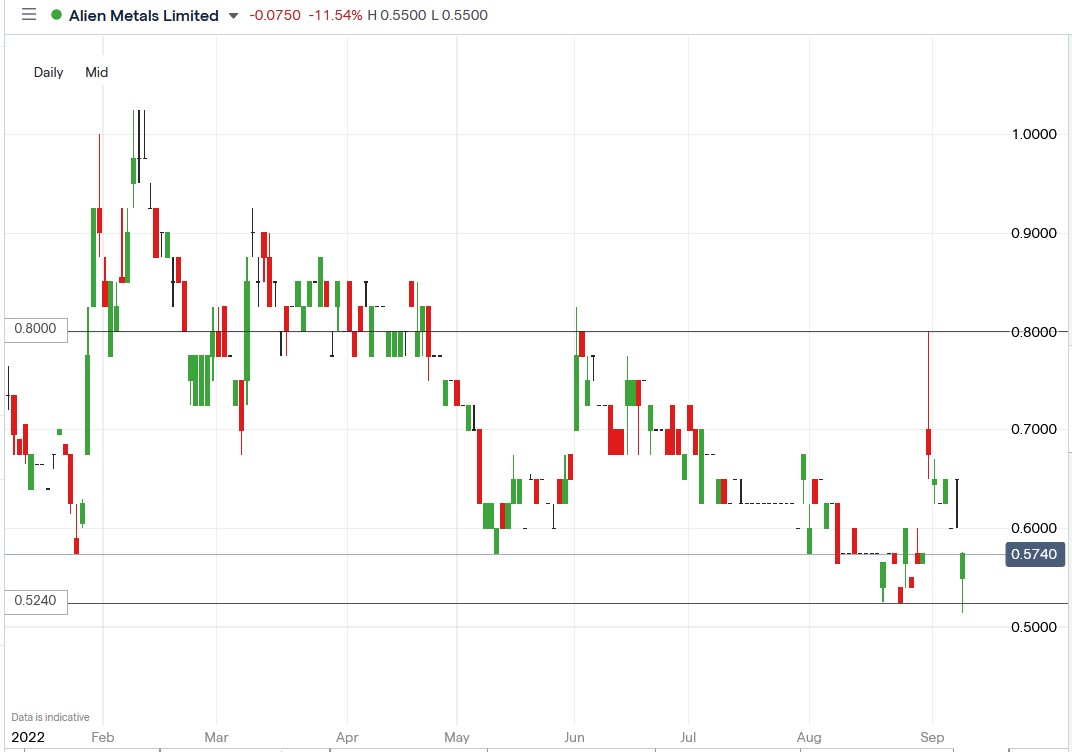 The Alien Metals share price plunged 20.84% to trade at 0.5145p, falling from Wednesday's closing price of 0.6500p.