Key points:
EasyJet shares fell on a £545m H1 loss before bouncing back off support.
However, the budget airline reported an impressive surge in passengers.
So the airline's prospects are pretty promising despite its latest loss.
The EasyJet plc (LON: EZJ) share price plunged 5% lower after its half-year results for the six months ended 31 March 2022. The low-cost airline lost £545 million ($674 million), significantly improving the £701 million loss reported in the previous period.

Investors were pleased to hear the positive outlook painted by EasyJet, which said that it expected to fly 90% of its 2019 capacity in Q3 and 97% in Q4. The budget airline had also relocated over 1.5 million passenger seats to its bets performing markets to capitalise on the surging demand.
EasyJet expects the demand for leisure travel unlocked by lifting most travel restrictions earlier this year, extending into the summer months, part of its fiscal third and fourth quarters.
Investors were happy to hear that the airline had taken tangible steps to minimise flight cancellations due to staff shortages during the Easter holiday season when a significant part of its employees got sick.
However, EasyJet did not provide any financial forecasts for the second half of its financial year apart from the passenger numbers due to the significant challenges posed by higher fuel costs and the rising dollar exchange rate.
Johan Lundgren, easyJet Chief Executive, commented: "easyJet has reduced its losses year on year, at the better end of guidance. The pent-up demand and removal of travel restrictions provided for a strong and sustained recovery in trading, which has been further boosted as a result of our actions."
Adding:
"We have transformed the airline during the pandemic, which has enabled us to emerge with renewed strength, underpinned by a product, network and service that customers really value."
The budget airline has been flying over 250,000 passengers daily on 1600 flights but has been known to cancel hundreds of flights daily. However, the airline is now reassuring investors that it will drastically reduce the number of cancelled flights.
EasyJet shares bounced off the 480p support level and could rally higher if the level continues holding.
*This is not investment advice. Always do your due diligence before making investment decisions.
EasyJet share price.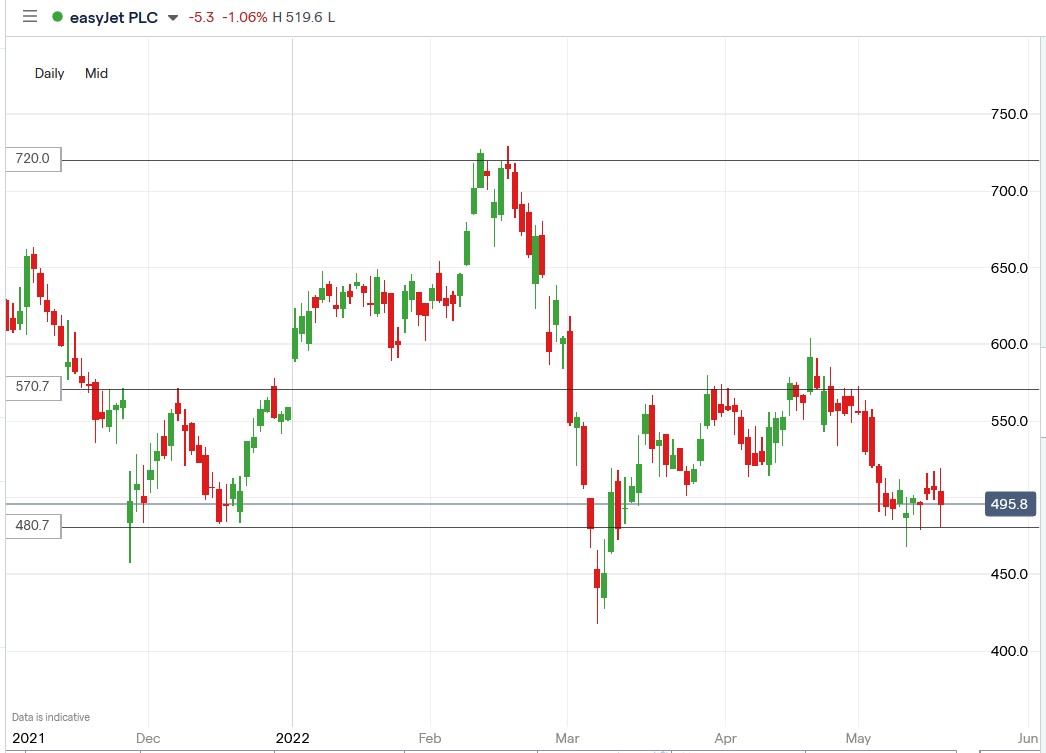 Easyjet shares plunged lower but later recouped their losses to trade sideways at writing.