Key points:
The Enzyme Finance (MLN) crypto price spiked 128.9% yesterday.
The platform offers treasury management services to crypto institutions.
The MLN crypto had erased most of yesterday's losses at writing.
However, it still has positive prospects if it can attract more customers.
The Enzyme Finance native token (MLN) crypto price spiked 128.9% higher yesterday as buyers flooded in, but the rally was short-lived as the crypto later gave up most of its gains to close the day 27.8% higher.

The Enzyme Finance blockchain network claims to be an emerging fintech service that aggregates protocols that provide borrowing and lending services to crypto users, such as Compound, AAVE and Uniswap.
The network also offers treasury management services to decentralised autonomous organisations (DAOs) by connecting vault managers with depositors.
The rally in MLN crypto prices was also attributed to the statement issued by the project clearly stating that it has no connection with the TerraUSD project that has thrown the entire crypto industry into a tailspin.
Investors cheered the move, given the negative impact that the de-pegging of the TerraUSD (UST) token from its 1:1 US dollar peg has had on the entire crypto industry. The crash of the Terra LUNA token and its sister stable coin UST is the largest ever crash of a stablecoin.
The crash wiped out over $50 billion in assets for retail and institutional investors in what has been termed the most significant attack on a pegged currency since the George Soros attack on the British pound in 1992.
Many investors who had staked their entire life savings on the Anchor project, where one could stake their LUNA and UST tokens for a guaranteed annual return of almost 20 per cent, have lost most of their money and net worth.
The appalling issue with the entire project is that the warning signs were there initially, but people were willing to ignore them for the guaranteed yield on their holdings.
Many had pointed out that the high yields were unsustainable since the project's actual returns were closer to 9%, and TerraForm Labs had to inject capital into the project to pay the guaranteed returns.
Still, the MLN crypto has intrinsic value if it can continue growing its customer base by attracting more platforms and institutions to use its treasury management services.
*This is not investment advice. Always do your due diligence before making investment decisions.
MLNUSD crypto price.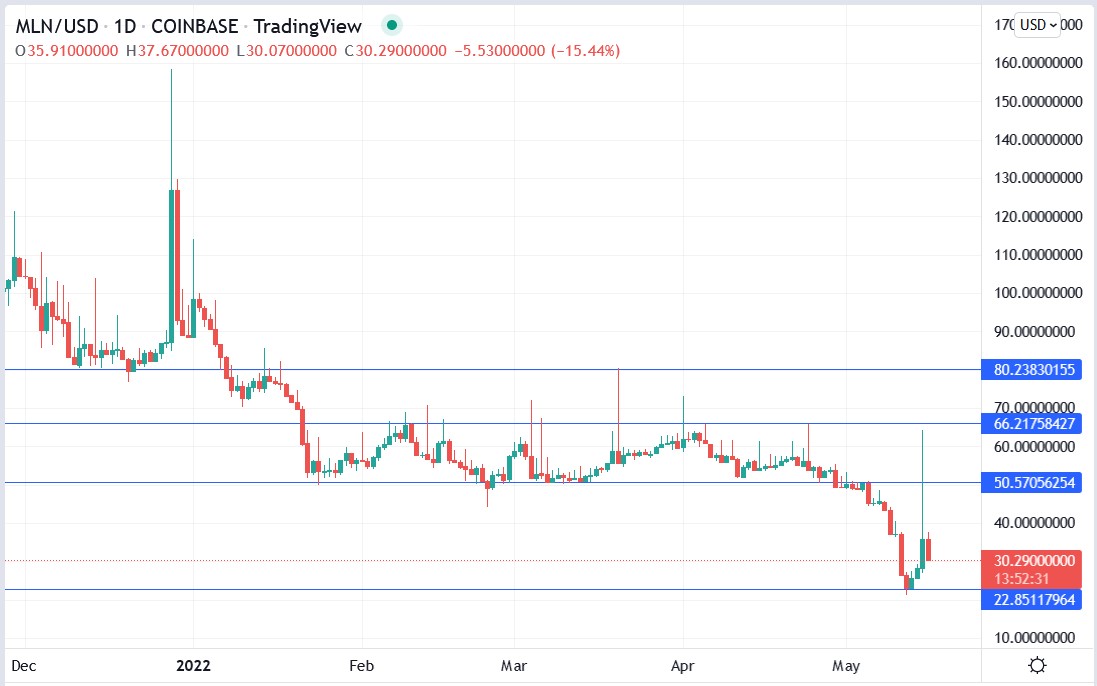 The MLNUSD crypto price rose 128.9% yesterday but has given up most of its gains today.