Key points:
EOS Base And Bull Signals
EOS Bullish Price Predictions
EOS Explainer
The EOS cryptocurrency was in a sideways consolidation from mid-June, then leapt higher from mid-July above May resistances and a long-term trend barrier for bullish signals and to indicate at least a short-term bottom. The asymmetrical threat through the summer is to build on this base and signal a more sustainable recovery theme towards targets at 288.54/ 317.18. The overshoot risk for the year is for a much bigger rally towards a retracement target at 427.94.

EOS Base And Bull Signals
The 2022 cryptocurrency bear market pushed EOS down to a low of 81.51 on 18th June and after that an erratic, sideways consolidation theme developed through to mid-July.
This sideways environment has the hallmarks of a technical basing pattern, with a succession of higher highs and higher lows, notable at 87.00, 88.86 and 106.58.
The subsequent surging advance off of 106.58 in latter July up to the peak at 144.86 also overcame a notable chart resistance barrier from May at 143.57, just stalling below another key level at 145.69. But this strong rally also produced a hesitant breach of the critical longer-term trend line resistance that comes down off of the September and November 2021 swing peaks (with a third touch at the April 2002 high at 288.54).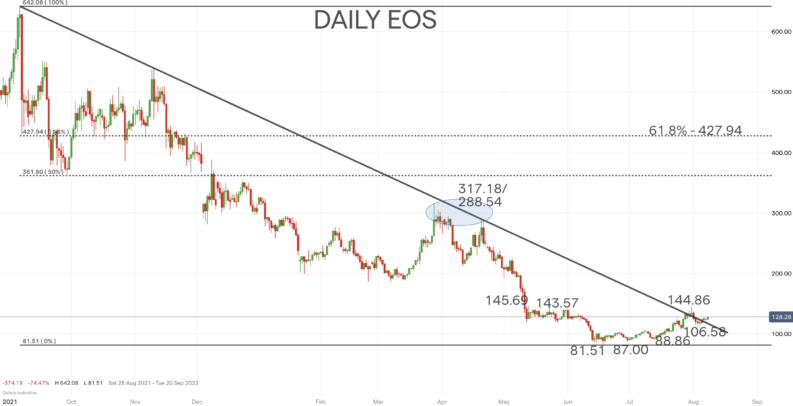 Also Read: Cryptocurrency, NFTs, or Shares – Which Is the Better Long-Term Investment?
EOS Bullish Price Predictions
The current setback from 144.86 should be seen by bulls as a corrective opportunity to buy whilst holding above the impulse support level at 106.58. A more empathic push above the 2021-2022 down trend line would reinforce the view of a more sustainable recovery and rally into August, to aim back to the recent 144.86 peak and the May chart resistance at 145.69.
Above here would then target April/March swing highs at 288.54/ 317.18 through the summer. The threat for the second half of 2022 is for a more robust recovery rally to target the 61.8% Fibonacci retracement of the 2021-2022 sell-off at 427.94.
Below 106.58 would open risks back down to the basing lows at 88.86, 87.00 and the cycle low at 81.51.
EOS Explainer
EOS was launched in 2018 with a $4.1 billion coin offering by the private company block.one and is a cryptocurrency based on a blockchain and a decentralised platform used to run, develop and host business applications. The open-source software called EOS.IO is used on the platform and cryptocurrency tokens, EOS, are used as a payment system on the network. You can learn more about buying EOS in our handy guide How To Buy Altcoins.