Key points:
EPD stock price has pulled back from its recent highs.
The move mirrors the price action in the WTI crude oil index.
Will the decline continue, or will the shares reverse course and rally?
Read on to find out.
The Enterprise Products Partners LP (NYSE: EPD) stock price has pulled back from its recent highs, and many are wondering if the oil and gas stock will keep falling over time.

Firstly, EPD is a midstream natural gas and crude oil pipeline company; hence, its shares are closely linked to crude oil and natural gas prices.
Furthermore, the recent pullback happed at a resistance level that has been in place since late October 2021, when oil prices first fell back to retest their previous lows before embarking on the current rally.
Unlike the West Texas Intermediate (WTI),w which has since printed new all-time highs, EPD stock has been unable to break above its previous highs, with the last attempt being on January 26, 2022, and the latest attempt being on February 11, 2022.
However, it seems that investors do not believe that EPD stock should trade above $25 despite the company's significant potential.
In January, Enterprise Products Partners (EPD) agreed to purchase Navitas Midstream in a cash deal valued at $3.5 billion, with the deal expected to close by the end of Q1 2022.
The acquisition gives EPD access to the lucrative Midland basin allowing the company to tap into the rising demand for natural gas infrastructure.
The Midland Basin is part of the larger Permian Basin. The Navitas assets acquired by EPD include pipeline networks covering over 1,750 miles and a cryogenic natural gas processing capacity that processes over 1 billion cubic feet of gas daily.
The acquisition of Navitas Midstream will start generating revenues for EPD once the deal is finalised, and I expect this to push EPD share price higher, maybe even breaking above the psychological $25 level.
Meanwhile, the latest decline corresponds with falling crude oil prices as tensions between Russia and Ukraine cooled off after Russia said that it was withdrawing some of its troops from the border with Ukraine.
However, most analysts do not expect Russia's pullback to last, with high-level diplomats such as the UK Foreign Secretary Elizabeth Truss saying that a Russian invasion into Ukraine could happen.
A Russian invasion of Ukraine would trigger a spike in crude oil prices,w  which could push EPD shares higher, finally breaking above the $25 resistance level.
*This is not investment advice. Always do your due diligence before making investment decisions.
EPD stock price.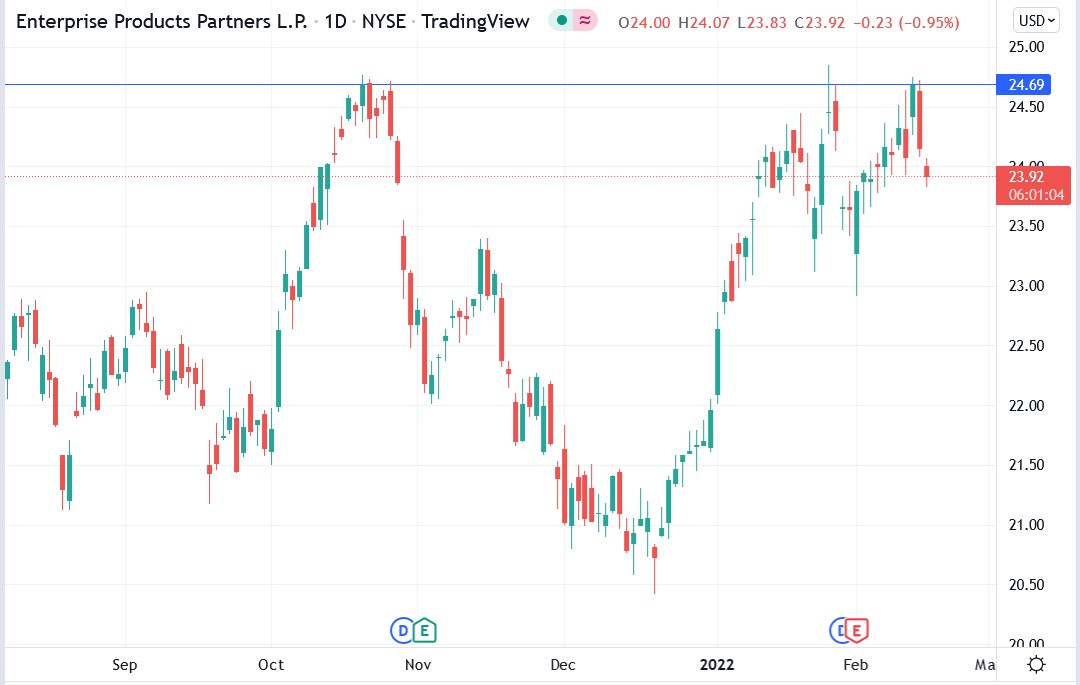 EPD stock has pulled back from recent highs. Will the oil & gas company keep falling?