Shares of EQTEC PLC (LON: EQT) today fell 4.22% amid a lack of newsworthy announcements by the bioscience energy company whose mission is to efficiently recover energy from waste.
The firm is challenging the incinerator industry with its groundbreaking gasifier technology (EGT), which eliminates the need for incinerators while converting waste products to energy. The firm saw demand for its products increase in H1 2020 as it focused on growing its sales pipeline, which saw it receive new non-contracted tender opportunities worth €341 million.
Eqtec shares rallied higher following the release of its H1 2020 results but have been stuck below the 0.60p level since last week.
The company presents an excellent buying opportunity given that its shares used to trade at over 9p in 2017, which indicates significant upside potential with the right fundamental triggers.
Long-term investors may find the company attractive given recent positive developments, which could trigger a massive rally.*
EQTEC recently commissioned an independent review of its gasification technology by Wood Group UK, a British engineering and consulting firm, which will focus on the company's 6MW (megawatt) power plant in Movialsa, Spain, and how the same technology can be applied to other waste fuels.
The review is set to be completed by end of the year if the findings are positive they could trigger the much-awaited rally in the company's shares. The company also intends to keep growing its pipeline in H2 as well as close some of the pending contracts it has submitted.
We could see a major rally if the company signs a major deal in the near future.
EQTEC share price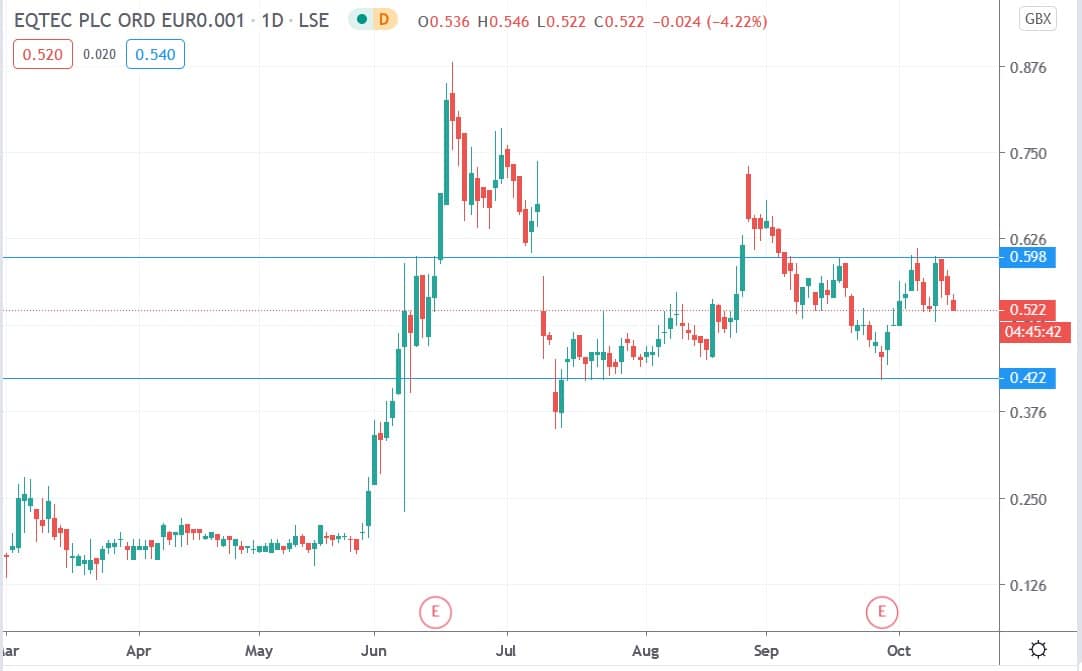 EQTEC shares today fell 4.22% to trade at 0.522p having dropped from yesterday's closing price of 0.544p.
*This is not investment advice
People who read this also read: