Shares of Equiniti Group PLC (LON: EQN) gapped 8% after announcing that it had received an upgraded acquisition offer from Siris Capital of 180p per share.
Siris Capital wants to acquire the British outsourcing company in a cash deal after its last offer of 170p was rejected by its board as being too low.
Equiniti's board said that it would recommend that shareholders accept the new offer, which values the company at £661 million ($917 million).

However, the deal is not set in stone as Siris Capital still has to submit a firm offer for Equiniti by the end of day on 17 May 2021 or walk away from the deal given that today's announcement was a non-binding proposal.
Equiniti reported a loss of £1.7 million in 2020 as compared to a £30.8 million profit in 2019 driven by the impact of the coronavirus pandemic, which saw its revenues drop to £471.8 million from 2019's  £555.7 million.
The company's management said it is focused on growing its market shares and improving its overall performance this year while reducing its debt burden and operating costs.
Equiniti recently revamped its management team by appointing Paul Lynam as its new CEO earlier this month. Its CFO John Steir is also set to retire shortly, leaving the company under new leaders.
The company's shares have been falling since 2018, and investors were relieved by the gains made this year. The shares are up 59.2% year to date, indicating the tide has shifted in favour of the buyers.
Unfortunately, the company might be going private soon, meaning that it cannot be a long-term investment and has minimal return potential if the Siris Capital acquisition is successful.
Equiniti share price.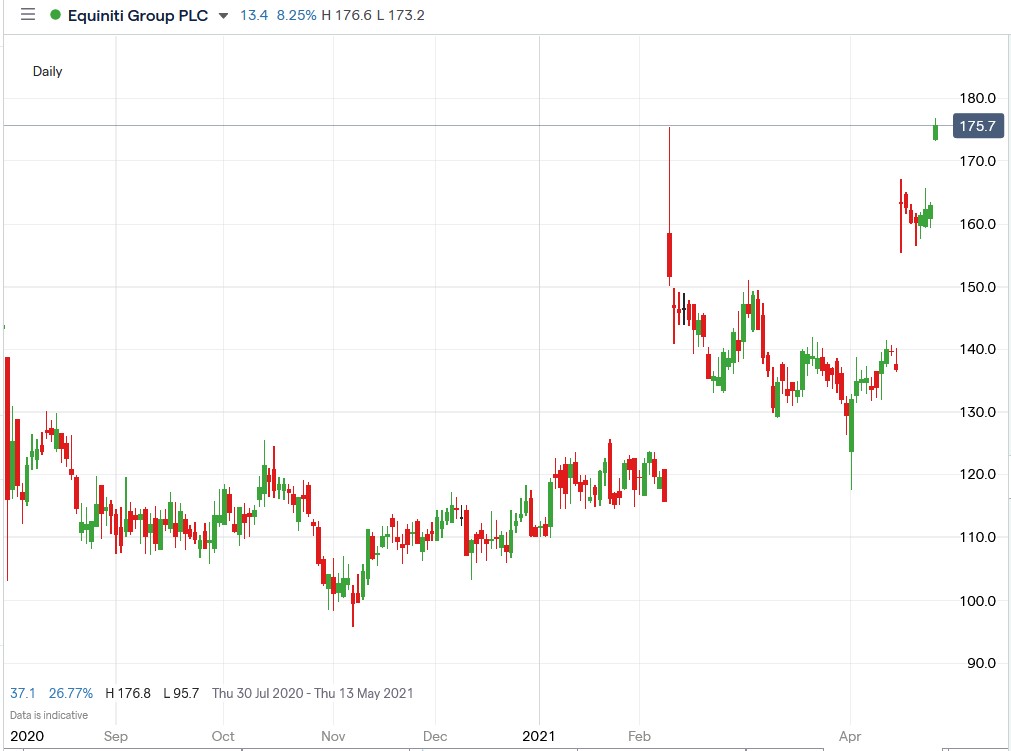 Equiniti shares gapped up 8.53% to trade at 176.8p rising from Tuesday's closing price of 162.9p.