Shares of Equiniti Group PLC (LON: EQN) gapped up to 52.2% higher after news leaked that a private equity firm had reportedly made a £600 million bid for the back-office services provider. However, both companies did not confirm the reports.
However, the latest bid is not the first from the leverage buyouts firm, which had made offers for Equiniti without much success in the past. The value of the previous proposals was not made public.
Of great interest is that Equiniti has rejected all previous bids from the private equity firm and there is a reason for this. Private equity firms are known for their tendency to restructure businesses, cut costs and take on huge debts for their own gain.
Given the importance of the services Equiniti provides to over 70% of the firms listed on the London Stock Exchange (LSE)'s main index, the FTSE 100, you can imagine what radical cost-cutting measures could do to the company.
Now, we don't know what the PE firm plans to do with Equiniti. Still, if they plan to do what most private equity companies do to their acquisitions, the businesses that rely on Equiti's share registrar services and other crucial back-office services may suffer.
The private equity company would want to recoup their investment, given that they would have paid a premium to acquire Equiniti. One way to increase the firm's revenues is by hiking prices for the existing customers, which is the simplest option.
It is not easy for large firms with millions of shareholders to switch registrars would force the affected firms (70% of the FTSE 100) to pay the higher fees for a while as they consider finding another registrar.
If raising Equniti's fees is out of the question, maybe due to long-term contracts, the PE firm would take on new debt to pay its shareholders and saddle the company with those debts.
The typical holding period for portfolio companies bought by PE firms is five years or less, after which they will sell the company to another buyer leaving the business a shell of what it once was.
Equiniti share price.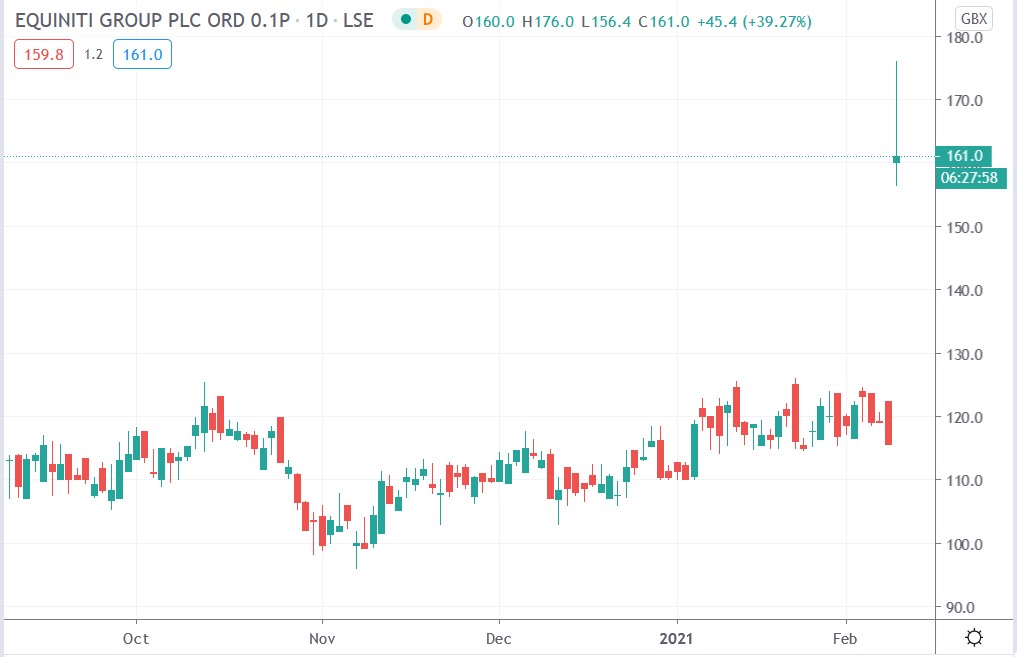 Equiniti shares spiked 52.24% higher to trade at 176p having risen from Monday's closing price of 115.6p.