Key points:
Ethereum Completes Test Merge
Next Steps for Ethereum
Ethereum Price Outlook
Ethereum Completes Test Merge
On Wednesday 6th June, Ethereum developers completed its latest test run for a transition that has been years in the making. The transition from the proof-of-work to a proof-of-stake method has been repeatedly pushed back for the last several years because of significant flaws in its implementations.

Most cryptocurrencies, such as Bitcoin and Ethereum use proof-of-work mining models, which entails complicated mathematical equations and a huge amount of processing power, undertaken by numerous machines. In turn, this has been heavily criticised as this process of mining to create new coins is extremely energy-intensive, therefore environmentally damaging. Ethereum has been looking to move from this proof-of-work model to a proof-of-stake mode, which sees users to leverage their current ether cache in order to confirm transactions and thereby mint new tokens. Not only is this less energy-intensive, but in addition, this process should radically improve its transaction speed, alongside other improvements
Next Steps for Ethereum
The upgrade test was run on the Ropsten public testnet, which facilitates development testing on the blockchain before rolling onto the mainnet. The testnet is a duplicate of the mainnet, expect that there are no actual, real funds involved, in case this is a technical issue.
Given that yesterday's test merge was successful, this has been a critical step closer to the fill transition, which is expected later this year, earmarked for August. Watch this space.
Ethereum Price Outlook
From a technical analysis perspective, Ethereum has been in an elongated consolidation phase (as with many other cryptocurrencies) since mid-May. In the chart, the Ethereum future (traded on the Chicago Mercantile Exchange) is tracing out either a Descending Triangle Pattern, or possibly a Falling Wedge pattern. The former is a bearish continuation pattern, the latter a bullish reversal pattern.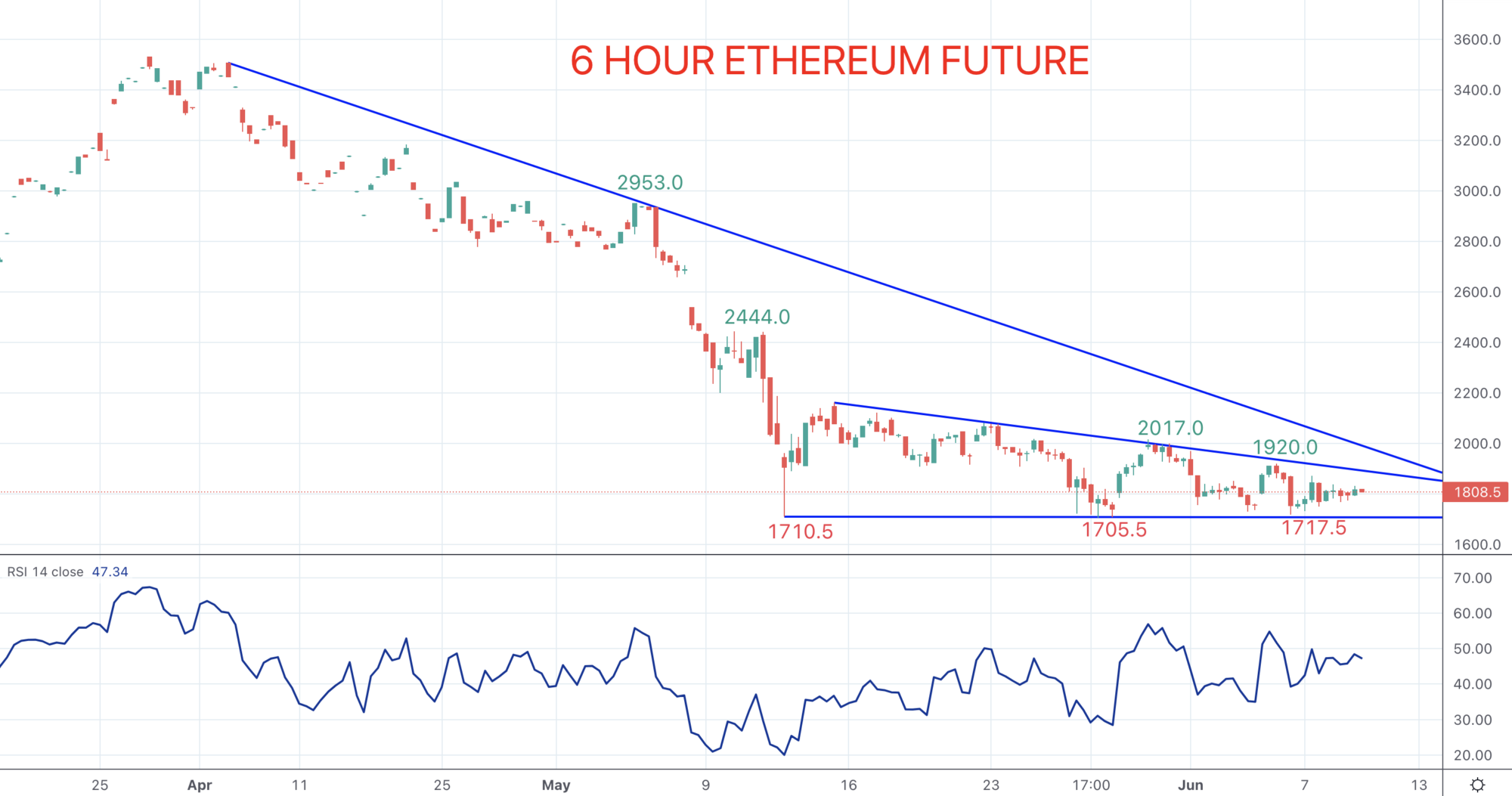 The skewed risk is that the Ethereum future is carving out a basing pattern, and that a push above 1920.0 would signal a bullish breakout, which would then need confirmation above 2017.0.
Such a move would then open risk up towards 2444.0 in the short-/ intermediate-term, with the outlook into the Summer and Q3 for a better rally up towards 2953.0. However, a break below the multiple support lows clustered in the 1717.5/1705.5 area, would target a move down towards 1250.0.
Given the above-mentioned positive upgrade test, the fundamentals are behind an upside price recovery for Ethereum. Bigger financial markets fundamentals, however, such as inflation, possible recession and stagflation, could weigh on upside prospects in the short-term.
You can learn more about investing and trading Ethereum in our helpful guide.