Key points:
First Wave Biopharma stock should rise 3,000% at open this morning
This will be a purely nominal stock price move
The real price move in FWBI will be the variance from 3,000%
First Wave Biopharma (NASDAQ: FWBI) stock should rise 3,000% at open today – which will be a nice surprise for stockholders who have seen 98% (well, OK, 97.91%) of their money evaporate over the past year. Sadly, this will be a purely nominal price change only, not a real one. Any real price change will be whatever is the divergence from that 3,000% rise.

What First Wave Biopharma actually does is be a clinical stage research company into non-systemic therapies for gastrointestinal diseases. There's niclosamide, with anti-viral and anti-inflammatory effects, adrulipase, to aid in the digestion of fats and so on. There's also FW-COV, in Phase II trials but as that is for covid effects on the gut that one might well have missed the boat. There is though a proper pipeline of potential treatments and it's not reliant on any one of them at present. But, of course, none of them have passed through the system and become licenced as yet.
It's even possible to think that the pipeline is too large – for First Wave has had multiple capital raises even as the stock price has declined so badly. It's possible to mutter that if there were a little more focus then the fiscal runway could have been better managed. But, of course, all that has already happened. What matters is what next?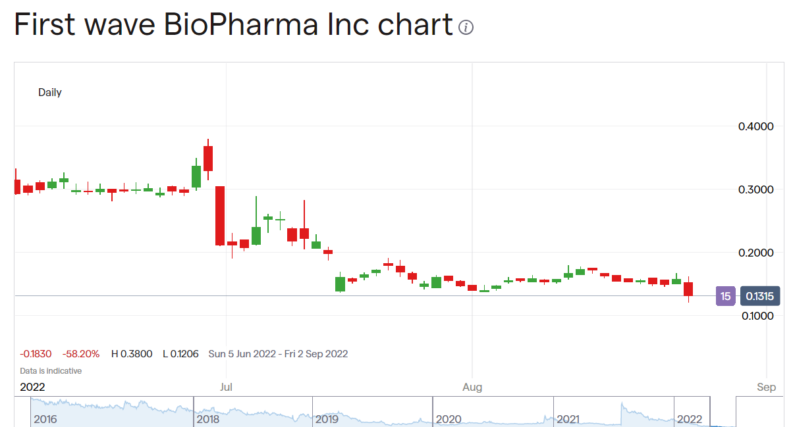 Also Read: Five Best Pharmaceutical Stocks to Watch in 2022
What happens next is that First Wave is at serious risk of losing its NASAQ quotation – for being below the $1 minimum offer price. This would mean relegation to the OTC markets and would make any capital raises much more difficult. A solution needs to be found to this and that is a reverse stock split – each 30 shares yesterday become one share this morning. That should mean a 30x rise in the price, or a 3000% rise in FWBI. Last night's closing price was 13 cents, so we'd expect the First Wave stock price to open at $3.90. There's a little wriggle room there as that price was down 3 cents yesterday, so we could take 16 cents as being our starting point – so $4.80 at open maybe.
All of that is entirely a change in the nominal price of course. The market capitalisation of First Wave won't change, the value of any individual stockholding won't, it's just the number of shares in issue which does. Any real price change will be whatever price is arrived at which isn't 30x last night's close – whichever of those two, 13 cents or 16, we want to take as our starting point.
As to why this all has to happen it's purely and wholly fashion. The big New York exchanges think that stocks should be priced in dollars. Anything which is priced in cents is a penny stock – which, of course, by definition it is – and penny stocks is where bad people go to play with investors' money. So, if you want to be on the Big Boy exchanges then your price must be denominated in dollars, not cents. Really, that's it, that's the whole story there.