Key points:
The Gores Guggenheim (GGPI) stock has fallen 10.4% in 2022.
Investors and analysts frequently overlook the EV company.
However, its prospects are pretty promising. So, should you buy it?
The Gores Guggenheim Inc (NASDAQ: GGPI) stock price has fallen 10.4% in 2022 and is trading just above $10 apiece despite the electric vehicle manufacturer's excellent prospects moving forward.

GGPI stock had risen to its all-time highs of $16.40 in December 2021 before falling along with the rest of the market heading into 2022 as investor sentiment towards growth stocks turned sour.
The company's shares attempted to rally higher from mid to late March but ran out of momentum and plunged to their current lows starting in early April, along with the rest of the market.
Unlike many other SPACs, GGPI has excellent prospects, given that it met its annual target of producing 29,000 vehicles translating into an impressive annual growth rate of 185%. In addition, the EV manufacturer has set an ambitious goal of having 150 retail locations in at least 30 countries by the end of the year.
GGPI expects to ship 290,000 vehicles annually by 2025, an ambitious goal given its current production numbers, but the firm could hit this lofty goal if everything goes according to plan.
The company is working hard to secure deals that guarantee its future income, like the deal with Hertz, which has agreed to buy 65,000 Polestar cars over the next five years in a deal worth $3.2 billion, given that each vehicle is priced at $49,000.
Gores Guggenheim is one of the few EV companies with excellent prospects but is mainly outside the radar of most investors and analysts. However, its merger with Polestar should catapult it to more prominence in future.
Meanwhile, investors interested in the company can get in at a low price. However, there are no guarantees that GGPI shares will not fall much further. A break below the $10 support level would invalidate the bullish thesis, and I would stay away until the price is back above the crucial $10 level.
*This is not investment advice. Always do your due diligence before making investment decisions.
GGPI stock price.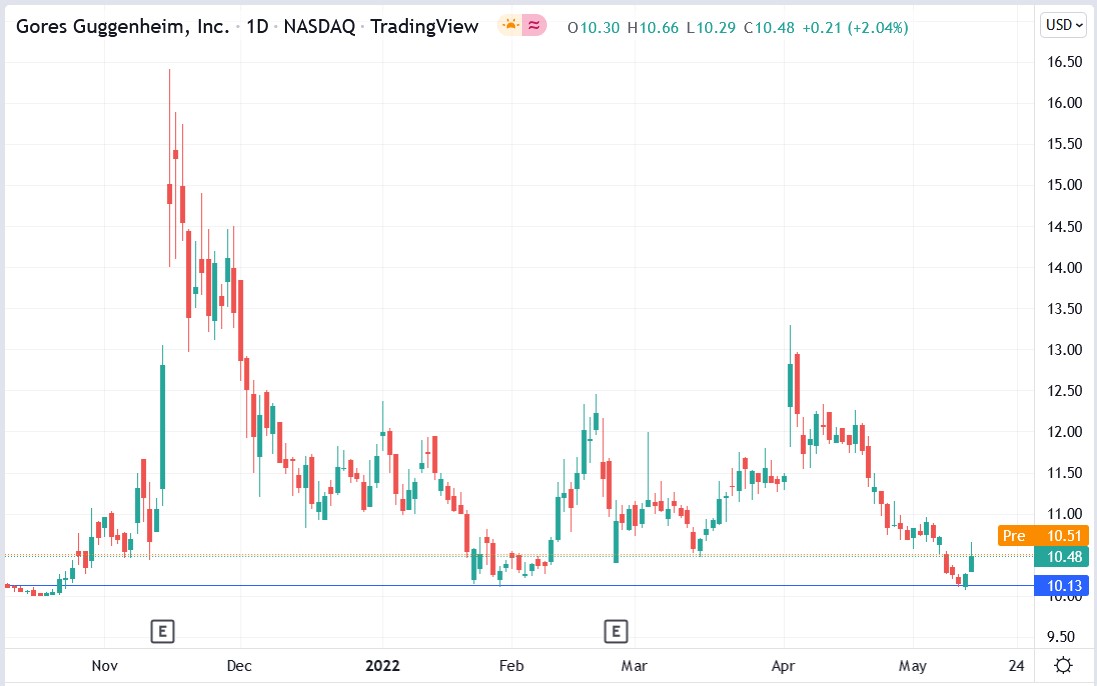 GGPI stock price has fallen 10.4% and is currently trading above support. Can it rally higher?