Key points:
Tesla shares are in a downslide as Musk focus on acquiring Twitter.
Investors are concerned that Twitter will divert Musk's attention from Tesla.
Musk is also facing \legal challenges that could derail the acquisition.
The Tesla share price has fallen 11.1% in the past week as investors weigh whether the acquisition of Twitter will distract Musk from his current responsibility as Tesla's CEO.

Many investors are concerned that by acquiring Twitter, Elon Musk's attention will be split between Twitter, Tesla, SpaceX and the Boring company, with Twitter taking the lion's share of his attention.
There is no doubt that Elon Musk is an extraordinary entrepreneur with the mental capacity to run multiple companies at once, but running Twitter presents a new set of challenges that Musk may not be very familiar with.
A common thing among the three companies that Musk currently runs is that they are all manufacturing companies. In comparison, Twitter is a social media company that operates very different to Musk's other three companies.
Furthermore, some legal issues have cropped up that could derail Musk's Twitter acquisition. For example, Musk is being sued by a group of Twitter shareholders who argue that he should have filed a report with the US Securities and Exchange Commission (SEC) on March 24 after his stake in the social media company hit 5% on March 14.
However, Musk notified the SEC of his significant stake in the microblogging site on April 4. In addition, the Twitter shareholders noted that they were selling their shares in the company for a lower amount as the stock fell before Musk's announcement.
Elon Musk is also facing another lawsuit related to his 2018 tweet saying that he had secured funding to take Twitter private at $420 per share. A federal judge recently unsealed his judgement that Musk recklessly and falsely tweeted the information in 2018.
The ruling gives the jurors in a lawsuit filed by some Tesla shareholders access to crucial information that could be used against Musk. Furthermore, the SEC is currently investigating whether Musk is adhering to the conditions in his 2018 settlement where the company's lawyer has to approve his Tweets that could affect Tesla's share price.
It is doubtful that Musk is adhering to this condition, given how much he values his freedom of speech and the frequency of his tweets. As a result, Tesla shares were set to open lower at writing. Still, the shares just bounced off the $700 level and could be headed higher.
*This is not investment advice. Always do your due diligence before making investment decisions.
Tesla share price.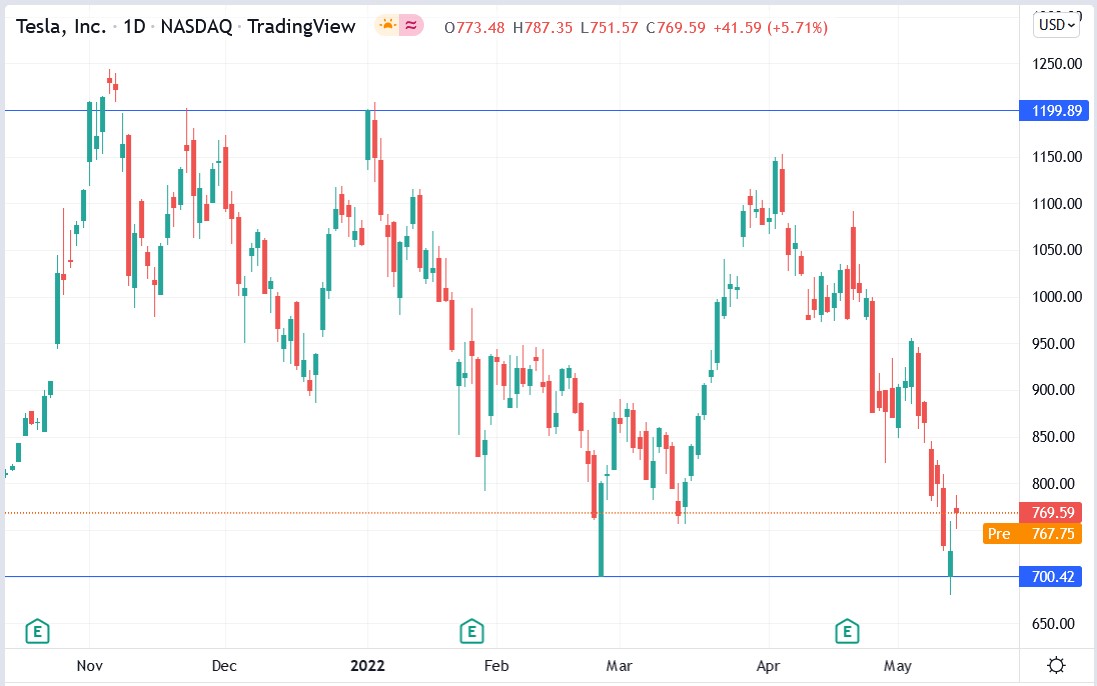 Tesla shares have fallen 11.1% in the past week but could be ready to bounce higher.