Shares of both Gunsynd (LON: GUN) and Pires Investments (LON: PIRI) have made gains in the last hour after providing updates on their investments in sports betting platform Low6.
UK based Low6 previously extended its pre-IPO funding round to allow a "well-respected figure in the worldwide gaming industry to invest in Low6 and join its advisory board post-IPO," said Pires.
Both Pires and Gunsynd noted the company's growth, stating that it now has over 122,000 users, 85% of which are Gen Z and Millennials.
There was also an update on Low6's PubWars apps, which went into soft launch on 1 April 2021 for a four week period where user numbers are limited, feedback is collated, and changes made to the gameplay. In the first seven days of the soft launch, over 2,000 entries were made, and £2,000 wagered.
Elsewhere, Low6's Uber Eats Weekly 7 game has also gone live, and it has signed several new partners, including Hull City FC, IFL TV, WTF1. They also said that discussions are ongoing with other potential US partners.
The UK based sports betting platforms IPO remains on track, the two firms said.
"The business continues to significantly increase users as it rolls out new apps in partnership with globally renown sporting brands and work with new influencer partners. A with the additional funding and the IPO event due to occur this quarter, it's exciting to see how the team can scale the business further," said Peter Ruse, Gunsynd's director.
Peter Redmond, Chairman of Pires, commented: "We are pleased to note that Low6 has continued to make rapid progress since our most recent investment in February, as part of the extension of Low6's pre-IPO funding round.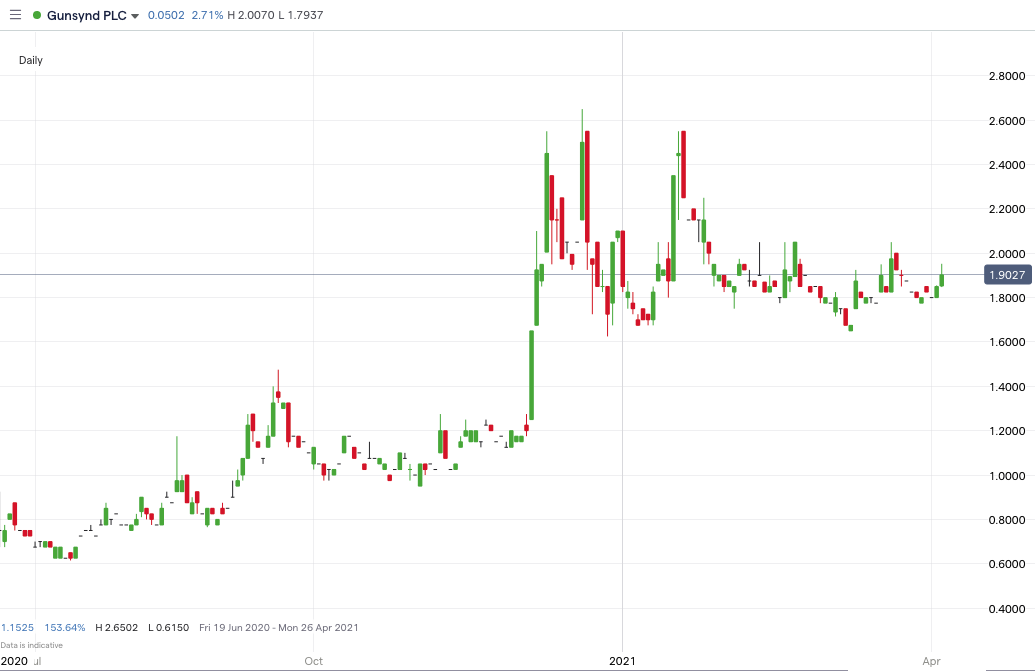 Gunsynd's share price is now up over 1% since the announcement at 1.87p, while Pires Investments share price is also 1% higher at 14.90p.
Should You Invest in Gunsynd or Pires Shares?
One of the most frequently asked questions we receive is, "what stocks are best to buy right now?" It's a wide-ranging question, but one that we have answered… Our AskTraders stock analysts regularly review the market and compile a list of which companies you should be adding to your portfolio, including short and longer-term positions. Here are the best stocks to buy right now