Shares of Hemogenyx Pharmaceuticals PLC (LON: HEMO) plunged 15.7% after the company announced that it had received a conversion notice from Mint Capital Advisors regarding convertible loan notes issued by the company.
Mint Capital intends to convert loan notes worth £900,000 issued by Hemogenyx on 3 February 2021. The company intends to issue 29,850,746 new ordinary shares at a conversion price of 3.015p per share.
Hemogenyx had initially drawn down over £12 million from the convertible note financing facility with Mint Capital Ltd in early February, resulting in a similar decline as investors anticipated the dilution that would occur after issuing 7.74 million new shares to cover the facility's arrangement fee.

The company will make an official application to the London Stock Exchange to admit the new ordinary shares for trading on the primary market and expects the shares to start trading by 5 May 2021.
Today's decline occurred to match the value of the new shares set to be issued to Mint Capital to fulfil the conditions for the conversion notice.
Hemogenxy's shares have fallen heavily this month after GlobalCo announced that it would not be licensing its intellectual property for its CDX leukaemia drug candidate after negotiations kicked off on 1st April.
Investors have been very bearish on the company since then, given the ensuing downtrend. It appears Hemogenyx shares are heading to the next support level at 2p, after which the next support level is at 1p, its all-time lows.
The company's shares are likely to rally if it makes a significantly positive announcement, such as achieving a significant milestone with its CDX drug candidate, which should proceed to clinical trials.
Until then, the odds favour the continuation of its current downtrend.
Hemogenyx share price.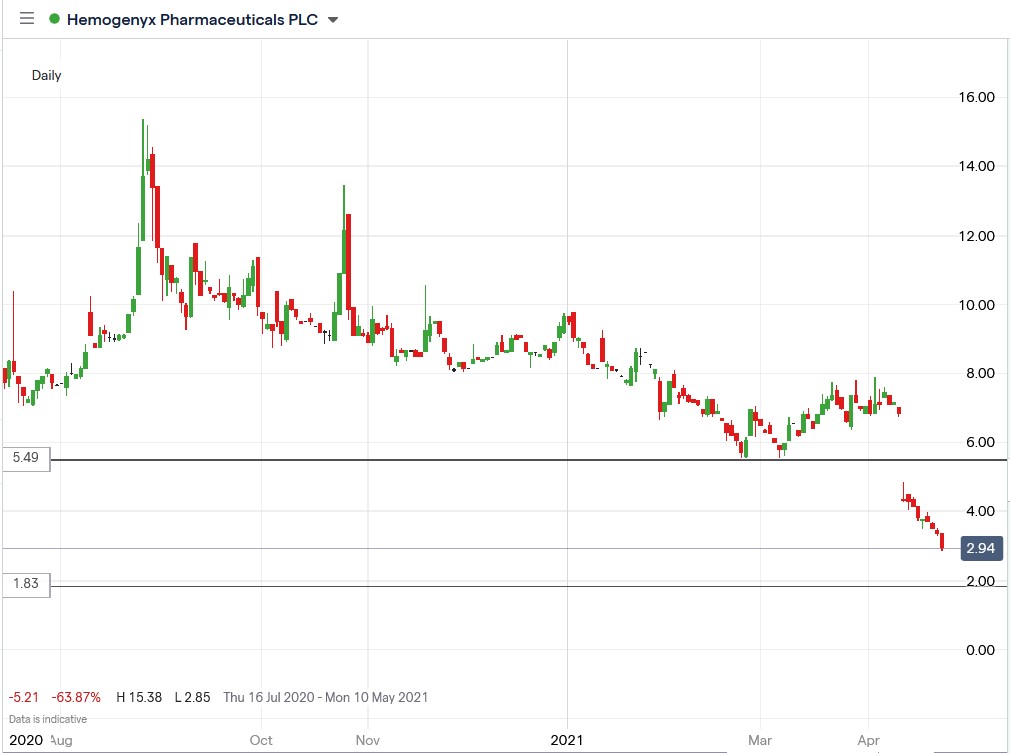 Hemogenyx shares crashed 15.68% to trade at 2.85p, having dropped from Friday's closing price of 3.38p.