Key points:
3M (MMM) stock price spiked 8.24% higher despite weak Q2 results.
The Q2 results beat analysts' estimates but were lower than in 2021.
In addition, 3M announced plans to spin off its healthcare business.
The 3M Co (NYSE: MMM) stock price surged 8.24% after releasing its Q2 results, which beat analysts' estimates despite being much weaker than last year's. The multinational conglomerate booked a one-time cost of $1.2 billion in Q2 after its subsidiary Aero Technologies decided to end the litigation regarding the supply of Combat Arms Earplugs.
Investors cheered that 3M earnings per share were recorded at 42.48, beating analysts consensus estimates of $2.44, while its revenues surged to $8.70 billion compared to the $8.63 billion figure most analysts expected.
Also read: Five Best Starter Stocks For Beginners.
However, despite today's figures beating analysts' estimates, they declined from last year's figures as Q2 2021 EPS was 42.75, while revenues in the same quarter were $8.95 billion.
Still, many could argue that the challenges faced by the company this year have altered its business environment, given the impact of record-high oil prices and inflation combined with supply chain disruptions and the sweeping sanctions on Russia.
3 M's revenues were impacted by a 4% decline fueled by multiple lockdowns in China and lower demand for disposable respirators as many people get used to living with COVID-19, which wreaked havoc on society since early 2020.
Therefore, investors were happy that the company could have generated more sales were it not for the above factors that limited its growth during the quarter. However, the company also reported further losses due to the US dollar's strength, which lowered the value of sales made in other countries, given the international nature of 3 M's business.
The company also reiterated its commitment to creating products used by most people by focusing on innovation despite the world's uncertain economic environment. In addition, 3M also unveiled plans to spin off its healthcare business, unlocking significant shareholder value.
Investors cheered the demerger that would leave 3M shareholders with a stake in both companies that will be publicly listed. These are some of the factors that fueled the initial spike higher in MMM stock. However, the stock had given up most of its gains at writing.
*This is not investment advice. Always do your due diligence before making investment decisions.
MMM stock price.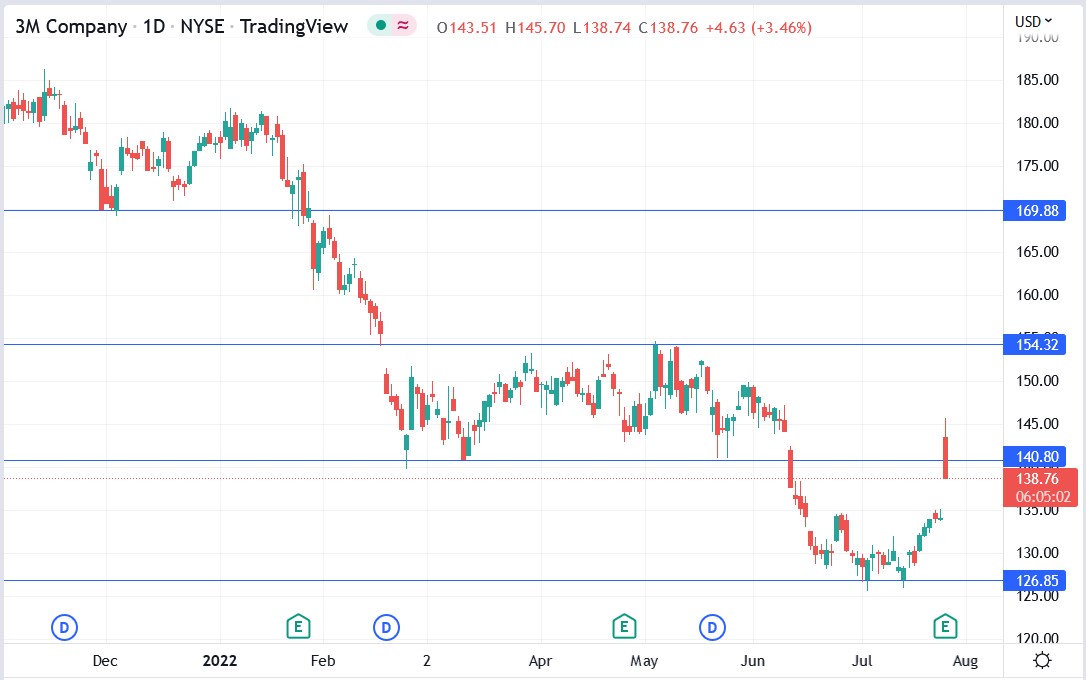 The 3M (MMM) stock price rallied 8.24% to trade at $145.17, rising from Monday's closing price of $134.12.