Key points:
Aviva shares plunged lower, then rallied higher on 2021 earnings.
The insurer announced plans to return £3.75 billion to shareholders.
The firm just acquired Succession Wealth for £385 million.
The Aviva plc (LON: AV) shares plunged lower, then rallied higher after the leading British multinational insurance firm released the financial results for its 2021 calendar and financial year.

The insurance giant unveiled plans to return £3.75 billion to shareholders via a new share buyback scheme launched today and the existing £1 billion share buyback scheme. The two buyback schemes allow Aviva to meet its goal of returning at least £4 billion to shareholders.
Aviva raised its annual dividend by 5% to 22.05p per share compared to last year's 21.00p payout. The company also expects to pay out £870 million in dividends translating to 31.5p per share. The firm will up its dividend payout to £915 million in 2023, representing a 5% growth to 33p per share.
Some of the notable highlights in the firm's annual report include achieving record net inflows into its retirement & savings products, allowing it to reach the £10 billion mark a year early.
Therefore, Aviva's new strategy is working quite well after selling many of its non-core business in a turnaround plan led by its CEO Amanda Blanc.
Aviva's profits fell to £2.265 billion compared to 2020s £3.161 billion driven by the discontinued operations from the divested businesses.
Furthermore, Aviva announced that it was acquiring Succession Wealth in a deal worth £385 million to tap into the rapidly growing UK Wealth Market.
The acquisition will strengthen Aviva's wealth products allowing it to offer high-quality wealth advice to its 6 million pensions and savings customers, who do not have a personal financial advisor.
Aviva will also capture the £6 billion in heritage and pension assets that its customers have to invest with its competitors annually since it did not offer financial advisory services before today's acquisition.
The growing number of individuals hitting the 65 years milestone in the UK provides a significant incentive for the company, given that such customers usually seek financial and wealth advice.
Amanda Blanc, Aviva's Group CEO, said: "2021 was a year of significant strategic progress, right across Aviva. We successfully completed the sale of eight non-core businesses, generating excellent value for our shareholders. Our financial position is strengthened, and Aviva is now a much simpler, leaner business, focused on our core markets in the UK, Ireland and Canada."
"Today, we are announcing a total capital return to shareholders of £4.75bn, including the existing £1bn share buyback, delivering on our promise to shareholders by returning more than £4bn. We are confident in the future and are setting out plans for further investment to enhance our capabilities and accelerate growth, starting with the acquisition of Succession Wealth, a leading national financial advisory firm, which we have announced today."
"The Focus and Strengthen parts of our strategy are complete, and we are now wholly focused on accelerating performance. Our trading in 2021 was strong, reinforcing our confidence that Aviva can grow sustainably. Our general insurance volumes are the highest in over a decade, life insurance sales grew by 23%, and we are on track to reduce controllable costs by £300m by the end of 2022."
The insurance giant also announced that it would be rewarding its 22,000 staff with shares worth £1,000 for their hard work in helping the firm meet its ambitious targets.
At writing, Aviva shares were up 2.48%, bringing their 2022 gains to 1.10%. The shares look attractive at current prices.
*This is not investment advice. Always do your due diligence before making investment decisions.
Aviva share price.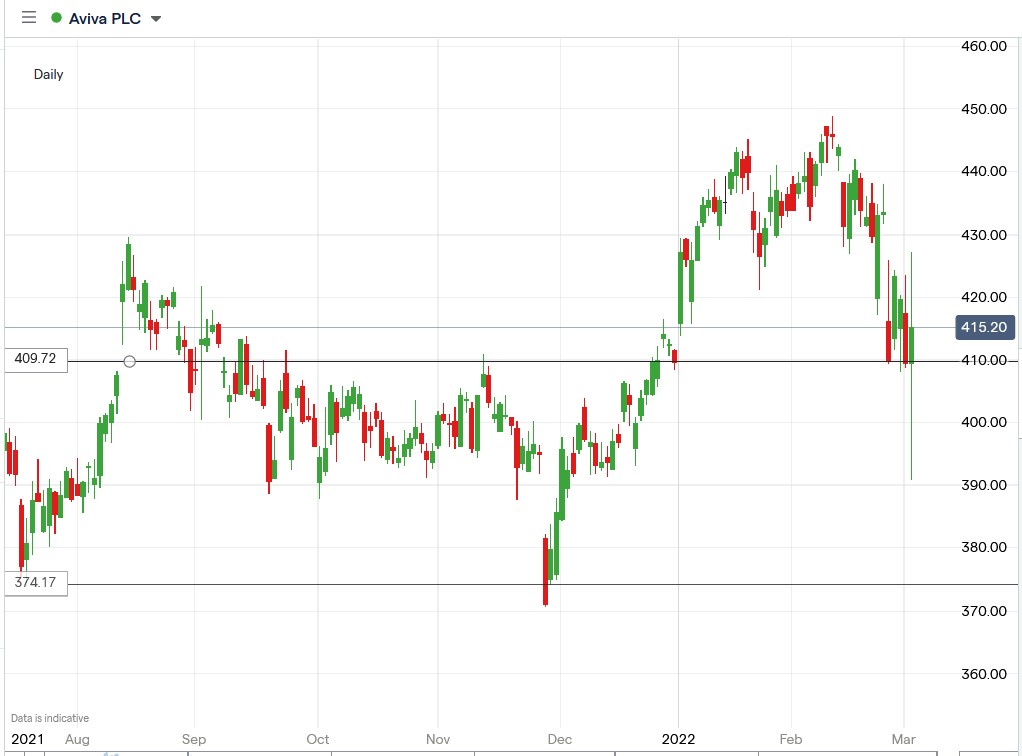 Aviva shares plunged lower before reversing course and heading higher on FY 2021 results.