Shares of International Consolidated Airlines Grp SA (LON: IAG), which owns British Airways and other airlines today surged 7.37% extending its gains from last Monday to 49% on investor optimism about the coronavirus vaccine news from Pfizer.

Today's rally could be attributed to British Airways latest discount offers on trips to Dubai after the UK government removed the mandatory quarantine requirement back home for people who travel to the popular tourist destination.
The airline is offering a £100 discount to travellers who book a Dubai trip worth £2,500, while travellers who book a trip worth £1,500 or more will get a £50 discount. The offer is available for trips up to November 2021, but the booking must be made before Wednesday this week.
IAG which also owns Iberia, BMI, Vueling, and Aer Lingus has booked massive losses this year given its huge fleet and the latest rally is a big win for investors who saw their shares trade as low as 87p in September.
The second wave of coronavirus infections has forced the airline to cut even more flights as many countries reimpose lockdown measures.
British Airways announced last week that it was looking for more space to park its Airbus jets that are currently not in operation at Spain's Palma airport given that most UK airports with parking space are now fully occupied.
British Airways has already parked half of its fleet of 12 Airbus A380 superjumbos in Chateauroux, France, for longer storage but needs more space to park the rest of its fleet, hence, the request for long term storage at Palma.
IAG share price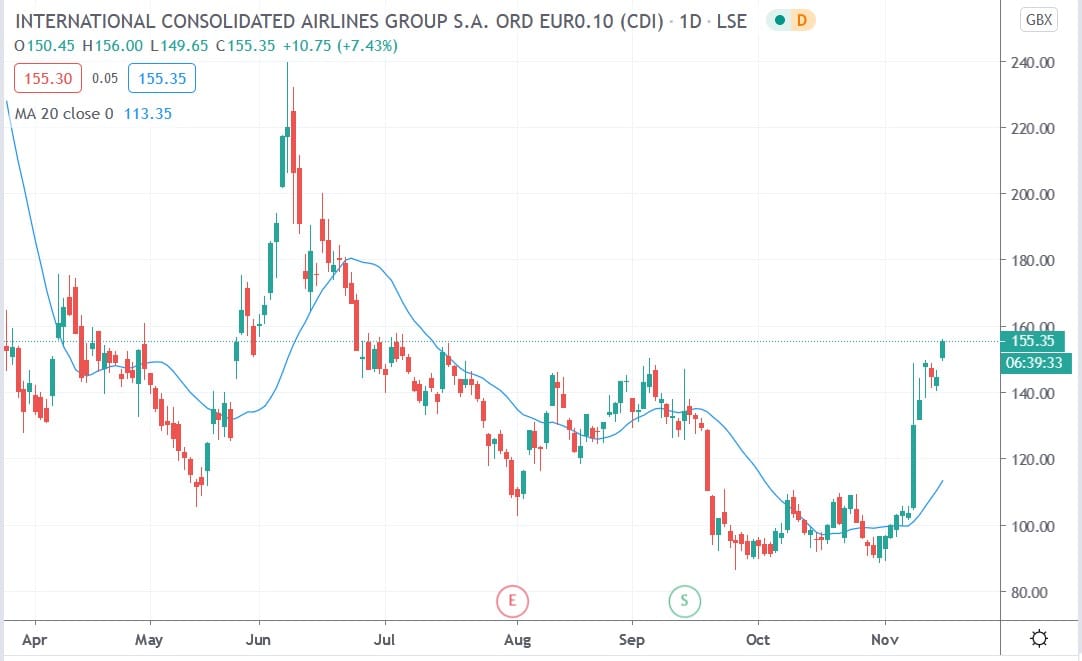 IAG shares today surged 7.37% to trade at 155.25p having gapped from Friday's closing price of 144.6p.
People who read this also read: